Analysts and investors tend to look down at refining stocks due to their historically tight crack spreads. However, the oil production landscape has seen a massive economic shift. Margins are widening and the second-largest US independent oil refiner, Phillips 66 (NYSE:PSX), is zooming along quite nicely. In fact, the world oil macroeconomics have caused some ludicrous market imbalances. It looks to keep American refiners like Phillips in earnings heaven for at least the next few years.
I first mentioned this situation in an article here. Some background:
For decades the mid-continental oil benchmark, West Texas Intermediate (or WTI) was priced at a premium above other benchmarks such as North Sea Brent. WTI is a better grade of crude with a lower sulfur content, a higher ratio of valuable derivatives like gasoline, and a chemistry that makes it generally easier to process compared to, say Venezuelan crude oil. Traditionally WTI would normally cost $2-$4 more per barrel than Brent with everything else being equal.
At the start of 2010 this began to change radically. Brent became more expensive and the last few months Brent has sold around $15-$25 higher than WTI. Even more, interior continental oil plays like Niobrara (Colorado) and the Bakken (North Dakota) have sold for as low as $40 under Brent.
Here is a table showing quarterly prices of Brent Sweet, WTI and North Dakota Sweet since July 2010 (Note: September is out of sequence and shows quoted spot price as of 7 September 2012).
| | | | |
| --- | --- | --- | --- |
| | | | |
| | | | |
| | | | |
| | | | |
| | | | |
| | | | |
| | | | |
| | | | |
| | | | |
| | | | |
| | | | |
Source: WTI and North Dakota from Rose Rock Daily Price Bulletin and Brent from British Petroleum (NYSE:BP).
The causes of this paradigm shift are many, but they include both a regional shortage of crude in Europe, with a regional excess of crude in the Americas.
For Europe there are worries about declining production in North Sea off shore fields. There has been real disruptions due to the legacy of the Arab Spring, especially from Libya. There are lingering worries about Iraq, as well as the problems between Israel and Iran leading to an outbreak of armed conflict which could close the economically important Strait of Hormuz. These supply pressures have more than offset the sluggish economy of the Eurozone and led to the premium paid for Brent.
Closer to home, there are lots of reasons Canada and US crude prices are a haircut short of Brent. A rebound in oil prices encouraged rapidly expanding production from plays like the Permian Basin (Texas) as well as the Bakken. Utica and the massive Canadian Oil Sands. But while production has spiked, pipeline infrastructure has been unable to keep pace with expanding needs. Mid continental oil often has to be trucked or railed to refineries, causing delays as well as prices to be discounted due to transportation costs.
Larger refiners like Phillips have the capital resources and ability to use their infrastructure to maximize the difference between the spot prices and final product. A note from the Phillips 66 website:
Refining & Marketing - includes 15 refineries with a net crude oil capacity of 2.2 million barrels per day, 10,000 branded marketing outlets, and 15,000 miles of pipeline systems
Phillips is taking aggressive action to improve its ability to get crude from the underserved mid-continental area. It has reached an agreement with pipeline operator Kinder Morgan L.P. (NYSE:KMP) to build a 27-mile pipeline to run Eagle Ford Shale crude to Phillips's Sweeny Refinery. Meanwhile Phillips has also leased 2,000 rail cars to help deal with the flow of crude from the shale oil plays to the 15 Phillips refineries.
Pipeline infrastructure is trying to catch up, but it takes longer to get regulatory approval and even the already approved and ready Phillips/Kinder pipeline won't have any effect until late 2013 at the very earliest.
Phillips is zipping along at 93% refining capacity. For 2Q 2012 the company reported earnings of $1.2 billion and free cash flow of $1.4 billion. It carries $8 billion in long term debt at an average rate of 3.5% and a debt-to-equity ratio of a tidy 30%. It sports a normalized PE of 4.9 off earnings per share of $7.68 based on a 7 September stock price of $44.26. It is paying a small 1.86% dividend but off an even more insignificant 2.6 payout ratio. The stock has performed well, too: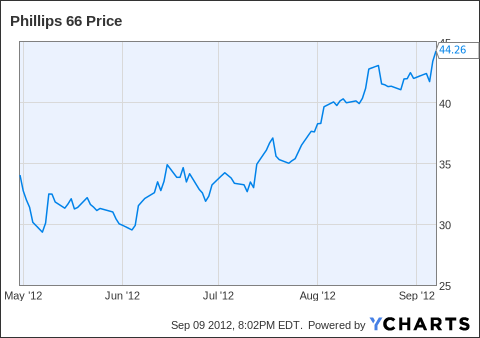 Bottom line, the finance sheet is rock solid and the company is free to use its gushing free cash flow to grow the business and easily raise dividends. Although with the market opportunities open to it, I strongly hope the company retains the lions share of all earnings to take advantage of the positive environment.
A last word: Phillips also received some respect cache when it was discovered that investor extraordinaire Warren Buffet had opened a significant position in Phillips 66 common stock through his Berkshire Hathaway (NYSE:BRK.A) holding company.
The company is looking at expanding margins and crack spreads and seems to be ahead of the curve on overcoming the transportation bottlenecks of the mid continental oil plays. Phillips 66 is well-placed to prosper and grow within a wonderful market niche. It is a great Buy for value and growth investors looking for long time returns.
Disclosure: I am long PSX. I wrote this article myself, and it expresses my own opinions. I am not receiving compensation for it (other than from Seeking Alpha). I have no business relationship with any company whose stock is mentioned in this article.