As per the original article published here and last month's update that you can find here ...

The Plan

$25,000 starting equity; split into 5 "streams" of approximately $5,000 each.

Will use mostly leveraged ETFs, midcaps, and a few well-known large caps.

Goal is to take 10% to 15% per trade and let the money "compound" by repeating the same process with another stock.
As at the time of writing and after eight months, Apple (NASDAQ:AAPL) closed at another all time high of $680.44 (up from $411.23 or 112.8% ARR), SPY closed at $144.38 (up from $127.50 or 20.44% ARR). Our portfolio now stands at $41,029 (up 110.25% ARR) including $2,115 in cash. While it handily beat the SPY, it still couldn't keep up with Apple's return this year.

It turns out that the challenges I spelled out in my first installment here were harder to overcome. Bluntly, I do not have the "discipline" to follow my own self imposed "trading plan!"
"A fish stinks from the head down" is apparently an old Turkish phrase that metaphorically suggests that an organization's (or a country's) downfall can directly be attributed to leadership (or lack of). I continue to marvel at how our minds are able to dictate the choices we end up with.
Can "leadership" be defined and empirically measured? If it can, does it mean it can be duplicated? If it can be duplicated, why is the corporate world littered with mediocrity? What does this have to do with this month's update? Bear with me as I connect the dots ...
The trades that didn't go very well ...
Nokia (NOK).
My January 2014 $2.00C lost 87% of its value in a very short time frame; position sizing limited the damage. As I've written here before, I believe the Nokia /Microsoft (NASDAQ:MSFT) partnership has a good chance of giving Android a run for its money IF they can get their act together. Given Nokia's financial performance and its recent Lumia gong show, I'm not sure if they have the right leadership in place; this fish does stink from the head down!
Direxion Daily Energy Bear 3x shares (NYSEARCA:ERY) and Direxion Daily S&P 500 Bear 3x shares (NYSEARCA:SPXS):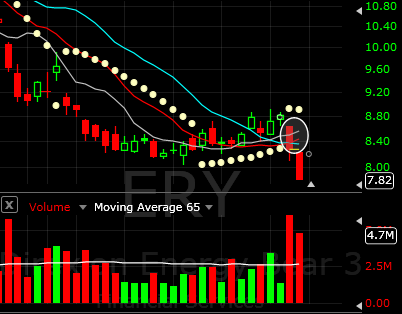 Both trades resulted in small losses as they didn't follow through. Given that it is an election year, we may end the year without any drama. Just like the other "fun" indicators that I've mentioned in my article here, it is hard to ignore the impact of the election cycle on market returns.
What trades went well?
Apple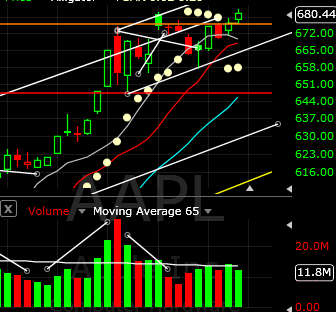 I know much ado have been made about: (1) cutting back staff hours, (2) corruption at an Apple store, (3) crappy ads that seemed to have lost its touch, or (4) the world was ending because some klutz tripped over the new Magsafe or the new docks were going to be smaller.
iHaters argue that these "isolated" incidents, when seen as a whole, represents proof that Apple is losing its touch and signs of a bubble that is about to burst.
While I do not work for Apple nor do I know anyone in Apple, I do know a thing or two about the corporate world. Simply, Apple is in "transition" towards Tim's style of management - that of empowerment. There are different ways to gain more "efficiencies" from its huge retail staff; John Browett needs to understand first and foremost that these staff were not hired as "sales" people to begin with. To change that would require a change in culture.
Lululemon Athletica (LULU).
As per the trading plan that I suggested here, I was looking for a break past $62. My hesitation in holding over earnings [after being burned by Chipotle Mexican Grill (NYSE:CMG)] and my system flashing some early warning "sells" (to raise cash) lead to the cold feet of adding more contracts.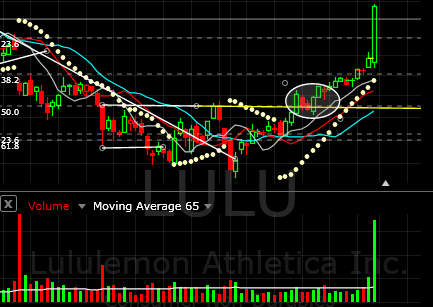 My shopping list of stocks for this month that showed up on my scans are: Starbucks (NASDAQ:SBUX), Zagg (NASDAQ:ZAGG), Emerging Markets Bull (NYSEARCA:EDC), and Latin America Direxion 3x (NYSEARCA:LBJ).
When I started this journey of writing a quasi trading diary of stocks outside of my core holdings, I wanted to find out:
Accomplishing one out of three isn't very satisfying; I had to ask myself "why" I couldn't beat an Apple portfolio (using stock and options) using a mechanical system that I've written about in my article "Apple: this is the week that we've been waiting for."
Maybe the answer lies in the "Clarity Paradox." Greg Mckeown sums it up as:
Phase 1: When we really have clarity of purpose, it leads to success.
Phase 2: When we have success, it leads to more options and opportunities.
Phase 3: When we have increased options and opportunities, it leads to diffused efforts.
Phase 4: Diffused efforts undermine the very clarity that led to our success in the first place.
What do Apple, Lululemon, Amazon (NASDAQ:AMZN) and Chipotle have in common? They are all "Outliers"; they defy conventional wisdom on why they are continuously successful. These companies (via their leadership), interestingly enough, have clarity in their purpose.
Where does that leave me? I think I know where the path leads ...
Disclosure: I am long AAPL, LULU, CMG, XIV, SLV, SAN. I wrote this article myself, and it expresses my own opinions. I am not receiving compensation for it (other than from Seeking Alpha). I have no business relationship with any company whose stock is mentioned in this article. May buy or sell any stocks at any time