Wow, I go hiking and fly-fishing in the South San Juan Wilderness for four days and come back to this?! ConocoPhillips (NYSE:COP) was at $88 when I departed and now that I am back in Wi-Fi space I log in to find it trading at $81 and change? What in the world happened?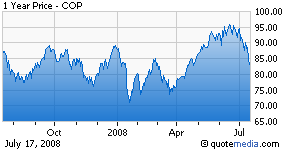 I figure oil must have dropped to $50/barrel or that natural gas must be trading at $5. Hmmm... nope, oil is at $130... natural gas at $10.60. Perhaps COP cut the dividend? Nope... no news of that either. The dividend is yielding over 2% and if history is any indication, more dividend rate increases are surely in the cards.
So, why the selloff in COP? How come a company that is expected to earn $12/share in 2008 is trading at $82? Has management lost its head? Nope - CEO Jim Mulva continues to make deals in foreign energy markets that other oil companies can only dream about. Are people not buying Conoco gasoline? Well, if the Conoco stations here in Colorado are any indication, they are doing a very brisk business (of course I always fill up with COP gasoline). It's a small point, but Conoco stations are prevalent in the areas of Colorado that are growing gangbusters due to the energy plays being made these days.
Perhaps it was the article in the Wall Street Journal over last weekend about how the major oil companies won't be around in 10 or 15 years that has caused the sell-off. Good luck on that idea. At the rate at which the world is shifting to alternative energy, oil will be around for many decades to come. Of course, those who read my submissions on Seeking Alpha know I am a believer that worldwide oil supply will not keep up with worldwide oil demand, and that growing oil production will be hard for the majors. That said, Conoco's positions in LukOil, domestic US natural gas, Alaska oil and nat gas, the Middle East, and its excellent CEO mean Conoco will not only be around for decades, but will be making oodles of cash. $12 in 2008 and trading at $82? Gimme a break!
While I am at it... the entire energy sector appears to have sold off in a big way this week while I was off catching trout in the mountains. This sell off reminds me of early 2007 when the energy sell off scared out the weak of heart, the big guys came in and swooped up shares, and energy went on to return about 30% for the year. I'd be surprised if we don't witness the same thing this time. I mean come on, oil is still at $130 and billions of Chinese and Indians are trading in their bicycles for automobiles powered by internal combustion engines. What has changed to cause this sell off in energy? Answer: not a thing. Take advantage of this sell off to increase your energy holdings across the board.
Look at the last hour of trading in COP yesterday. Looks like people were loading up at $82. This stock is at least 25% undervalued. I bet it hits $100 in 2008. This stock is golden... just like the picture of this golden brown trout that I am including.
Click to enlarge
Disclosure: Long COP