We are still as impressed with Ellie Mae (NYSEMKT:ELLI) as we were when we first started to write about it. However, we can't close our eyes to the fact that while the business has produced results that have consistently exceeded analysts expectations, the share price has simply gotten ahead of itself.
We think some consolidation at these levels is both warranted and already going on. Until we get new figures to assess whether the stock is ready for a next leg up, we would rate it as a trading stock or just a hold.
The mortgage industry is fragmented and processing mortgages involves many steps. Ellie Mae is the company that makes this simpler, faster, and cheaper, providing cost savings for everybody that uses their products. We've already explained extensively how they do that in our investment thesis, so we're not going to do that here again.
We see the company as engaging in business process reengineering for the fragmented mortgage industry, streamlining the whole process from end-to-end, cutting waste, duplication and unnecessary processing time. Here is CEO Anderman:
We want to be the tech provider that understands user needs and provides high-quality, end-to-end solutions from acquiring customers to gathering data to ensuring compliance to managing the funding process and so on.
The Q2 results were excellent and the stock subsequently received upgrades from brokerage houses.
We advised to buy the shares at the end of May at roughly $15, and the shares have almost doubled, reaching a high of $29.16 three weeks ago. While we are still as bullish as ever long-term, we can't escape the fact that at $25+, the shares can only be described as richly valued, and are downright expensive at $30.
How expensive depends on what one expects of earnings per share in the coming quarters. Here is an overview of analyst expectations (light blue), set off against past results (dark blue):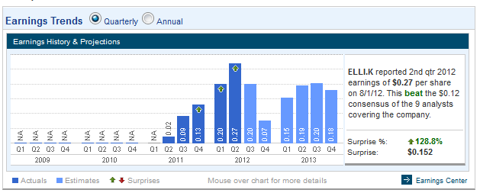 In the past couple of quarters results exceed analyst expectations by 6 and 15 cents respectively, huge margins indeed. But as you can see in the figure above, expectations for the next quarters run well below the results of the past two quarters.
We find that somewhat odd. There might be some seasonality at work, with more houses sold in the spring and summer, but we find these differences rather substantial. Ellie Mae has been able to surpass analyst expectations by wide margins the past four quarters at least (we have no data before that), the odds on the company to keep doing that must be pretty good.
Analyst expect just 74 cents profit for next year, which suggest quite a deceleration in earnings from the first half of this year (the first six months profits are already at 47 cents per share).
We really couldn't find any reason for such deceleration to take hold. As Seeking Alpha contributor Growth Stock Insider noted, the company had previously signaled a ramp-up in cost for the past quarter to lay the foundations of future growth. Q2 figures were stunningly better (exceeding expectations by a whopping 129%) than what the market expected nevertheless.
Yes, refinancing is slowing down, but new mortgages are on the rise, and clients are shifting to the higher margin cloud offering:
The company still has a sizable installed base which uses licensed versions of the technology. Those customers pay annual fees and don't participate in the recurring revenue scheme. That group is transitioning to the pay as you go format. That arrangement is more profitable for Ellie Mae because the ups and downs among its customers are averaged out.
Meanwhile, the shares have become notably more volatile, which is a healthy process after such a monumental run-up.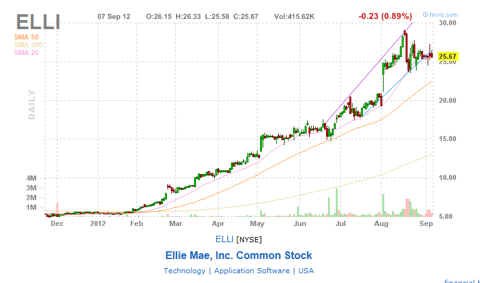 While maintaining our long-term bullish stance, we change our short-term stance into hold. One could even use the stock for trading. The shares should be bought in the low $20s and sold in the $28-30 range, until we have new earnings figures giving us more visibility.
We are hardly the only ones, as Stephens downgraded the shares from overweight to equal weight at the end of August.
Disclosure: I have no positions in any stocks mentioned, and no plans to initiate any positions within the next 72 hours. I wrote this article myself, and it expresses my own opinions. I am not receiving compensation for it (other than from Seeking Alpha). I have no business relationship with any company whose stock is mentioned in this article.