Alexco Resource Corp. (NYSEMKT:AXU) has an uncommon opportunity in the metals and mining industry. The Keno Hill silver district in the Yukon has some of the highest grade silver and base metal deposits in the world. These grades should enable Alexco to put highly profitable mines into operation. Alexco is aggressively advancing the Bellekeno mine to a production decision in early 2009 (see complete research report). This will be the first mine to be opened in Keno Hill since the district was closed in 1988 during a period of low metal prices and growing environmental regulation.
In addition to its talents as an explorer and mine developer, Alexco operates an environmental business specializing in mine permitting, closure and clean-up. Alexco was successful in buying this world-class Keno Hill silver district out of bankruptcy. This unique situation afforded Alexco the dual benefit of contracting as the sole provider of environmental cleanup of the district, as well as allowing it to be held harmless of all historic environmental liability while it pursued Keno Hill's mineral resources. More precisely, Alexco has a guaranteed multi-year contract with the government for cleanup of Keno Hill (of at least $60 million), and unfettered opportunity to explore, develop and mine its silver-lead-zinc resources.
Most investors interested in silver may be overlooking the Yukon in favor of Coeur d'Alene's Silver Valley, Mexico's Sierra Madre, or South America. Alexco reports that between 1921 and 1988, the Keno Hill silver district produced more than 217 million ounces of silver with average grades of 40.5 opt silver, 5.6% lead and 3.1% zinc, making it the second largest historical silver producer in Canada. Keno Hill hosted more than 35 mines in an area about 20 miles wide and ten to 15 miles in width. The size of Keno Hill would accommodate more than ten islands the size of Manhattan in New York City.

Keno Hill Silver District
Source: Alexco

Past exploration and mining at Keno Hill originated at visible mineralized veins exposed at the surface. Miners chased these veins until they were stopped by faults. In many instances, exploration and mining was small scale in proportion to the opportunity, and was held to within several hundred meters from the surface due to technology limitations of the period. There is abundant evidence that additional mineralization is waiting to be discovered near the surface, at depth below historic workings ending in mineralization, or under the valley floor below overburden.
In our opinion, Alexco has the potential to surpass the combined total of all prior mining in the district. In addition, considering that the Silver Valley has produced about 1.1 billion ounces of silver, having reached depths of over a mile, we believe our opinion may in hindsight be conservative.
Bellekeno is the logical choice by Alexco to be the first mine to be placed back in production. At district closure the mine was in operation, had well developed infrastructure, and an available identified resource. The Keno Hill silver district also had well developed infrastructure at the time of closure, including access to an all-season road, a townsite, and connection to a hydro-supplied power grid. Having been in operation at the time of district closure, Bellekeno is clearly the logical choice for being the first project to place into production.
Alexco should be credited for its many accomplishments in 2008 at Bellekeno. Alexco received an initial compliant resource estimate at Bellekeno of 38.4 million silver equivalent ounces. Management also concluded a Cooperation Agreement with the First Nation of the Na-Cho Nyak Dun, establishing among other things "project certainty" and an agreed upon process for settling disputes and sharing benefits. In addition, they received their permits to commence an underground exploration and development program essential for reaching a mine decision in early 2009 and production in 2010.
Mine Portal, Bellekeno Project, Keno Hill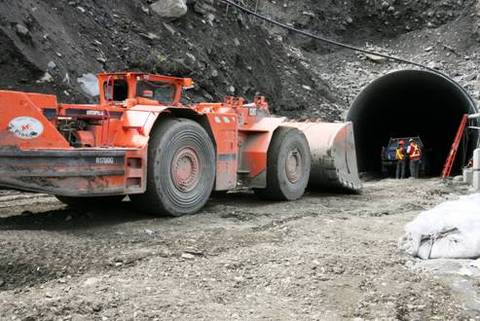 Source: Alexco
Alexco also received a Preliminary Economic Assessment [PEA] which justified the economics to construct a small scale mine at Bellekeno. At current metal prices ($17.92/oz. silver, $0.78/lb. lead, and $0.84 zinc), based on the current resource and only a five-year mine life, the mine was estimated to return a 64% IRR, and a NPV of $106.7 million (at an 8% discount rate). The high grades and recoveries, even with production of only 250 tpd in the first two years (increasing t 400 tpd in year three), would repay capital in about 1.3 years.
The capital required to build out the Bellekeno operation is estimated to be about $60 million. This conservatively includes a 25% contingency. The budget includes $10 million for underground development, including driving an adit and rehabilitating previous workings. Much of this work will be completed in 2008. The underground plan calls for taking a bulk sample to reaffirm earlier metalurgical experience when the mine was previously in operation. Interestingly, the grades are sufficiently high enough that the value of the bulk sample may offset the cost of the underground program itself.


Source: Alexco
The economics and value of Bellekeno should improve as the resource increases and the mine life is extended. We believe there is mounting evidence that the mine could operate for decades. In the near term, Alexco is scheduled to receive a compliant resource on the nearby Onek silver-zinc deposit, which could add an additional couple of years to the mine life. In addition, once underground, Alexco plans to complete a 10,000 meter underground drill program for infill and definition drilling. As both Bellekeno and Onek are open for expansion, there is very good potential for additional drill results and updated resource estimates to increase the mine life.
It is apparent that the initial resource estimate and Preliminary Economic Assessment support a mine at Bellekeno. These studies fall short of defining the economic potential of Bellekeno/Onek or the district. While Bellekeno itself has very high grades compared to other deposits around the world, there are other promising areas across Keno Hill that may eventually overshadow Bellekeno.
Alexco's 2008 drill program is ahead of schedule and should be completed shortly. Assays should provide additional information important to prioritize other projects to follow Bellekeno. We are quite interested in drill results at the Lucky Queen, where Alexco stepped out 170 meters from mineralized drill holes and intersected a 0.5 meter interval of 1,039 opt silver (35,618 g/t silver). In addition, investors should look forward to additional drill results from the Keno 700, Onek, and Hector Calumet historic mine areas.
Investors interested in progress at Bellekeno should look forward to the resource estimate at Onek, progress in completing the underground program, and results from underground drilling and bulk sampling. Investors interested in Alexco's environmental services business may anticipate completion of the reclamation plan by the government and increase in revenues. We believe this may coincide with completion of construction at Bellekeno. In addition, investors may also be alert to other acquisition opportunities presented to Alexco, considering their demonstrated ability to resolve environmental issues at mature and closed mine sites.
Disclosure: The author is long AXU. An affiliate of the author's employer provides corporate advisory services to AXU.