For those of you that have been reading the Smug Investments blog, Smugly Green, you will be familiar with our green portfolios. If you're reading Seeking Alpha, check out these links as they lay down the foundations to our thinking: Beginner's Guide to Green Investing, Green Commodities for a Complete Green Portfolio, and Green Investing and Risk Management. True to form, I wanted to go over some simple quantitative ways to reduce overall volatility in your green portfolio. It will also illustrate the point that, if you expanding your notion of green as mentioned in the Green Commodities article, there's no reason a bigger piece of your overall investments, if not the whole thing (as is my case), can't be green, responsible, and sustainable.
The name of the game is correlation. There is a catch - correlation can only be measured historically, which means there's no way of knowing whether or not correlations will maintain themselves. Still, it serves to illustrate the point that green minded investments can compose an entire portfolio if done properly.
This first chart illustrates the one year correlations of the S&P 500 and many of the most recognized green ETFs available. The criterion for the chart was a one year track record, as well as weeding out any funds so were similar in makeup and correlation as to be redundant:

Though the one year track record isn't entirely indicative of correlation (more data would be better), it shows a fairly high average correlation to the S&P 500 at 74%, as well as an overall "internal" correlation to each other averaging 74%. Notable exceptions are PBD and GEX, which both performed with much lower correlations over the past year, though it's hard to discern with this little data what may be investors pumping prices in the short term or actual long term correlations.
The point remains that, as goes the S&P, you are likely to follow with a portfolio makeup indicated above. If the notion of green is expanded to include asset classes I've listed here, it becomes easier to avoid pinning your star to the S&P alone. The second chart illustrates that point, using the same number of assets and the expanded notion of "what is green" or "what is responsible". It includes agriculture, socially responsible indexes, indexes of low carbon emitting countries, currencies for biocapacity credit countries, and even a short position for the terribly biocapacity deficient United States: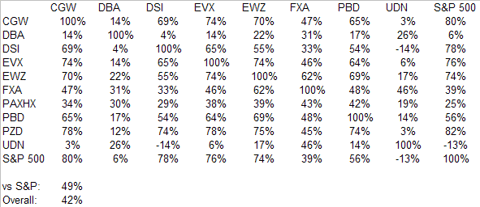 The difference is stark. Suddenly, our overall portfolio is composed of commodities, currencies, bonds (PAXHX), and equities, it's diversified globally, and it adheres to green thinking and responsible investment practices. In our hypothetical portfolios, if we equally weighted the components, based on closing prices from one year ago our performance would like roughly like this:
The overall performance of the first portfolio was an ugly -25.45%, underperforming the S&P 500 by -5.76%. The diversified green portfolio delivered a staggering 54.46% hypothetical return, outperforming the S&P by almost 75% - an almost 80% swing in value. While agriculture is a massive component of the diversified returns, even it's removal yields a 9.38% overall return, starkly contrasting it with the former portfolio. I would even make the case that agriculture's anomalous year is a perfect example of non correlation's value – anything can and will happen.
Admittedly, diversification means the inclusion of what are traditionally considered "non green" investments within our "green" portfolio. Despite record numbers of green IPOs, increasing venture capital deals, and intensifying high net worth individual interest, green is still a limited enough sphere. Our process of researching and picking investments still adheres to rigorous green metrics (more on that here), and the overall concept still maintains the "green is good" philosophy. The ultimate goal is the creation of a complete portfolio that promotes sustainability in the long term – bracing yourself against a "bubble" is important, and thinking outside the box can not only save you losses, but may even make you money in the long run.
Disclaimer Information
Though I may own and use this asset in my portfolios, it may not be the correct fund for your individual situation, so these posts are by no means a recommendation that you purchase a particular asset or fund.