Over the past twelve months, Cimarex Energy (NYSE:XEC) has accomplished a major strategic repositioning by adding several significant oil and liquids-rich plays in the Permian Basin to its existing core Woodford Cana asset. While Cimarex's Cana operation continues to impress, the economics of this liquids-rich gas play have been impacted by the sharp decline in natural gas and NGL price realizations. By decisively redirecting a substantial amount of its capital to the oilier plays in the Permian, XEC seems on track to develop several higher-return assets and increase the oil component in its production mix (the company's oil production grew 10% year-on-year in the second quarter while natural gas and NGL volumes remained essentially flat).
Key Metrics and Analysis
In a snapshot, Cimarex is a natural gas- and oil-focused independent with $6.0 billion enterprise value (the leverage is low with only $0.8 billion of long term debt at the end of Q2). The Delaware Basin in New Mexico and Texas and the Cana Woodford shale in Oklahoma are currently the company's two most active operating areas.

Cimarex produced 590 MMcfe/d in Q2 2012, of which 54% was natural gas, 29% was oil, and 17% was NGLs.
The company's pre-tax SEC-10 measure stood at $4.6 billion at the end of 2011 based on the pricing of $3.79/Mcf for natural gas, $89.64/bbl for oil, and $41.70/bbl NGLs (for reference, in Q2 Cimarex realized $2.42/Mcf for natural gas, $87.81 for oil, and $29.02/bbl for NGLs).
Like many other natural gas producers, Cimarex is trading at a significant premium to its SEC-10 value (which I adjust to reflect current commodity strip pricing). In analyzing the SEC-10, one should take into account that Cimarex books very moderate PUD quantities: 82% of proved reserves booked at year end 2011 were developed reserves. As a result, Cimarex's SEC-10 value includes only about 10% of the identified future development locations in the liquids-rich portion of the Cana and does not reflect any undeveloped drilling locations in the Permian Basin (which represent significant value upside for the company).
Based on my analysis, the stock appears to be fairly valued in light of potential sustained weakness in the natural gas and NGL prices and if one were to assume a "wait and see" approach with regard to Cimarex's emerging resource plays in the Permian. Having said that, there is a significant potential upside to the value through continued operational success in the company's Wolfcamp shale play in the Delaware Basin and additional high-return prospect generation in the Permian and Mid-Continent. The Wolfcamp alone has the potential to rival Cimarex's existing Cana assets both in scale and rate of return.
Unhedged in natural gas and NGLs, the stock is leveraged to these two commodities in the near term.

The Woodford Cana Assets
Until recently, the Woodford Cana was the company's most active resource play driven by the high NGLs content and improving costs. The company's Cana production during Q2 was 156 MMcfe/d (71% gas, 22% NGLs, and 7% oil), up 36% year-on-year. In the Cana, Cimarex sees at least 700 additional risked drilling locations on its 75,000 net acres in the core liquids-rich part of the play with future development capital of over $5 billion.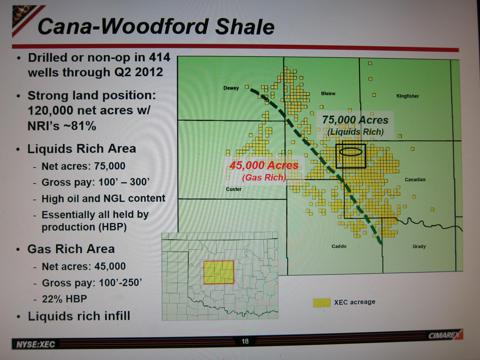 (Source: Cimarex Energy September 2012 Presentation)
This year, Cimarex started an in-fill development program in the Cana and is drilling nine wells per section. Speaking at an industry conference last week, Cimarex's Chairman and CEO Thomas Jorden indicated that well cost has recently come down to $7 million per well or even lower, a marked improvement from the $8.5 million just a year ago. Other operators in the liquids-rich core of the play, which include Devon Energy (NYSE:DVN), Marathon Oil (NYSE:MRO) and QEP Resources (NYSE:QEP), have also reported improving well costs and high well densities in the infill development part of the play.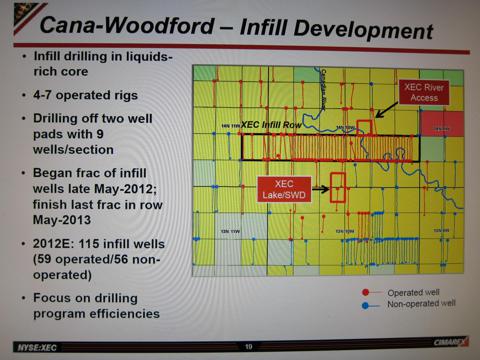 (Source: Cimarex Energy September 2012 Presentation)
The declining well cost partially offsets the deterioration in the once stellar economics of this play due to the decline in natural gas and NGL prices. With the F&D cost now in the $1.25-$1.50/Mcfe range, or even lower, the play can still generate 20%-30% returns at the well level in its most productive part.
Cimarex has substantially reduced the number of its operated rigs in the play, in part due to the increased rig productivity since the start of the pad development and in part due to the capital re-allocation to the higher-return opportunities in the Permian. Nonetheless, the production should continue growing at a fast clip as Cimarex will be bringing to sales as many as ten gross wells per month (operated and non-operated) in the course of the next several quarters, in my estimate.
The Cana will remain a core legacy asset for Cimarex for quite some time. At current pace, it would take the company close to a decade to fully develop the estimated 3.5 Tcf of "wet" gas reserves on its core Cana acreage. The potential value of these assets is strongly leveraged to the improvement in natural gas pricing and further reductions in the drilling and completion costs.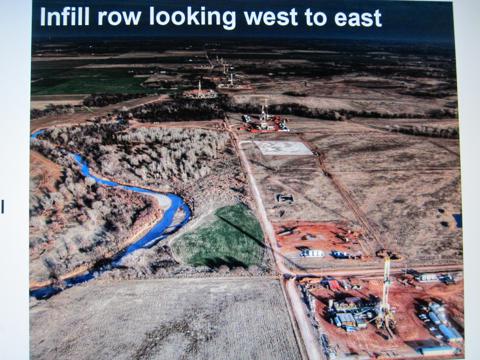 (Source: Cimarex Energy September 2012 Presentation)
Part II of this article will provide a detailed discussion of Cimarex's largest Permian Basin plays.
Disclosure: I have no positions in any stocks mentioned, and no plans to initiate any positions within the next 72 hours. I wrote this article myself, and it expresses my own opinions. I am not receiving compensation for it (other than from Seeking Alpha). I have no business relationship with any company whose stock is mentioned in this article.