Apple (NASDAQ:AAPL) has experienced an extremely volatile 2012 and I have recommended option strategies on Apple since 2010 with positive results (past performance is not indicative of future returns). For reference, please view the first and other articles in the series to understand the strategy and its potential returns. This strategy is to simultaneously generate income and reduce your effective cost basis by selling out-of-the-money options to generate weekly income without sacrificing long-term returns. Even if you have no plans to engage in the options market this is your one-stop primer for the critical Apple developments from the past week.

Click to enlarge
(Click to enlarge)
(Source: Yahoo Finance)
A brief recap of this week in Apple, which was up $14.68 (2.2%):
iPhone 5 Announcement Set for September 12 (Apple Insider September 4)
Settlement With Government on E-Book Pricing Case Finally Reached (New York Times September 6)
WSJ: iPhone 5 To Support Global 4G LTE Internet (Wall Street Journal September 7)
WSJ: Apple Developing Pandora (NYSE:P) Competitor (Wall Street Journal September 7)
Apple investors have been handsomely rewarded this summer and are preparing for the stock to soar even higher. On Wednesday, September, 12, Apple is set to announce its latest version of the iPhone, which is expected to be called the iPhone 5.The iPhone now accounts for the lion's share of Apple's revenue and profits so this will be a critical week. A consequence of Apple's predictable product cycle is that sales slow drastically ahead of new product launch as consumers logically wait to buy the latest and greatest device out of Cupertino. This explains why the Samsung Galaxy S III temporarily surpassed the iPhone 4S as the top smartphone in the United States. Analysts dismissed Apple's disappointing sales last quarter with the justification that this quarter's iPhone sales would surpass expectations. This quarter will be the most important in the post-Jobs era.
The frenzy surrounding the iPhone 5 is a double-edged sword for Apple. On one hand the anticipated phone generates a media frenzy and invaluable free advertising for Apple. On the other hand, the iPhone can never fully live up to the hype. Apple always has a few tricks up its sleeves but we largely know the main features and selling points of the new iPhone at this point: thinner, larger screen, 4G Internet connectivity, a larger battery, a new dock connector and other incremental upgrades. A familiar pattern emerges for iPhone launches. Investors buy the stock leading up to the announcement and then sell after the actual announcement as the device appears to disappoint. This has occurred with most of the iPhone versions and I expect a repeat performance this week. Investors who are willing to assume additional risk can profitably sell out-of-the-money calls discussed later in this article. Long term I still maintain my $720 price target but I believe there are profitable option opportunities to be had.
Amazon announced its latest updates to its Kindle line and there are some formidable products to compete with the iPad. I continue to repeat my sentiment that I believe that Kindle Fire benefits Apple in the long term because it will allow tablets to reach a wider audience by selling at a low price point. After dabbling with the budget Kindle, tablets users will continue to select the iPad because it is the clear best of breed tablet available on the market.
Lastly, I want to touch on a recycled Apple rumor from this week. The Wall Street Journal reports that Apple is working on the development of a streaming music service to compete with Pandora, Amazon and other rivals. Do not be distracted by thus resurfaced rumor. This "news" crops up periodically and would have a negligible impact on Apple's financial performance even if true. The primary benefit for Apple would be strengthening its competitive advantage and drawing more users to the Apple ecosystem, but iOS users already have enough reasons to support Apple. Another logical stealth reason is that Apple will not need to focus on increasing the storage capacity of future devices. By moving music to the cloud, Apple can reap material cost benefits in terms of storage.
Below I present three possible scenarios and the potential returns for the Apple options. The first scenario represents a negative outlook for Apple while the final two scenarios are more reasonable. These scenarios are forecasts and there is no guarantee that they will come to fruition. Even if you are optimistic, it is important to consider both positive and negative circumstances in order to stress your assumptions. As a general rule, selling calls with higher strike prices has greater potential return but additional risk of loss due to the lower (or lack of) downside protection. For more information on the fundamentals of covered calls, consult Investopedia.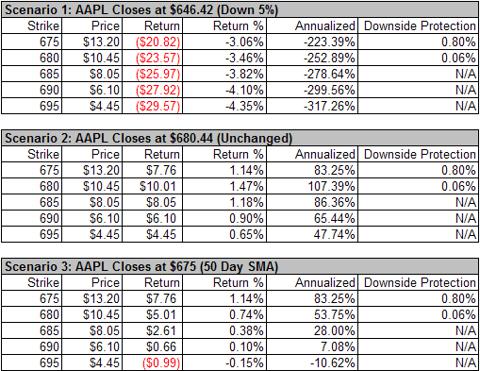 Click to enlarge
(Click to enlarge)
Additionally, if you would like even more information, I have prepared a sensitivity analysis for absolute return and percent returns, respectively. After studying the information above, these two charts make it easy to pick a strike price based on where you believe Apple will close at the end of the week. Estimate where you believe Apple will close and select the strike price with the highest return.

Click to enlarge
(Click to enlarge)
With this information, executing a buy-write on AAPL September 14 (Weekly) 695s is the optimal risk-return strategy. If you are uncomfortable with this strike I would consider a buy-write in the range of 670-705. Even if you are extremely bullish, you can still profitably sell covered calls; Apple is volatile enough that you will have opportunities to repurchase on further dips. An alternative approach is to sell out-of-the-money 675 puts and collect the premium without having to purchase the stock outright. Note that if the stock declines to the strike price, you are obligated to buy the stock (or closeout the position). You should always consider the risk factors (particularly with naked calls or puts) raised in this article in light of your personal circumstances (including financial and taxation issues) in consultation with your professional financial adviser.
Disclosure: I am long AAPL. I wrote this article myself, and it expresses my own opinions. I am not receiving compensation for it (other than from Seeking Alpha). I have no business relationship with any company whose stock is mentioned in this article.