Interestingly enough, the US banking sector is reaping profits similar to those of 2007, before the big recession. A recent report from the FDIC shows banking net income hitting $34.5 billion during the second quarter of 2012. Year over year, that is a rise of $5.9 billion. Banks have not seen these levels since the second quarter of 2007.
If profits are back at the previous bull market's high, why have they been so quiet about it and where are the jobs? Unfortunately, if you read on in the report, you would come to where the FDIC says that in 2007 banks employed 2.2 million full time workers. Today, there are 100,000 fewer full time employees and 14% less banks.
Essentially, banks have reached the 2007 profit levels due to cutting jobs and selling assets. When this statistic comes into the picture the bullishness of the banking sector seems to fade a bit but banks are much stronger than they were even in 2010. Banks are turning back to more traditional income sources such as savings and loans, rather than risky derivative trades. To be far, though, some of the profit numbers are skewed by "rainy day funds" which are set up for the bank should a loan default. When no loans are defaulting and the rainy day fund has excess funds, the bank will release some of the funds which, in turn, boost profits temporarily.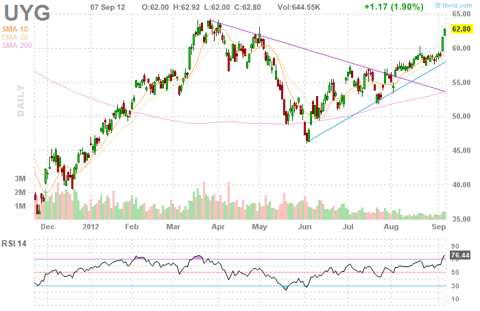 At the end of the day, this report shows us that the banking sector still has a bit of recovery needed before the return of prosperity. Members of the lobby group that represent the banking sector have said that there are still bumps in the road and current environment challenges are not helping. James Chessen, Chief Economist at the American Banking Association recently told Forbes, "The banking industry's performance continues to improve significantly. Increases in business lending, strong capital levels and a reduction in problem loans speak to an industry that's gaining strength. Challenges remain, including the daunting fiscal decisions ahead for both the United States and Europe. The manner in which these issues are resolved will have a significant impact on our country's pace of economic growth. The banking industry has worked hard to fortify itself for these and other challenges that lay ahead."
As Mr.Chessen touched upon, current conditions in the US and Europe are stalling the banking sector's recovery. Similarly, the possibility of new regulations against banks could further put extra, unneeded pressure on banks. Bank stocks will certainly be looking forward to the November elections as one side has proposed new regulations, while the other side has been relatively quiet on the issue of Wall Street and the banking sector.
Despite this news, I still think there are a few plays you can make out there in the banking sector. If you want to go after bank shares, only pick the ones that are strong and standout from its peers. These are banks like JP Morgan (NYSE: JPM), Wells Fargo (NYSE: WFC) and Citigroup (NYSE: C).
First, we will look at JP Morgan. JP Morgan is arguably the "head honcho" of the investment banking world. Despite the $5 billion trading loss from earlier this year, the bank has seen a pretty good year, as shares are up over 20% year to date. While shares may be up for the year, the stock still trades with a price to book of .78 and a price to earnings of 9.1. Arguably, the best time to buy this stock was back when the trading losses hit the news stations because shares nosedived to almost $30 a share. However, the bank is still cheap and even relatively undervalued to future earnings.
Wells Fargo is the only bank to be given the title of the "safest bank in the US" and for good reason. Earnings have seen nice growth with analysts predicting the bank to end the year with EPS growth of 28%. Earnings growth of 10.54% next year and 9% over the next five years. Insiders continue to get behind the stock as well which bodes well for shareholders. Wells Fargo has been focusing on more traditional banking roles such as savings and loans which adds a nice level of safety for the bank that others can't claim. Warren Buffett is another big supporter of Wells Fargo so keep that in mind as well.
Citigroup is on the list because it is considered to be the most undervalued banking stock in the sector by analysts. The stock has a price to book of 0.51 and a price to earnings of 9.30. Shares are up 22% year to date and we could see shares higher by the end of the year. Citigroup has also been focusing on more traditional banking roles like Wells Fargo.
The bottom line here is banks are not as healthy as their profits hint at but there are definitely some banks worth a look. Notice that my picks are strong banks that depend mostly on savings and loans. JP Morgan is an investment bank so obviously they are going to be dabbling in riskier assets but a strong institution, nonetheless. Bank shares could see pressure as some market pundits see the stock market approaching a top but use declines to build up positions in banks with the long term in mind.
Disclosure: I have no positions in any stocks mentioned, and no plans to initiate any positions within the next 72 hours. I wrote this article myself, and it expresses my own opinions. I am not receiving compensation for it (other than from Seeking Alpha). I have no business relationship with any company whose stock is mentioned in this article.