Acadia Pharmaceuticals (NASDAQ:ACAD) recently announced full enrollment in the latest phase 3 clinical trial for it's lead drug candidate Pimavanserin for treatment of Parkinson's disease psychosis (PDP). Based on past movements in the stock ahead of key clinical trial data releases, we believe that ACAD is poised to run by up to 100% between now and the release of the phase 3 data in the end of November.
About the Drug
Pimavanserin is an inverse agonist of the Serotonin 5HT2A receptor, a brain receptor which is known to be associated with hallucinations and other psychiatric effects. Pimavanserin is believed to bind to this receptor and diminish it's effects thereby reducing hallucinations and delusions. About 60% of Parkinson's disease patients experience some form of PDP. Currently there is no FDA approved treatment for PDP making Pimavanserin a potential first-line therapy for this indication.
About the Stock
ACAD currently has 53.03 million shares outstanding, 21 million in cash and cash equivalents and only $13,000 in long term debt. There are about 10.2 million more shares that are issuable: 5.8 million due to stock options with a weighted average exercise price of $3.39 and 4.4 million shares issuable upon exercise of warrants that have an exercise price of $1.38. Since the end of March 2012, ACAD has a $20 million "At The Market" financing agreement (ATM) in place with MLV & Co. So far, the ATM has not been tapped. The company has guided that they have enough cash to last into the second quarter of 2013.
Why We See Value
Pimavanserin has failed two previous clinical trials leading to a low stock price, canceled partnership agreements and a general negative sentiment in the market regarding ACAD. In 2009, Pimavanserin's -012 clinical trial missed it's primary endpoint due to a much larger than anticipated placebo effect. Based on data mining of this and another failed trial, ACAD re-designed the current clinical trial (called the -020 trial) to: 1) focus on patients with moderate to severe PDP - excluding patients with only mild PDP; 2) have a pre-randomization run-in period to mitigate placebo effects; 3) only use clinical trial sites in the US so that results could be centrally adjudicated; and 4) use a modified version of the Scale for the Assessment of Positive Symptoms, or SAPS, focusing on only the 9 items that are specifically relevant to PDP while excluding unrelated items. Indeed, when ACAD looked at the -012 study and applied the criteria above - i.e. only looking at the patients with moderate to severe PDP and focusing on the 9-item SAPS, they found a statistically significant effect due to Pimavanserin over placebo.
The mistake the general market often seems to make in cases like this is to assume that, given Pimavanserin's history of negative trial results, history will just repeat itself in the new clinical trial. A recent example of the market misjudging a company's prospects and affording investors willing to look beyond the conventional thinking an opportunity for substantial gains can be found in the positive advisory committee vote and subsequent approval of Arena Pharmaceuticals' (NASDAQ:ARNA) obesity drug Belviq. Investors who took positions ahead of the advisory committee vote saw their positions gain as much as 400% due to ARNA's run-up to Belviq's approval. In Acadia's case, the re-designed trials with tighter focus on sicker patients and on assessment terms specific to the disease to be treated bode well for the upcoming trial despite past problems.
Another positive in our view is the fact the New Enterprise Associates (NEA) is a major holder of the stock. We see this as positive because New Enterprise Associates was one of the major holders of Supernus Pharmaceuticals (NASDAQ:SUPN), which received FDA approval for Trokendi XR, a generic version of pediatric extended release Topiramate, on June 26th. SUPN's FDA approval is one of the only biotech binary events this summer where the company held on to large gains after a positive FDA decision. While NEA being long ACAD does not directly translate into a prediction for how ACAD will move on positive binary event news, it's always good to know that other successful investors have their interests aligned with your own.
Valuation Leading Up to Data Release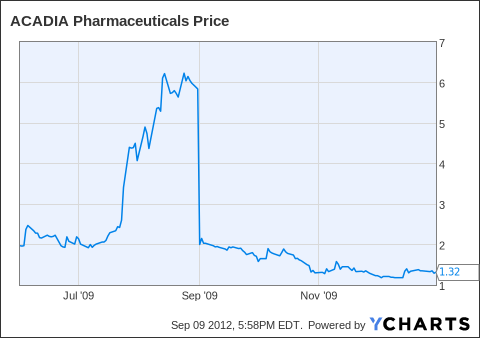 The chart above shows ACAD's stock price for the last 6 months of 2009. In the 12 weeks leading up to the -012 clinical trial results, ACAD stock went from $1.97 per share to a high of $6.22 per share. At that time, ACAD's share count was 38.32 million shares giving the company a $238 million market capitalization. Based on today's share count, this same market cap. translates into a share price of $4.49 per share. If one takes into account the additional 10.2 million shares due to warrants and options, the equivalent share price would be $3.77 per share. ACAD recently closed at $1.92 per share, thus, if there is a run-up to the release of the new clinical trial results and if the market cap assigned to ACAD ahead of the previous clinical trials is accurate, ACAD's share price is poised to increase by 96% to 133%.
ACAD's 1-year chart suggests overhead resistance around $2.20 per share. The September $2.50 put/call ratio of .16 also suggests that while a run-up may begin this month, gains beyond $2.50 may possibly wait until after September options expiration.
How to Trade the Event
Given the low stock price, a simple long position would serve investors well in playing the binary event. Investors should keep in mind that the ATM facility gives ACAD flexibility to sell equity at any time. It would be prudent for management to raise cash if a run-up does materialize; however, based on the small size of the financing facility, we see such a move as lowering potential peak share price only by about 10% - 12% from the numbers calculated above. Investors who are considering establishing positions should decide exit points in advance to ensure that at least some gains are locked in ahead of the data release to account for both a negative trial result and the possibility for a sell-the-news reaction after the release of positive data.
Long term investors should keep in mind that ACAD will still have to undertake a second phase 3 clinical trial (the -021 study) to confirm the results of the -020 study before Pimavanserin can be submitted for FDA approval. If the -020 trial results are positive, ACAD will likely find a new base in the $3.25 - $4.00 range after the results are released.
Disclosure: I am long ACAD, ARNA. I wrote this article myself, and it expresses my own opinions. I am not receiving compensation for it (other than from Seeking Alpha). I have no business relationship with any company whose stock is mentioned in this article.