Ford Motor Corp (NYSE: F) was recently hit with yet another recall notice for its popular 2013 Escape model. According to the recall report, faulty cup plugs are at risk of causing coolant fires. Unfortunately, this is the second set of recalls for the 2013 Escape since the car came out June 2012. Ford estimates that 7,600 Escape owners will need to bring in their cars to make sure their car is safe with only 0.4% needing replacement parts. Regardless, this is not something you want to see on one of your hottest selling cars.
Despite the recalls, Ford is expected to receive no backlash in demand. Last month, Ford sold 22,550 2013 Ford Escapes alone. This just shows that Ford has turned a corner and is finally producing cars that consumers are interested in. In fact, a recent report came out that said Ford could pass Toyota this year as the best selling brand in the US. The Ford Focus has been outselling the reigning champion, Corolla.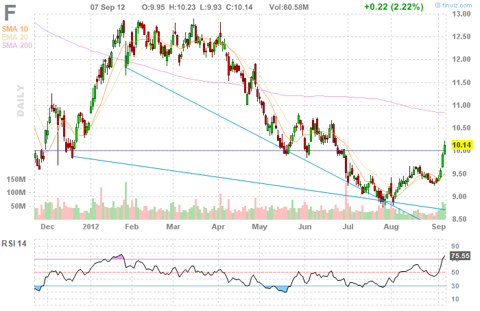 Lucky for Ford, its success does not stop at its Escape and Focus models. The auto company's flagship F-series pickup trucks have been flying off the dealership lots as well. In August, the F-series pickups accounted for 29.5% of total sales. This compares to July's 28.3% and 27.9% from a year ago.
For all you muscle car fanatics out there, Ford appears to be reigniting the "pony wars" with Chevrolet's Camaro. Ford's new Shelby GT 500 Mustang has over 600 horsepower, the most horsepower ever mass-produced by a major auto company. Regardless of which side you are on, it is very encouraging to see "American made" come back to life and thrive.
Turning away from North America, Ford is trying to beef up international sales. The car company recently released a statement that it will be producing engines in India which then will be sold to Europe. Ford's recent $2 billion investment in its India it will allow the facility to make 450,000 to 600,000 engines by 2015. This plant will provide a cheap source to mass produce engines that will supply Europe and Eastern countries.
Looking at valuation, Ford currently has a P/E of 2.27, a PEG of 0.31 and a price/sales of 0.29. These three fundamental indicators show Ford is trading at a deep discount right now. Looking at growth, Ford is estimated at seeing 18.25% growth in EPS next year and 7.48% over the next five years. Turning to efficiency ratios, Ford continues to prove its worth with a return on equity (ROE) of 158.42%, return on investment (NYSE:ROI) of 15.75% and return on assets (ROA) of 10.14%. As you can see by reviewing the basic fundamentals, Ford is a bargain right now. However, I still see an investment in Ford as successful over the long term so keep that in mind if you are looking to invest.
Looking at General Motors (NYSE:GM), let's compare valuations to determine if Ford is cheap relative to one of its biggest competitors. GM's P/E comes in at 8.35, PEG .75 and price to sales of 0.24. As you can see, GM's stock is undervalued as well but Ford takes the cake so far. Looking at GM's estimated growth for next year comes in at 18.92% and 11.12% over the next five years. Turning to GM's management efficiency ratios, the auto company sees its ROE of 15.36%, ROI of 4.95% and ROA of 3.11%.
As you can tell from the comparisons above, there are a lot of similarities between Ford and GM on a basic fundamentals basis. Both stocks are trading at very cheap valuations with GM expected to churn out slightly higher growth expectations. However, Ford's efficiency ratios blow GM's out of the water. Both stocks can be considered a "buy" but I like Ford more.
The bottom line here is Ford continues to resurge as the American auto company continues to focus on smaller, more fuel efficient cars as consumers have been demanding for some time. Ford has made huge progress at home and now it has its sights on Europe and other hot international markets. Ford is worth a look as a longer term investment. I feel the share price does not effectively represent the value of the company, making Ford a great investment opportunity to those who are patient.
Disclosure: I have no positions in any stocks mentioned, and no plans to initiate any positions within the next 72 hours. I wrote this article myself, and it expresses my own opinions. I am not receiving compensation for it (other than from Seeking Alpha). I have no business relationship with any company whose stock is mentioned in this article.