In spite of a general decline in nonperforming loans across the US banking system and a pick-up in housing, the US banks are still priced rather inexpensively. There are many banks that could benefit immensely in the next few years, with beaten-down bulge-bracket banks like Citi (NYSE:C) and Bank of America (NYSE:BAC) being at the top of the list. Yet, for investors with a more moderate risk tolerance, there's no bank more attractive than PNC Financial (NYSE:PNC).
The Macro Case for US Banks
There's a strong macro case to be made for US banks (NYSEARCA:KBE). The biggest boon for the banks right now is that Americans are slowly starting to buy more houses again. Housing starts have been inching upwards as we've gone from 550K to 750K annualized starts in a matter of 15 months.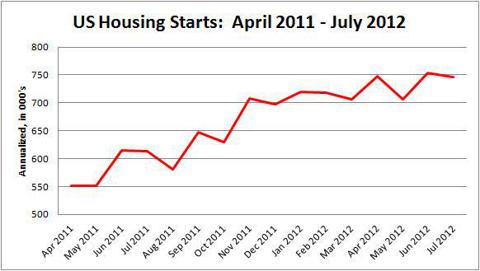 Click to enlarge
In the grand scheme of things, we are still at very depressed levels, as the chart below shows. This means there is still a lot of room for improvement in the market.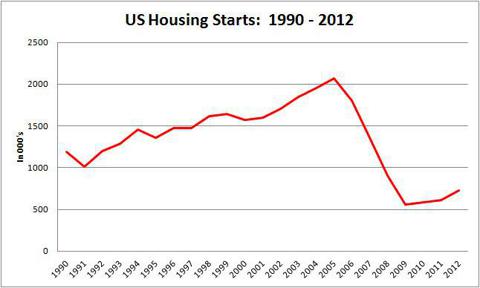 Click to enlarge
But if we can move closer to a more normalized environment, lending activity should pick up significantly. In my article "Housing Should Rebound Stronger than Expected", I argued that a normalized environment might be closer to 1.4 - 1.6 million starts. We are at about half that level right now, and this low level of production is likely unsustainable given the shortages in the market.
Housing prices are also finally starting to show an upward trend, as the Case-Shiller data below shows. It's important to realize that prices don't necessarily have to rise significantly for the homebuilders and banks to benefit, but it certainly doesn't hurt things. Of course, we've already experienced at least one head fake, as prices moved upwards in late 2009 and early 2010, before declining again. But this price recovery looks more sustainable given the dramatically shrinking inventories, coupled with low vacancy rates in the rental market.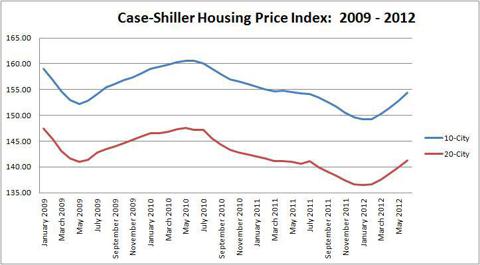 Click to enlarge
There is another reason to like the banks here: inflation. We haven't seen much of it lately and it's harmed some of the banks and insurers. Yet, the United States has run the largest peacetime government deficits as a % of GDP in its entire history over the past few years. In the chart below from US Government Spending, you can see that the only three comparable periods in US history were the Civil War, World War I, and World War II.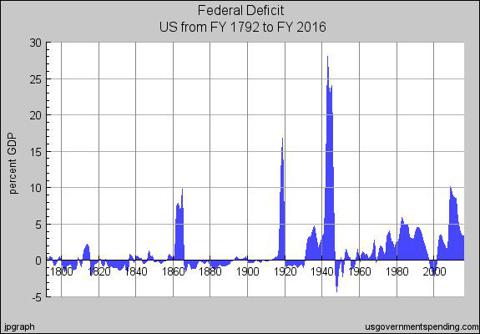 Click to enlarge
Higher interest rates are not necessarily good for the nation as a whole, but they might prove beneficial to banks, that will see their net interest margins increase. Banks that have excess liquidity particularly might stand to benefit.
This macro outlook makes the banks more intriguing, but even if none of this comes to fruition over the next few years, PNC Financial still looks inexpensive.
Are You Better Off Today Than You Were Five Years Ago?
The media has focused a lot on the trials of the bulge-bracket banks as well as the regional banks. PNC's sneaky ascent has almost been largely ignored. Not only has PNC survived the crisis, but it has strengthened significantly as a result of it.
With the US Presidential election coming up, Americans will continually hear the phrase, "are you better off today than you were four years ago?" It's interesting to examine the banks and ask a similar question to long-term shareholders: "are you better off as a shareholder today than you were five years ago?" There are very few bank shareholders that could answer that question in the affirmative. PNC is a rare exception.
Let's take a look at a broad cross-sectional view of banks over the past 5-6 years, with a focus on loan income, total assets, and total deposits. Nearly every bank in America has suffered in terms of top-line loan income, with only a few being able to break the trend. Those that have managed to grow deposits have largely done so via acquisitions.
In the chart below I examine 11 different banks, including the Goliaths like C, BAC, and WFC; as well as large regional banks, such as M&T Bank (NYSE:MTB), BB&T (NYSE:BBT), Suntrust (NYSE:STI), and Regions (NYSE:RF); a few smaller regionals with Huntington (NASDAQ:HBAN) and Synovus (NYSE:SNV); and one "micro-regional" that I follow closely, Pacific Continental (NASDAQ:PCBK).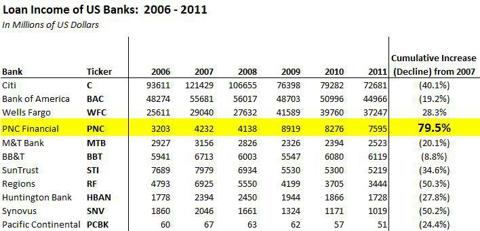 Click to enlarge
Notice that all but two of the above banks have seen declines in total loan revenue since 2007. The only two gainers are Wells Fargo at +28.3% and PNC at +79.5%. Wells Fargo's gains have come due to the 2008 acquisition of Wachovia. In fact, if anything, it's somewhat surprising that WFC has only achieved 28% growth given this.
Of course, none of this information is all that relevant taken in isolation. Rather, we have to examine one of the other big trends in banking since the financial crisis began: dilution. Most bank shareholders who have held on for the past five years have probably seen a considerable amount of dilution in their ownership. Indeed, it's difficult to find many banks that have seen their share count increase by less than 20%. We can see that in the chart below:

Click to enlarge
The last column in the chart above might be confusing at first, so I'll explain it better. I am essentially asking the question, "if a bank earned $1.00 per share in 2007, and its net income was exactly the same in 2011, then how much would its earnings per share be in 2011?" If you've ever seen a chart showing the "purchasing power of a Dollar" over time, this is a similar concept.
Note that almost all the banks suffer considerably on this metric. M&T looks to be the best with only a 13.7% share increase, and $1.00 EPS in 2007 would be worth $0.88 in EPS in 2011. Citi's shareholders got absolutely murdered based on the metric above, seeing a 486% increase in shares and a $0.17 equivalent EPS value in 2011. BAC's shareholders didn't fare much better. Even PNC does not look incredibly good on this metric, with a 57% share increase and a $0.64 equivalent EPS value in 2011. Yet, dilution is not necessarily bad if it occurred in the context of acquiring other banks at significant discounts. This is where PNC stacks up nicely.
If we combine the two charts above to look at loan income per share, we discover some intriguing results: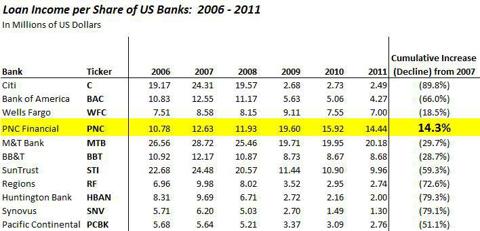 Click to enlarge
PNC is the only bank on the list that sees an improvement on this metric. This is particularly amazing because lending volume for the overall US financial system has declined significantly since 2007 and 2011 was right around the bottom of the housing market. For PNC to improve loan income per share 14.3% in spite of everything that happened says a lot about their management team.
Assets and Deposit Growth
Let's also take a look at asset and deposit growth. While loan incomes have declined dramatically for most banks, asset and deposit growth have been more mixed.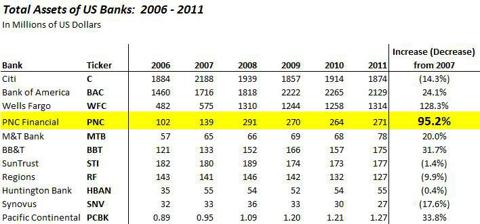 Click to enlarge
We can see here that PNC's total assets have increased by more than any other bank in our survey group, with the exception of Wells Fargo. The same is true with deposit growth.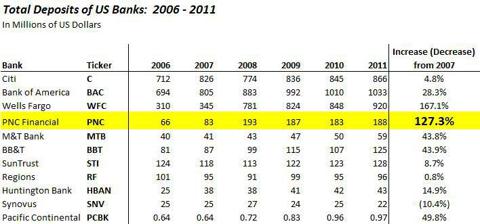 Click to enlarge
If you want to see both of those charts on a per share basis, as well, here they are: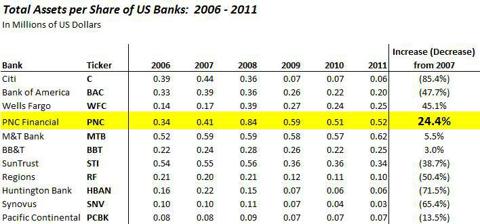 Click to enlarge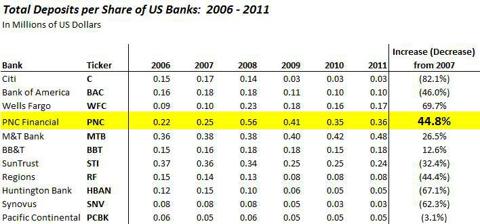 Click to enlarge
Note that only four of the eleven banks saw an increase on the deposit front. And that might be a bit misleading as a representation for the entire banking system, because my sample group is somewhat skewed to the stronger banks, with BB&T, M&T, and Wells Fargo being included. Still, PNC looks impressive on both fronts.
Pricing, Dividends, and Capital Ratios
We can also take a quick look at some comparative pricing and capital adequacy metrics for the banks.

Click to enlarge
I've cut down our list of banks to the eight largest, which are the most comparable to PNC. From this group, PNC has the second highest dividend yield at 2.6%, and actually appears to be priced attractively comparatively speaking. I'd focus most on Price to Tangible Common Equity ["TCE"], which puts PNC at 1.44x; lower than peers WFC, MTB, and BBT. Meanwhile, it has the second highest Tier 1 capital and TCE ratio ["TCE / TA"] of this group of four banks.
C, BAC, STI, and RF have all had major struggles, which is why they are priced lower than the other four banks. I actually believe that C and BAC provide major opportunities, but those two banks also come with higher risk.
With this, we can see potential reasons why PNC might be attractive compared to some of the other banks that have also fared well through the crisis. The dividend is nice, the price is reasonable, and many of the above metrics speak to the quality of its management team in guiding the bank through the financial crisis.
PNC's Recent History
Now that we've gone through a spate of comparative metrics, let's analyze PNC by itself. The chart below shows PNC's "vital stats", including Tier 1 capital, net interest margins, and non-performing loans. The "Present" column looks at data, as of PNC's 2nd quarter SEC filing. The "1 Yr Ago" column looks at data from its 2011 2nd quarter filings.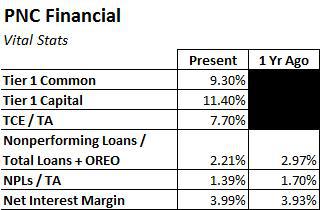 There is a lot of good news here. For starters, PNC's net interest margin is impressive at 3.99%.
However, it's nonperforming loans that I find myself more interested in. Nonperforming loans, as a % of total loans (including OREO + foreclosures) is down from 2.97% to 2.21% year over year. This is part of a broader trend in the industry, with nonperforming assets shrinking. Naturally, this is good news. We can see the bigger picture in the chart below, which runs through the end of 2011.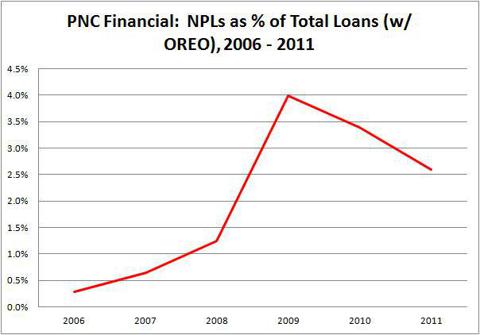 Click to enlarge PNC's nonperforming loans peaked around mid 2009 at 4.0% and have been in decline since then. The decline in NPLs should also focus our attention on another positive development: loan growth.
If you take a look back at one of the first charts analyzing the banks in this article ("Loan Income of US Banks: 2006 - 2011"), you can see that loan income has been falling for almost all the banks over the past several years. Even where there has been some loan growth, it's normally come from acquisitions, rather than organically. There might be a bit of that going on here, as well, since PNC acquired RBC's US operations. Still, PNC managed to achieve nearly 20% Y-O-Y loan growth, with little dilution. This is further testament to how PNC has been able to acquire assets on the cheap during the past few years.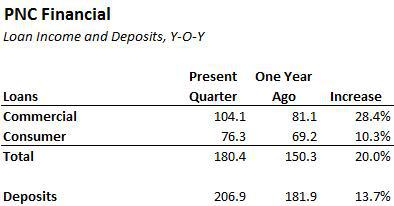 PNC has an impressive dividend history, as well. Before the financial crisis, it had a track record of nearly two decades' worth of dividend increases. It was forced to cut the dividend during the crisis, as were virtually all other banks, but it has managed to restore its dividends much quicker than competitors. While the current rate of 40 cents per quarter is still below its peak of 66 cents, this is still impressive given how dismal the lending environment has been for the past several years.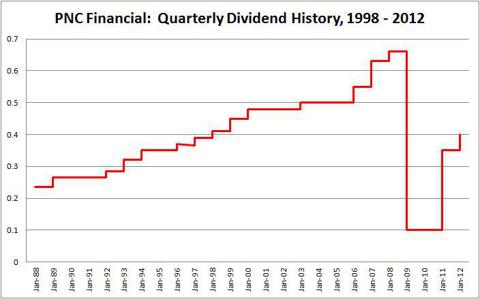 Click to enlarge
It's also worthwhile to peek at PNC's payout ratio historically.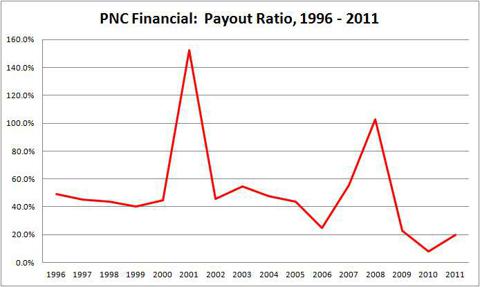 Click to enlarge
As you can see, payout ratio for PNC is at a much lower level than normal, around 20%. This likely reflects a lot of the conservatism around the banking system, with regulators pressuring the banks to keep dividends low. I expect this conservatism to wane a bit in the upcoming years.
One figure I always like to examine is what I call the "earnings yield", or EPS divided by stock price. (This is the inverse of P/E.) PNC's 2011 diluted EPS was $5.73 per share, while the stock price is currently near $62. That gives it an earnings yield of 9.2%. Ignoring a few one-time gains and losses, that falls slightly to 9.0%, but it still looks quite attractive. All the more so, because housing is cyclical, and the banks are still in a somewhat depressed environment due to the lack of activity in the housing sector.
A Normalized Environment
The next question to ask is what a more normalized banking environment might look like? Taking a look at historical loan income levels at the banks, I don't believe it's a stretch to suggest that we'd see at least a 30% - 50% improvement in loan volume.
First thing, we should look at PNC's most recent fiscal year results.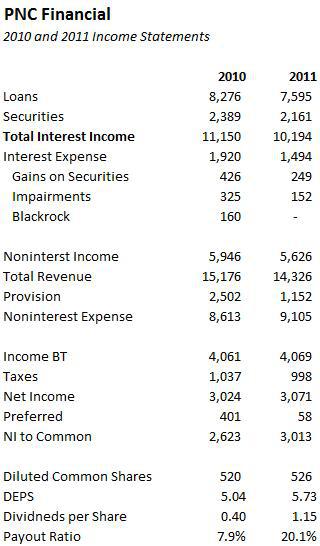 It's always somewhat folly to try to piece together an earnings or cash flow picture for a company based on hypothetical future improvements. Yet, it's also necessary if we want to understand the potential upside. When I conduct these exercises, my goal is more to get a sense of the potential, rather than to pretend I can achieve some great level of accuracy.
My hypothetical income statements based on increases in loan volume are below. I examine 30% - 50% increases in loan income as my starting point, and make other projections on margins, noninterest income, and noninterest expenses, as well. There are a lot of factors that are difficult to predict in an exercise like this, such as whether interest margins will contract with higher interest rates (they likely will) and how much a bunch can sell other services to consumers once they are in the doors.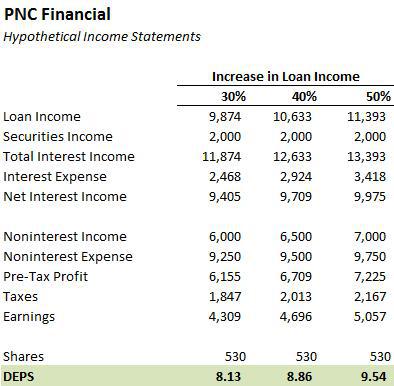 Based on these rough "guestimates", I don't think it's unreasonable to suggest that with a more normalized environment, PNC could churn out earnings in the $8.00 - $10.00 per share range.
This is upside, but what I really like is that even in 2011, PNC earned $5.73 per share, in what was a fairly dismal environment. That puts it at a P/E ratio of about 10.8. Even if things were to stay the same for a few years, PNC still looks attractive at the current price. But if we start to see the housing market improve significantly, and the banks begin to see loan growth again, we can see that PNC has some significant upside. If it could achieve a $9 EPS and sold at a more normal 14 P/E ratio, that would put its price at $126; a double from where it currently sits.
Even if 2012 earnings are only at $6.50 per share (below analysts' average expected earnings of $6.75), and you apply a low P/E of 12, that implies a price of $81, about 30% above where the stock trades now.
Conclusions
PNC's ability to improve itself through the financial crisis is a testament to how well it's run. Not only has it increased deposits, assets, and loan volume, it's done so without harming shareholders. While I view more beaten down banks like Citi and Bank of America as having higher upside potential, PNC Financial is still relatively cheap at 1.4x tangible common equity, and has enough upside to make it worthwhile. Likewise, it has significantly lower risk than many of its peers and should have more growth left in it than bulge bracket banks like C, BAC, and WFC.
At $62, it is selling at a trailing P/E of about 10.8, and we appear to be at a cyclical bottom in the lending market. This means that it might even be significantly cheaper than it looks on the face of it. Overall, I view PNC as one of the most attractive bank stocks on a risk / reward basis.
Disclosure: I am long PNC, C, PCBK. I wrote this article myself, and it expresses my own opinions. I am not receiving compensation for it. I have no business relationship with any company whose stock is mentioned in this article.