Despite iron ore accounting for almost 30%-50% of its EBIT over the last three years, BHP Billiton Limited (NYSE:BHP) remains one of the most diversified metals and mining giants. It is one of our favorite stocks to play a rebound in the basic materials sector in general and iron ore in particular. The company's diversified asset base, financial flexibility, lucrative growth prospects, strong market position, and conservative financial policies make it stand out against its peers, despite relatively expensive valuations. We have given the stock a buy rating in the long-term, and while we are cautious on this stock in the short-term, just like our stance on other iron ore giants, we feel that its diversified asset portfolio makes it the least risky amongst its peers, even in the short-term. Please read our previous articles on VALE S.A. (NYSE:VALE), Rio Tinto plc (NYSE:RIO) and Cliffs Natural Resources (NYSE:CLF), for our investment advice on each of these stocks.
Iron Ore
The prevalent downturn in the iron ore market presents an excellent opportunity for long-term investors who can withstand temporary glitches to experience a huge upside later. Last week, cash iron ore prices dipped below $90/metric ton, a 3-year low, and have dropped by 35% from their July levels. Currently, the destocking trend and reduced steelmaking demand have been the cause of the iron ore market's continuous downward slide. According to MySteel, iron ore stockpiles have dropped by 30% in just two months. However, its prices saw rebounds in 2010 and 2011, after the Chinese Steel Industry picked up following slowdowns. We expect a similar rebound, possibly after 3Q, as China will need to start rebuilding inventories, which will in turn underpin prices.
BHP Billiton
BHP Billiton Limited is the largest diversified natural resources company in the world. The company is among the largest producers of major commodities like iron ore, aluminum, copper, manganese, nickel, silver, titanium, uranium, energy coal and metallurgical coal. It has substantial interests in oil and gas as well. The following chart shows its FY2011 revenue breakdown, according to its different segments.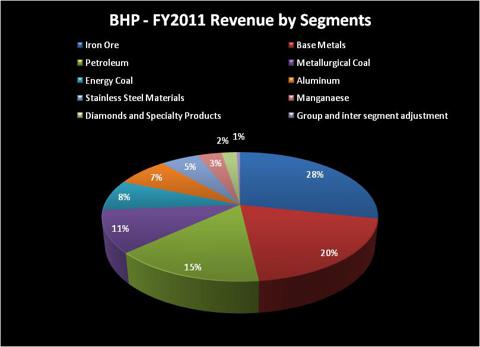 Click to enlarge
The company has a considerable planned capital expenditure of about $22 billion in fiscal 2013, but is expected to reduce its CAPEX so as to sustain cash. This expectation of financial flexibility is not unrealistic, as BHP did the same during the 2009 financial crisis. The company's liquidity position is also adequate, as according to S&P, it derives its financial flexibility from, "its strong access to debt capital markets, a $4.0 billion undrawn revolving credit facility, and flexibility in managing discretionary capital expenditure".
Last month, the company had to delay projects worth $68 billion, which included the expansion of an iron ore port, amidst depressed global growth. Recently, the company said that it would have to delay the expansion of its Olympic Dam project (the largest uranium source and one of the biggest copper finds), as the company is currently facing augmenting construction costs, dipping commodity prices, and a strong Australian Dollar.
According to a hedge fund manager in New York, "When iron ore is in turmoil, as it has been in the last three or four weeks, it impacts VALE much sooner than BHP. BHP has sufficiently-diverse projects in different commodities to compensate for it."
Latest Quarter Performance
The company reported a 35% YoY decline in profits in 2H, primarily since the prices of many commodities are at multi-year lows. The company has deferred the approval of new big projects till at least the middle of next year. Its revenues have increased by 0.7%, but cash flows from operations dropped by 19% to $24.38 billion.
Valuation
The following table shows the essential valuation metrics of BHP Billiton, in comparison to its immediate peers, RIO, VALE and CLF. It is clearly evident that BHP is the most expensive stock amongst its peers, as its forward P/E of 11x is the highest of the lot. Despite weak market dynamics of commodities, especially iron ore, BHP has dropped by just above 4% on a YTD basis, primarily due to its diversified operations.
| | | | | |
| --- | --- | --- | --- | --- |
| | BHP Billiton Limited | Rio Tinto plc | VALE S.A. | Cliffs Natural Resources |
| Forward P/E (1 year) | 10.78 | 6.29 | 5.8 | 5.43 |
| Dividend Yield | 3.40% | 3.00% | 6.40% | 6.30% |
| Share price Performance (YTD) | -4.15% | -0.56% | -15.93% | -35.99% |
Source: Yahoo Finance

Click to enlarge
Source: Google Finance
Disclosure: I have no positions in any stocks mentioned, and no plans to initiate any positions within the next 72 hours.
Business relationship disclosure: The article has been written by Qineqt's Basic Materials Analyst. Qineqt is not receiving compensation for it (other than from Seeking Alpha). Qineqt has no business relationship with any company whose stock is mentioned in this article.