Although NetApp (NASDAQ:NTAP) has been viewed as a potential takeover target for the past ten years, today's price levels offer a valuation that appears to be one of the most attractive this company has ever witnessed. The company's market cap topped out at just over $22 billion in 2011 and as the stock price retreated, the current market cap is now just north of $12 billion. Although the cloud computing and data storage sector has gotten criticism lately, I still believe this is an area of the market with tremendous growth potential. I think the basic concept of data storage is understood; as we demand more and more data, whenever we want it, wherever we want it, and as fast as possible, it is going to take more and more powerful computers to deliver it. NetApp is a one of the only "pure-play" publicly traded companies in the data storage/cloud computing space.
NetApp has struggled with the European slowdown and management has done a poor job meeting forecasts. This has caused many analyst to slash price targets and further depress the stock. Additionally the US government and financial sector, which contribute 11-12% and 14-15% of revenue respectively, have been cutting back on data storage spending. This perfect storm of bad news has kept the stock trading lower for a few months.
The purpose of this article is to highlight my view on what makes NetApp such an attractive takeover target. We will evaluate the corporate cash flow generation, historic valuation multiples, and potential candidates to acquire NetApp. Please note that I use GAAP measures, many websites may use non-GAAP data.
Cash Flow Generation
One of the most important things to look for in a potential takeover candidate is the ability to generate cash flow. Most takeovers involve a significant amount of debt to finance, the ability to repay these loans through operating cash flow is crucial to getting a deal completed. NetApp generated just under $1.5 billion in cash flow from operations during fiscal year 2012. Additionally free cash flow was a healthy $1.1 billion, which equates to a free cash flow yield of roughly 8%.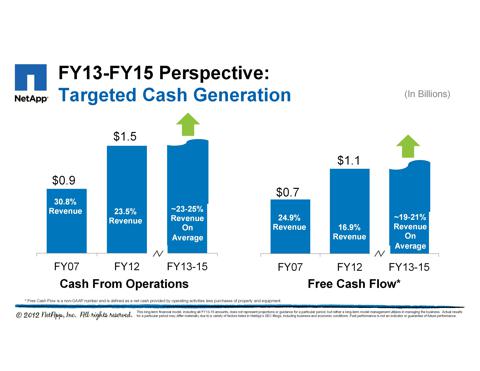 Source: NetApp Analyst Day Slides
Although the requirements for revenue recognition under GAAP were changed in 2011 (see 2011 10-k), and revenue recognition has changed slightly, you can see the trend in revenue growth for the company (chart below). From 2006 to 2012 CAGR has been at 20%. As you can see in the chart above, the company is forecasting cash from operations of roughly 23-25% of revenue over the next three years.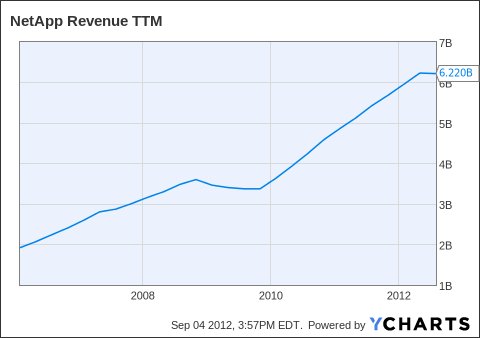 NTAP Revenue TTM data by YCharts
Valuation
NetApp trades at very low multiples based on multiple scenarios. I have chosen to highlight a handful that warrant extra attention for potential acquisition targets. One of the most popular multiples to look at when evaluating takeover targets is the Enterprise Value-to-EBITDA multiple. As you can see in the table below the company currently trades a 9.24x, this compares with a five year average of 15.85x.
| | | | | | | | |
| --- | --- | --- | --- | --- | --- | --- | --- |
| | 2007 | 2008 | 2009 | 2010 | 2011 | 2012 | TTM |
| EV/EBITDA | 31.44x | 19.25x | 22.02x | 10.96x | 15.06x | 11.92x | 9.24x |
Source: NetApp 10-k's and 10-q's
Circling back to operating cash flow we can graph the price-operating cash flow-per share of NetApp. The five year average P/OCF ratio has you paying $10.28 for every $1 of operating cash flow. Currently shares can be purchased for $8.80 per $1 of operating cash flow. This is 14% below the five year average and given the cash flow growth mentioned above, trading at very attractive levels.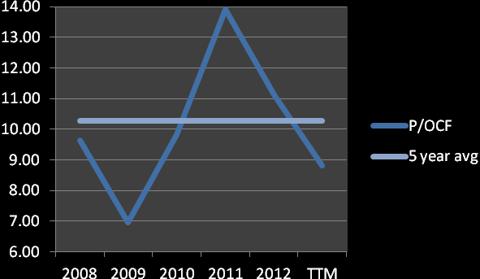 Source: NetApp 10-k's and 10-q's
Looking at Book-Value-Per Share shows a similar story. Shares of NetApp will currently cost you $2.93 per $1 of equity compared with a five year average of $4.35 per $1 of equity. The company has done a tremendous job growing shareholders equity while not diluting the share count. In 2007 shareholders' equity was just under $2 billion with 388,500,000 diluted shares outstanding, compare that to the most recent quarter end when equity stood at $4.3 billion and diluted shares 371,200,000. With over $1 billion remaining in the share repurchase program, and management already estimating diluted shares at the end of the second quarter will be approximately 370,000,000, you can see evidence of a well run corporation.

Source: NetApp 10-k's and 10-q's
Potential Suitors
NetApp currently sits on the largest pile of cash in its corporate history, $5.4 billion. Factor in debt of $1.5 billion (includes debt and non-cancellable operating leases) and a buyer would be getting the company with net cash equal to 31% of its market value.
Looking at the chart below you can get an idea of who plays in the network storage space. EMC Corporation (EMC) is by far the largest in the industry, and with a market cap of $55 billion, they are far too large to be acquired. The next largest competitors are International Business Machines (NYSE:IBM), Hewlett-Packard (NYSE:HPQ), Hitachi (OTCPK:HTHIY), and Dell (NASDAQ:DELL). All are diversified technology companies and derive a substantial portion of their revenue from other sources. NetApp is the most attractive "pure-play" storage company with an established (and growing) market share.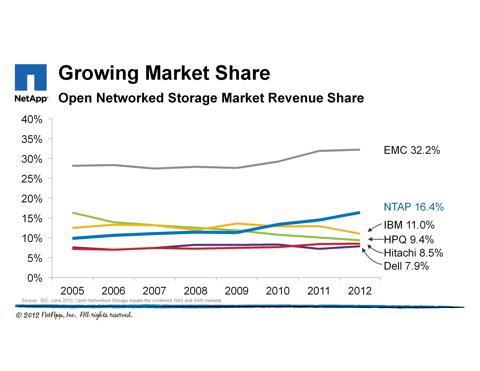 Source: NetApp analyst day slides
So who would be interested in a company like NetApp? I think NetApp's mix of both hardware and software may attract interest from International Business Machines, Oracle Corp (NYSE:ORCL), Microsoft (NASDAQ:MSFT), Hewlett-Packard, or Cisco (NASDAQ:CSCO). All of these companies are holding large amounts of cash/investments (IBM-$25B, HPQ-$19B, CSCO $50B, ORCL $30B), have been making direct investment in the data storage arena, or are already working with NetApp in some fashion. The potential to acquire a company like NetApp trading at such low levels may prove promising in the years ahead.
With corporate America's balance sheets stuffed with cash, and borrowing costs at record lows, the probability for NetApp to be acquired is much higher than years past. Shareholders will eventually demand corporations start spending cash rather than hoarding it and earning virtually zero percent interest.
I think it is fair to say that NetApp's board of directors is well aware of their depressed stock price. If any offers were made I would expect the board to reject them and demand a higher price. This could begin a bidding war similar to what we witnessed when Dell and HP went after storage provider 3Par a few years back. It wouldn't surprise me to see someone act before shares of NetApp climb higher.
Note: All data reported and graphed is pulled directly from NetApp's SEC filings and press releases.
Disclosure: I have no positions in any stocks mentioned, and no plans to initiate any positions within the next 72 hours. I wrote this article myself, and it expresses my own opinions. I am not receiving compensation for it (other than from Seeking Alpha). I have no business relationship with any company whose stock is mentioned in this article.