AT&T (NYSE:T) looks expensive at its current valuations, and we believe that the stock appreciation has not come as a result of its fundamentals, but because it is an attractive option for investors seeking higher yields. Moreover, the company has managed to bring a 10 cent/share growth to its dividend payments for a number of years now, which also makes it a safer bet in a low-yield environment. We believe its recent stock movement and high valuations are not justified by its fundamentals, which are reflected in the company's slowing revenue growth, margin erosion, and earnings decline. Because of the limited upside potential for the stock, we believe investors should wait for a better entry point.
AT&T is the second largest U.S. telecom operator, providing voice, data and internet facilities to its customers. As of the quarter ended June 2012, it had over 105 million customers availing its wireless services. It has a market capitalization of approximately $215 billion, and its shares are currently trading near $37.3; 3% off its 52-week high. In the quarter recently ended, the company generated earnings of $3.9 billion on revenues of $31.57 billion. It is also the largest telecom company in the U.S. in terms of revenues generated. The company's stock has had an excellent year in terms of price appreciation; it has gained almost 23% in value YTD. However, we believe that most of this price appreciation has been because of investors bidding up the stock due to the dividends paid by the company. AT&T can definitely be regarded as a high dividend stock, currently yielding around 4.7%. The current yield, when compared to 10-year treasury yields, is reason enough to buy into the stock, especially with the treasury yields so low. The graph given below shows the current yields of the long-term treasury notes and the reason why investors are being forced to leave the less risky treasuries for riskier equities.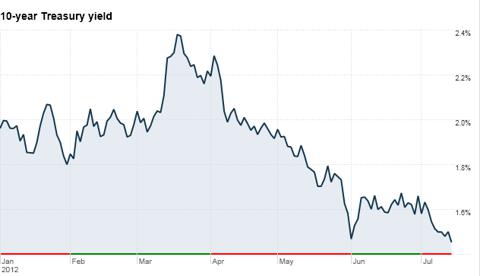 If we look at the company's financials, it is apparent that it is not exactly a growth story. Quarterly revenues generated were almost $32 billion, which declined on a sequential basis, and were below expectations. The slowdown in growth is also visible from its 4-year revenue CAGR of only 1.7%, which is even lower than Verizon (NYSE:VZ). AT&T is also the company that sells the highest number of iPhones in the U.S. In the quarter recently ended, it sold 3.7 million iPhones, a million more than Verizon. Selling these many iPhones comes at a cost, and that cost is margin erosion. Margin erosion is the reason why companies like AT&T and Verizon have lowered smartphone subsidies, and taken other measures like lengthening the upgrade period in an attempt to reduce subsidy costs. Despite the recent measures taken, with the iPhone 5 waiting in the wings, one can expect future erosion of margins for AT&T and Verizon.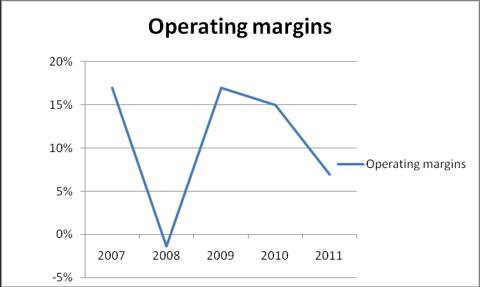 No doubt the company benefits from iPhone sales in terms of revenue generation as well, which comes from an increased number of subscribers using its network and its services, but one must also consider the fact that AT&T now has to share those revenues with other telecom carriers, as it has lost exclusive rights to the iPhone. Verizon is already catching up with regards to iPhone sales. If we look at the company's bottom line, there is no growth there either. Since the financial year ended 2007, T's earnings have dropped by almost 25%.
As mentioned previously, the stock remains attractive from a dividend perspective, currently yielding 4.7%, which has however dropped considerably. Even though AT&T has enough cash flow strength to cover its dividend payments, one must also consider that its trailing twelve month free cash flow yield of 2.6% is much lower than its dividend yield.
Currently, the stock is trading at 1.7x times its sales, much higher than the industry multiple of 0.9x. On a forward P/E basis, the stock is currently trading at almost 15 times its earnings, while historically it has traded at 11x, which indicates the stock is overvalued at these levels.
On a price to free cash flow basis, the stock is trading at 15x, while historically the multiple has been around 11.5x.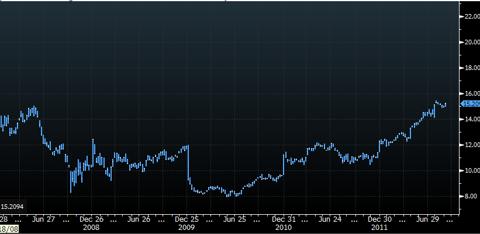 Source: Bloomberg
Disclosure: I have no positions in any stocks mentioned, and no plans to initiate any positions within the next 72 hours.
Business relationship disclosure: The article has been written by Qineqt's Telecom Analyst. Qineqt is not receiving compensation for it (other than from Seeking Alpha). Qineqt has no business relationship with any company whose stock is mentioned in this article.