General Electric (NYSE:GE) has been making some wise decisions lately and they seem to be working. Second quarter earnings saw increased revenues compared with last year, despite a loss of nearly $1 billion due to currency fluctuations. Revenues at GE Capital saw a steep fall of 8% but it still managed to increase profits by over 20% to $2.1 billion. GE Capital is also paying a dividend to GE that amounts to about $3 billion. What is pleasing investors most is GE Capital's decision to deleverage its balance sheet and sell assets like commercial real estate that are not part of its core businesses.
The company that began with the light bulb is doubling down on energy investments that should prove highly profitable in the future. Most analysts agree that General Electric's main strength lies in its energy and manufacturing business, particularly in creating valuable new technology and bringing it to market.
Bringing new technology to market requires more than just manufacturing facilities and teams of the world's best engineers and scientists. What you need is a steady flow of capital. General Electric continues to meet with the FDIC concerning the sale of MetLife's (NYSE:MET) bank deposit business. MetLife desperately wants to sell the business to avoid new federal regulations, and General Electric wants it to shore up a steady stream of funding for GE Capital.
Worldwide energy sector analysts concur that facilitating the use of natural gas as a major fuel source for electricity and transportation will result in enormous, global infrastructure opportunities. In North America alone, at least $100 billion will, barring major catastrophe, be spent on natural gas-related infrastructure. Major players like Emerson Electric (NYSE:EMR) and Siemens AG (SI) will no doubt compete with General Electric for contracts, but there should be plenty to go around. Now that GE's energy business is split into three parts - GE Power & Water in Schenectady, GE Oil & Gas in Florence, Italy, and GE Energy Management in Atlanta - it is poised to fill natural gas drilling, infrastructure, and transportation refitting needs around the world more efficiently than any of its competitors.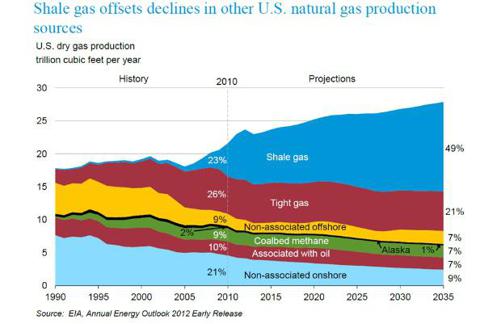 Projected natural gas production in the US alone will require huge investment in infrastructure as it becomes the main fuel for transportation.
Great strides in research and development made by GE's team of engineers and scientists are about to make its diesel locomotives more competitive than ever. The EPA has enacted some strict non-road diesel emissions standards that will require locomotives to lower the amount of sulfur in their fuel by a whopping 99 percent. This is great news for our lungs, but potentially disastrous for diesel engine suppliers like Caterpillar (NYSE:CAT). The standards that take effect in 2015 will require an expensive fuel additive forcing rail operators to spend billions in equipment upgrades. That is unless they purchase GE Transport's latest locomotive, the GE Evolution series.
GE's new Evolution Series locomotive, to be produced in the US, will be able to meet the EPA's Tier 4 standards without adding anything to existing fuel supplies. The new locomotives are fitted with all new turbochargers, fuel injections, and exhaust systems that will save its customers billions by using existing fuel more efficiently and meeting emissions standards without the need for additives.
GE has been a leader in the renewable energy sector since it began producing wind turbines more than a decade ago. Its wind turbine business is still going strong on orders from outside the US, but there's an unfilled niche in the $260 billion renewable energy industry. Surges in solar and wind farm power generation often go unused and the electricity storage industry is expected to grow by leaps and bounds. General Electric is poised to gain from this emerging market.
In August, GE opened a new battery making plant in New York state. Using technology from a UK company it purchased 5 years ago, it is developing sodium nickel batteries intended to store massive amounts of electricity for electric trains and possibly win the fight for the preferred renewable energy storage method. Nickel based batteries should be far cheaper to produce than the mass storage lithium battery arrays produced by Siemens . If these batteries can be produced cheaply enough they are a shoe-in for an energy storage market that is expected to grow tenfold over the next decade. It's a long shot, but if anyone can pull it off it will be a company with deep pockets for research and development, like GE.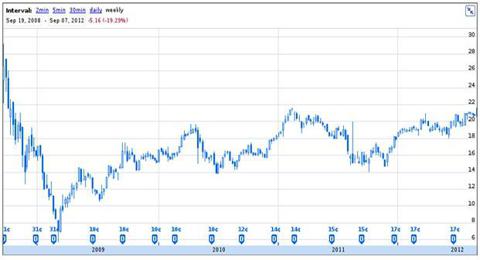 After slashing payouts to $0.10 in early 2009, General Electric has shown steady dividend growth and should continue to do so.
General Electric's advances in renewable energy, natural gas infrastructure and transportation will make the next two decades extremely profitable for this blue chip. Furthermore, General Electric is currently paying a regular quarterly dividend rate of 3.15% and there is every indication that this yield will continue to grow. This is a stock that I would recommend building a sizable long position in for a very long term.
Disclosure: I have no positions in any stocks mentioned, and no plans to initiate any positions within the next 72 hours. I wrote this article myself, and it expresses my own opinions. I am not receiving compensation for it (other than from Seeking Alpha). I have no business relationship with any company whose stock is mentioned in this article.