Background
Back before the crash of 2008, American Capital Ltd. (NASDAQ:ACAS) was a leveraged Business Development Company ("BDC") taxed as a Registered Investment Company ("RIC"), and managed a leveraged private equity portfolio that was diversified across numerous industries. The portfolios leveraged depended on debt arrangements that included a revolving account: the company could borrow as deal-timing required, and was free to repay funds without fear of loss of access to cash for later investments. The company paid an attractive dividend because it was required as a RIC to distribute substantially all its taxable income in a similar manner as a REIT - and with the same pass-through tax effects. In the years leading up to 2008, the company's leverage and dividend yield looked like this: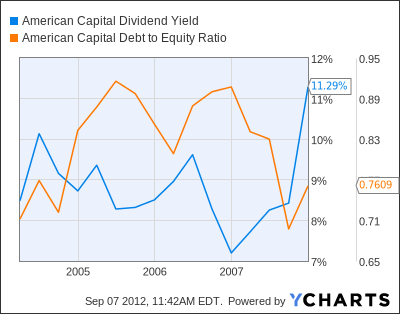 During this period, FAS 157 was implemented. A holding company like Berkshire Hathaway (NYSE:BRK.B) must apply FAS 157 to derivatives, but not to its operating companies such as Geico, Dairy Queen, or the Burlington Northern Railroad; and whether FAS 157 applies to a contract at Berkshire turns not on the risk involved in the contract, but whether the contract is structured as an insurance contract (e.g., insurance against a bond issue's default) or a derivative (e.g., a swap whose value changes based on a bond issue's default). As a result, FAS 157's application and effect raises some issues of form versus substance and introduces some challenges in the comparison of companies to which FAS 157 applies with material difference.
At American Capital, FAS 157 requires each portfolio company to be assigned a 'market value', even if there is no ready market for a mid-market investment - buyers of which might spend most of a year doing due diligence and terms negotiation. Consequently, the liquidity crisis drove the FAS-157-compliant "fair value" of American Capital's holdings through the floor, and its debt-to-equity ratio bloated even as it retired debt. Although American Capital continued to make timely payments on all its outstanding debt, the company's plummeting asset base breached debt covenants: investors panicked and shares plummeted.
Aftermath
Coming off a price floor of less than 60¢ per share, the post-crash investment thesis in American Capital has been that the market prematurely assumed it was dead, and that it would not only survive but return to ordinary operations. Doing that required refinancing debt to resolve the debt-covenant default, arresting emergencies in a variety of portfolio companies impacted by the liquidity crisis, and ensuring American Capital developed sufficient capital to address the needs of its portfolio companies and the concerns of those with whom it intended to do business.
American Capital's post-crash performance has included both the refinancing of its debt as a secured debt without a net asset covenant, and the steady repayment of that debt to take advantage of interest rate terms that declined with its outstanding debt. Decreased interest rates and decreased debt combined to lower operating costs. Since the new debt lacked a revolving credit facility - and American Capital was barred from obtaining other loans until its earlier loans were repaid - debt repayment was a one-way street: the company could pay debt, but not re-borrow cash.
American Capital grew its diversified portfolio as economic conditions normalized despite paying down debt from more than 2:1 to less than 0.25:1. The company has employed tax planning to improve investor returns over the post-crash period. For example, it dropped its RIC status so as to avoid losing valuable crash-era operating loss carryforwards that currently allow the company to avoid paying taxes despite paying no dividend. This means that shareholders enjoy tax-free reinvestment, which should continue while the loss carryforward continues to be consumed by earnings.
The company's current dividend policy obliges management to repurchase shares instead of paying dividends, while the share price remains below the net asset value ("NAV") per share. As previously described, these systematic below-NAV share buybacks have reduced the company's share count by more than 1% per quarter since the policy went into effect. This value concentration promises good things to long-term shareholders.
Recent Development 1: Managed Funds
Last week, a Seeking Alpha article compared American Capital's March-ending quarter to its June-ending quarter and concluded the shares were unattractive. However, the attractiveness of American Capital's shares is impacted by developments within the last few weeks that should be kept in mind as investors weigh American Capital as an investment.
At the end of last quarter, American Capital's asset manager passed the company's European Capital subsidiary in value to take the top spot as American Capital's single-largest investment. As described in the article More Growth At American Capital Ltd., American Capital is not only receiving tens of millions of dollars per quarter now in dividends from its asset manager, but is actively developing new asset management business. The news is that American Capital Asset Management LLC last week launched a $362m managed CLO. American Capital bought a $29.9m tranche of subordinated notes issued by the new CLO, and the remaining $332.3m were sold to third-party buyers.
Including leveraged assets, American Capital now manages over $100 billion. Not all of these are fee-generating: some are carried on the company's own balance sheet, and much of it is leveraged investment. Since fees are earned on net investment rather than on gross assets, modest growth in gross assets managed can still yield significant growth in net fee-generating assets. American Capital's $30 million investment in its asset manager last quarter to develop new funds is a signal that American Capital is now playing to its strengths: growing fee-based business so it can acquire the fee-based pricing the company clearly hoped to enjoy before the crash by reinvesting in its largest portfolio company. The first of these new lines of managed funds will already generate another $1.52 million in fees annually - and if the $30 million is the source of funds for the company's $29.9 million stake in the first CLO, investment returns as well. Investors should remain interested in other managed-funds development efforts, with an eye toward the economies of scale American Capital may enjoy as it grows related lines of business.
Confidence In Management
Buying its own product (particularly at the subordinated end of the debt spectrum) is as much marketing as it is investment: buyers need confidence in their managers. The manager's director of its CLO group said, "CLO investors have become extremely focused on manager performance and we believe our record will help us raise additional CLOs even if some managers are shut out of the market. We look forward to continuing to perform for our investors." Looking at the equity raised by American Capital's two publicly-traded externally-managed funds - American Capital Agency (NASDAQ:AGNC) and American Capital Mortgage Investment (NASDAQ:MTGE) - it's clear that the public has been willing to invest billions with American Capital's management.
Investors must have confidence in a manager entrusted to control their investments. When managers run a business like Apple Inc. (NASDAQ:AAPL), which has a definite brand and product category and customer profile, one is arguably betting on the business and whether current management can run that business. With a fund manager, however, one is taking a risk on the manager's expertise in every business the manager considers. The confidence suggested by American Capital's success in increasing funds under management is arguably a signal about the quality of management. Even if not, it's definitely a signal about the ability of management to inspire confidence in funds-management customers.
And that is an asset.
Recent Development 2: New Debt Means New Freedom
The new fund is not American Capital's only news. In the last quarter's earnings call, management said:
our cash management and debt reduction efforts have allowed us to continue to delever and derisk our balance sheet, improving the potential to refinance and lower our cost of debt and improve on its terms.
And how. At the end of August, the company refinanced its secured debt at LIBOR+4.25% with a LIBOR floor of 1.25% (down from LIBOR+5.5% and a 2% floor), and opened a revolving credit facility at LIBOR+3.75%. This not only lowers the company's operating costs over the immediate term, but has strategic implications: it improves the spread on all the debt American Capital owns and will own for investors going forward. Spread is a leading factor in calculating returns on a leveraged debt portfolio, which is even more important in light of American Capital's announced intent to invest further up the balance sheet.
Conclusion
American Capital Ltd. is returning to what pre-crash observers will recognize as normal business. Success in its asset management business poises it to enjoy valuation based on fund-manager multiples rather than BDC multiples, even if only because its ownership of a successful asset manager will affect the NAV calculations that drive pricing as a BDC. Lowered costs of capital will improve future returns, and creditors' vote of confidence in extending improved lending terms suggests confidence in American Capital is improving. The revolving credit line will allow American Capital to grow its investment portfolio as opportunity offers attractive investments.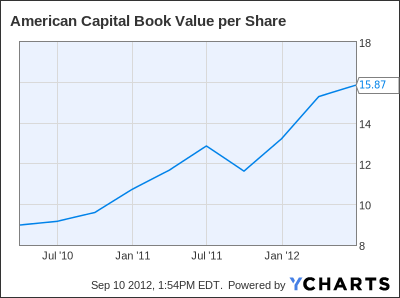 As a BDC, American Capital has already made new investments to grow existing portfolio companies and to add new businesses. The new credit terms should improve both the funds-management business (as it sets up funds to sell) and the investment owner businesses (to improve both spreads and access to capital). Investors attracted to a BDC that reinvests its deal proceeds without paying current taxes (it is still consuming crash-era loss carryforwards) or making investors pay taxes (it is using dividend allocations for share repurchase until share prices exceed NAV) have few other choices. Investors previously concerned by restrictions imposed prior debt, or worried about liquidity required to resume normal processes governing the flow of deals should consider American Capital again. Organic growth of the management business, reinvestment in existing portfolio companies, and entry into new investments all suggest that American Capital is returning to normal operations.
Investors who like the trends suggested by the charts in this article should consider whether normal operations at American Capital sound like a good addition to their portfolios.
Disclosure: I am long ACAS, BRK.B, AGNC, MTGE. I wrote this article myself, and it expresses my own opinions. I am not receiving compensation for it (other than from Seeking Alpha). I have no business relationship with any company whose stock is mentioned in this article.