About a month ago I began an analysis of some of my favorite energy stocks' PE ratios, dividend yields, earnings reports, and charts. Having convinced myself the energy sector was quite undervalued, I sat down to write an article for Seeking Alpha. But alas, I trashed it after Barron's beat me to the punch with their August 6, 2012 cover story How To Play Energy. That said, I have revived the article from my recycle bin because the energy sector is still as undervalued today as it was a month ago.
In the Barron's piece, author Andrew Bary made a good case that many energy stocks, including Exxon Mobil (NYSE:XOM), ConocoPhillips (NYSE:COP), Chevron (NYSE:CVX), Suncor (NYSE:SU) and Phillips 66 (NYSE:PSX) were trading at discounts and due for a pop. The article was spot-on and well timed as many of these names have recently had nice moves. But is the move over? Hardly.
Energy Sector Versus S&P500
Is the move in energy stocks over or just beginning? Consider the following chart:
| | | | |
| --- | --- | --- | --- |
| | 3 month | YTD | 1 year |
| XLE (Energy ETF) | 13.9% | 6.2% | 13.2% |
| SPY (S&P500 ETF) | 8.3% | 14.9% | 24.4% |
Even though the energy stocks as represented by the Energy Sector ETF (NYSEARCA:XLE) have had a sizzling 3 months, they are only up 6.2% for the year, less than half the return on the S&P500. This is because the energy stocks were substantially down for the year until just recently. For the past 12 months, the energy sector lags the S&P by 11.2%. This is quite amazing considering the price of Brent is $114.50 and WTI & Nymex Crude are both above $96. Toss in the dividend yield many energy stocks throw out and I believe there is a compelling case that the energy sector is still significantly undervalued versus the broad S&P500.
If those weren't reasons enough to buy into oil stocks, Liam Denning of the Wall Street Journal recently penned an article showing how oil prices rose after QE1 and QE2. With the chances of QE3 coming this week, it appears oil, and thus energy stocks, will have a very strong tail wind for at least the next 100 days.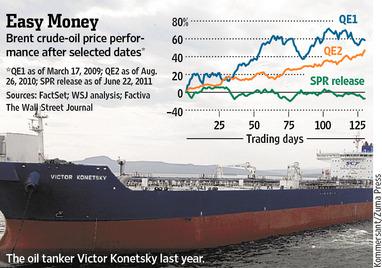 U.S. Policymakers Continue to Fritter Away Natural Gas Bonanza
The Republican and Democrat conventions have come and gone and they were both very disappointing affairs from an energy policy perspective. Neither candidate announced plans to take advantage of our abundant and cheap natural gas reserves to tackle the country's #1 economic problem (foreign oil imports) by adopting natural gas transportation. But why worry about a paltry $34.6 billion a month problem (July's foreign oil import bill) when you can just print money to "pay" for it? Hmmmm....was that gold I saw above $1700/oz?
So it seems the U.S. just doesn't want to take advantage of its natural gas bonanza. Even worse, Exxon has applied for a natural gas export license. Sigh. It appears the U.S. will now begin to export its clean and cheap natural gas so that we can import dirty and expensive foreign oil. What a country!
Even worse, both candidates had the brass to mention "clean coal". All of us who spend time analyzing energy policy know "clean coal" is both a myth and an oxymoron (if not just a bold-faced lie). I guess it's more important to get votes than to take prudent steps to stop global warming. But at least the Republicans are consistent. They don't believe in global warming and say as much. For President Obama to support "clean coal" in one sentence, and in the next say global warming is real seems quite hypocritical. Nevertheless, coal stocks rallied last week as the political backdrop, China stimulus, and rumors of QE3 all worked to their advantage.
But global warming is real as this story and picture from NASA shows.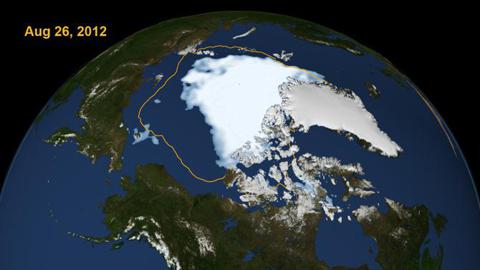 The picture, taken on Aug 26. 2012, shows the Arctic sea ice at its smallest ever recorded in more than three decades of satellite measurements. And summer ain't even over yet.
New Natural Gas Technology
Meantime, Forbes reports that new technology could allow companies to access immense reserves of methane (natural gas) from hydrates submerged on the sea floor. The energy department says these potential hydrate reserves might exceed the combined energy content of all other fossil fuels combined.
I'm not sure why it matters: it's clear the U.S. doesn't know what to do with its present day natural gas production. But I suppose this may be a good development in the long run.
Are Energy Patch Buyouts in the Offing?
I thought CNOOC's (NYSE:CEO) recent bid for Nexen (NXY) and QEP Resources' (NYSE:QEP) Bakken purchase were the start of another big round of consolidation in the energy patch. So far, it hasn't happened. Although Whiting Petroleum (NYSE:WLL) had a nice pop recently. However, volume didn't jump as I expected and it seems Chevron is still waiting to put its cash hoard to work. WLL did manage to breakthrough its 200-day moving average and the stock could be setting up for a bullish move higher.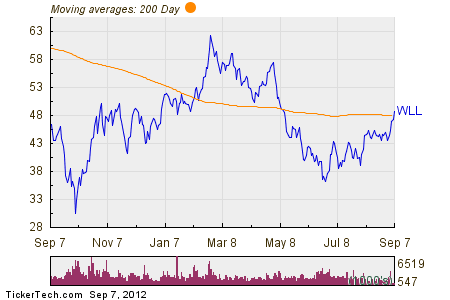 Conclusion and Recommendation: BUY OIL
Not only is the energy sector undervalued today, if history is any indication QE leads to rising oil prices and rising oil stocks. This means if QE3 is implemented, we could see the dollar pushed lower, oil (and gold) higher, and many of the leading energy stocks could see big moves to the upside (quickly) and remain strong through year end. Even though many of the oil stocks are at year highs, it's not too late for investors to consider positions in XOM, CVX, COP, PSX, and WLL for their portfolios. If you're not comfortable owning individual stocks, perhaps a broad-based energy ETF like XLE would be more to your liking.
Of course the risk is that some geopolitical event could cause a repeat of economic contraction and oil prices drop precipitously ala 2008-2009. So good luck with your investment decisions and stay quick on your feet!
Disclosure: I am long COP, WLL, XOM, PSX, SU. I wrote this article myself, and it expresses my own opinions. I am not receiving compensation for it (other than from Seeking Alpha). I have no business relationship with any company whose stock is mentioned in this article.