By Rocco Pendola
As if inane speculation over the supposed Web 2.0 bubble wasn't enough, investors must deal constantly with equally-as-misguided talk of a dividend bubble.
A dividend bubble? That's like being afraid of ghosts.
No doubt. We do live in the perfect environment for dividend payers. There's perpetual uncertainty; and, from a relative standpoint, many big names that share profits appear safe. Add on meager interest rates on tame income options, such as savings accounts and CDs, and it only makes sense to park your cash in a blue chip.
If you're an otherwise aggressive, long-term investor it probably makes most sense to concentrate at least part of your dividend portfolio on companies that have significant growth prospects.
For the past 6-to-12 months, I have invested in a portfolio of mostly dividend-paying media stocks. It's a fast-moving space with several somewhat unique factors that can spur massive future growth.
I recently took profits in most of the positions, but only because I need cash for a forthcoming short-term goal. That raises the question - if all else is equal - do you buy more of these names after a nice run or get out while the getting's good?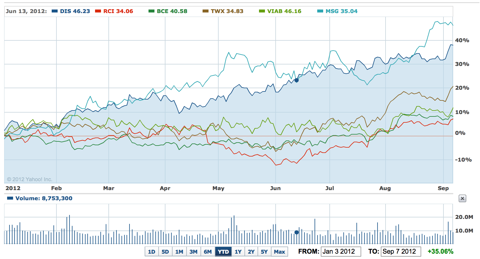 Click to enlarge
(Chart courtesy of Yahoo Finance)
Of the six, Madison Square Garden (NASDAQ:MSG) does not pay a dividend. It also happens to be the portfolio's top performer. I decided to include it for several reasons.
First, on its own, it's a fantastic, somewhat misunderstood company with exciting growth prospects.
Late last year, I provided several summaries (start here) that comprise the bull case for MSG as well as Rogers Communications (NYSE:RCI) and BCE, Inc. (formerly Bell Canada) (NYSE:BCE). The MSG bull case shares some similarities with that of RCI and BCE. It ultimately ties into bullish conviction towards companies such as Time Warner (NYSE:TWX), Disney (NYSE:DIS) and Viacom (NASDAQ:VIAB).
MSG in Relation to RCI and BCE
Because it is, for all intents and purposes, a regional entity and not a telecommunications company, MSG can get away with something that vaguely resembles the dominant competitive position of Rogers and Bell in Canada.
The above-cited article explains how lax Canadian regulation provides Rogers and Bell with an almost-monopolistic stable of properties. The two companies dominate the City of Toronto from a professional sports standpoint via ownership of major professional sports teams, venues and media networks while saturating the national landscape in areas such as wireless, Internet delivery, cable/satellite, and radio and TV station/network ownership with a focus on sports.
MSG's major properties include the New York Rangers, New York Knicks, Madison Square Garden Arena and the MSG sports and entertainment television networks. The synergistic possibilities here are pretty much endless.
Keep an eye on several factors:
First, MSG continues to complete upgrades at Madison Square Garden Arena. Among other things, the renovations will provide customers at all seating levels with better experiences. This translates into improved sightlines, food options and other perks. That means more revenue per home game for MSG.
Second, MSG recently purchased the former home of the Los Angeles Lakers and Los Angeles Kings, the Forum in Inglewood, California. While I'm not sure what plans they have, I can only speculate that they're open to creating on the West Coast a situation that looks something like what they have in the East.
RCI and BCE both pay dividends. Both companies continue to increase the payout annually. MSG does not return cash to shareholders, nor should it. It runs a different type of growth engine than the other stocks discussed in this article.
All three stocks have been on impressive runs. While it never hurts to wait for a pullback, if you're a long-term investor who dollar-cost averages into stocks systematically, there's no time like the present.
MSG in Relation to DIS, TWX and VIAB
On its own, I like MSG. However, it becomes even more attractive when you consider it as a takeover target or M&A possibility. Three solid dividend payers, all with room to grow, have reason to do more than kick MSG's tires. Let's lay it out straightforward and, then, in future articles, dig into specific scenarios for each company.
ESPN and sports programming drive a considerable part of Disney's revenues. Maybe more importantly, sports presents a crucial strategic area for media companies to focus on.
Without sports programming, particularly live events, you're going to have a difficult time surviving as the decade morphs into even more of an on-demand world. Time means nothing in terms of television programming, with the exception of live sports. DIS and, to a lesser extent, TWX, rule the space.
DIS and TWX add to existing empires by taking out MSG. Just imagine if Disney did it. The foothold the company would have on the New York City market alone would be insane in both television and radio.
It's sensible for Viacom to look at MSG for a different reason: It has no considerable sports presence. And, if it wants to compete with its peers who do going forward, it will need to get one. Without sports, I am not adverse to owning VIAB. However, long-term, it's the weakest of the bunch and the first to cut loose if it doesn't make strategic moves sooner rather than later.
Disclosure: I am long MSG, VIAB in a custodial account I manage for my minor child. I wrote this article myself, and it expresses my own opinions. I am not receiving compensation for it (other than from Seeking Alpha). I have no business relationship with any company whose stock is mentioned in this article.