Nordson Corp. (NASDAQ:NDSN) shares have been in rally mode for most of 2008, recently rebounding after a small setback and racing back to the 52-week high. Estimates have been climbing with the share price, providing much desired fundamental strength to a great move. The company is bullish on its future, recently raising its third-quarter earnings projection while reporting its second-quarter results.
Nordson Corp. manufactures equipment used for precision dispensing, testing and inspection and surface preparation. The company was founded in 1935, carries a market cap. of $2.56 billion and is headquartered Westlake, Ohio.
Another Solid Quarter
Nordson is proving to be a "go-to" company in this very choppy and volatile economic environment, as seen by its impressive second-quarter results, reported on May 21.
Sales were up 22% from last year to $294 million. This produced earnings of 97 cents per share, trumping analyst expectations of 83 cents per share.
This is the fourth time in four quarters that Nordson has surprised and beaten analyst estimates, having done so by an average of 7 cents, or 9.25%.
Strong International Growth
The company noted that it experienced double-digit revenue growth in each of its business segments. Nordson also said that it experienced robust international growth, citing sales growth of 31% in Asia Pacific, 28% in Europe and 12% in Japan.
Guidance Raised
After the impressive quarterly results, Nordson lifted its third-quarter earnings guidance. The company is projecting sales growth between 13% and 17%, producing record earnings between 91 cents and $1.01. Nordson's CEO said that "Nordson is well on its way towards another year of all-time highs in sales and earnings."
The analyst community agrees, as the current-year estimate has been boosted to $3.49 per share, up from $3.21 per share 60 days ago.
The Chart
This is a stock that has delivered an absolute all-star performance in 2008, advancing to its recent high beyond $76 from just above $56 to begin the year, an impressive return of more than 35%. After dipping lower in mid-June, this stock has been in rally mode over the last week, recouped its losses and accelerated right back to its 52-week and all-time high. Take a look at the chart below.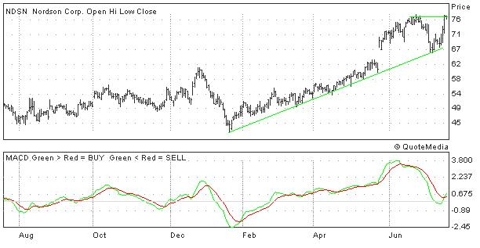 Click to enlarge