"The end is nigh" was what many despondent investors were starting to believe as the past week kicked off with volatile trading amid concerns that U.S. regional bank IndyMac's (IMB) demise was a harbinger of any more bank failures.
Furthermore, Treasury Secretary Henry Paulson's plan to rescue the Government Sponsored Enterprises [GSEs], Fannie Mae (FNM) and Freddie Mac (FRE), left investors unconvinced.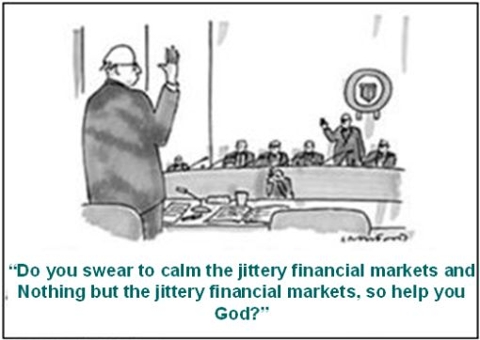 The U.S. government plan caused some agitation since Paulson was essentially asking for a blank check to ensure the funding backstop would be successful in helping the GSEs fulfill their role of providing financing for the U.S. mortgage market. Debt holders were happy with the implications of the plan, but equity holders faced the possible dilution from a government purchase of the equity and/or the possibility of the equity becoming worthless.
As the credit crisis approached its first anniversary – literally a "year of living dangerously" – SEC Chairman Christopher Cox's announcement that naked short selling of 19 financial companies, including the GSEs, would no longer be allowed, set the stage for a reversal of fortune.
The SEC's announcement, together with a sharp drop in oil prices and a series of better-than-feared earnings announcements from U.S. banks – including JPMorgan (NYSE:JPM), Citigroup (NYSE:C) and Wells Fargo (NYSE:WFC) – triggered a recovery in investors' risk appetite, resulting in a strong stock market rebound.
This type of event was precisely what Charles Kirk (The Kirk Report) was referring to when he said:
Technically, we are scraping against the bottom of the long-term trend channel in the S&P 500 but we need something to go right for a change for this constant selling pressure to end.
Fed Chairman Ben Bernanke was in the hot seat on Tuesday, delivering his semi-annual monetary policy testimony before the Senate Banking Committee in Washington. In short, he abandoned his June assessment that the threat of an economic downturn had diminished, telling lawmakers that growth and inflation risks were increasing. There were "significant downside risks to the outlook for growth", and "upside risks to the inflation outlook had intensified," said Bernanke. His testimony had little impact on financial markets.
Richard Russell (Dow Theory Letters) asked the following:
So is the decline over? I've said that I can't see the market hitting bottom until at least the financials stop declining. Did the financials make the crucial turn to the upside yesterday? We should know shortly.
David Fuller (Fullermoney) added:
There is still plenty of fear and uncertainty out there. However, I think most stock markets have reached medium-term lows and should range higher in tradable rallies over at least the next month or two.
On the other hand, Bill King (The King Report) sees more pain:
For about one year, we tried to make two points: 1) If you're not scared, you're not doing your work; and 2) If you aren't negative, there is no fathomable non-violent environment that would make you negative.
In my opinion, it's too soon to call a major market bottom, but the short-term picture has certainly improved for the better. Technical rallies aside, I still believe that the convalescence period will not be an overnight affair. Why is it that the Cat Stevens lyrics "… oh baby baby it's a wild world …" keep mulling through my head!
Before highlighting some thought-provoking news items and quotes from market commentators, let's briefly review the financial markets' movements on the basis of economic statistics and a performance round-up.
Economy
The Survey of Business Confidence of the World conducted by Moody's Economy.com.reported that:
Global business confidence has remained in a tight range since late May consistent with a global economy that is barely growing. Developed economies including the US, Europe and Japan are contracting moderately, while most developing economies are expanding moderately.
A barrage of economic reports were released in the U.S. over the past week (as summarized in the table below), none of which changed the outlook for economic growth, housing and inflation in any meaningful way.
Regarding the outlook for interest rates, Asha Bangalore (Northern Trust) said:
Chairman Bernanke's testimony suggested that the Fed is on hold, for now. The Fed is a tight spot and the best it can do in the months ahead is to help stabilize financial market conditions, with one of the prerequisites for this being an accommodative stance … given the backdrop of a housing market recession, a credit crunch, and weak real consumer spending.
No short-term remedy for the economic woes exists, as John Mauldin (Thoughts from the Frontline) stated:
… we are in for a period of very tepid growth that will last through at least 2009. We have to work our way through the after effects of the twin bubbles of housing and the credit crisis bursting. There is no magic Fed wand. That simply takes time. No (rational) government or Fed policy is going to change the facts on the ground (although they can make things worse). But, in the fullness of time, we will in fact get through this.
It was not only in the U.S. that surging inflation was on center stage, but elsewhere in the world Thailand, Mexico, the Philippines and Turkey increased interest rates in reaction to mounting inflationary pressures.
Mildly good news, however, was that Chinese consumer price inflation declined from 7.7% in May to 7.1% last month, whereas the economy grew 10.1% in the second quarter, down from 10.6% in the first – the fourth successive quarter in which growth slowed and the lowest rate since the last quarter of 2005.
The annual rate of Eurozone consumer price inflation in June was 4% while prices in the U.K. last month rose by 3.8% in year-ago terms. Both figures were significantly higher than the European Central Bank and the Bank of England's inflation targets.
As widely anticipated, the Bank of Japan left the overnight call rate target at 0.5% following last week's two-day monetary policy meeting.
WEEK'S ECONOMIC REPORTS
Date

Time (NYSE:ET)

Statistic

For

Actual

Briefing Forecast

Market Expects

Prior

Jul 15

8:30 AM

Core PPI

Jun

-

0.3%

0.3%

0.2%

Jul 15

8:30 AM

NY Empire State Index

Jul

-4.9

-5.0

-8.0

-8.7

Jul 15

8:30 AM

PPI

Jun

-

1.3%

1.3%

1.4%

Jul 15

8:30 AM

Retail Sales

Jun

0.1%

0.5%

0.4%

0.8%

Jul 15

8:30 AM

Retail Sales ex-auto

Jun

0.8%

1.0%

0.9%

1.2%

Jul 15

8:30 AM

PPI

Jun

1.8%

1.3%

1.3%

1.4%

Jul 15

8:30 AM

Core PPI

Jun

0.2%

0.3%

0.3%

0.2%

Jul 15

10:00 AM

Business Inventories

May

0.3%

0.5%

0.5%

0.5%

Jul 16

8:30 AM

Core CPI

Jun

-

0.2%

0.2%

0.2%

Jul 16

8:30 AM

CPI

Jun

1.1%

0.7%

0.7%

0.6%

Jul 16

8:30 AM

Core CPI

Jun

0.3%

0.2%

0.2%

0.2%

Jul 16

9:00 AM

Net Foreign Purchases

May

$67.0B

NA

$65.0B

$111.9B

Jul 16

9:15 AM

Capacity Utilization

Jun

79.9%

79.4%

79.4%

79.6%

Jul 16

9:15 AM

Industrial Production

Jun

0.5%

0.2%

0.0%

-0.2%

Jul 16

10:30 AM

Crude Inventories

07/12

-

NA

NA

-5840K

Jul 16

10:35 AM

Crude Inventories

07/12

-

NA

NA

-5840K

Jul 16

2:00 PM

FOMC Minutes

Jun 25

-

-

-

-

Jul 17

8:30 AM

Building Permits

Jun

1091K

980K

965K

978K

Jul 17

8:30 AM

Housing Starts

Jun

1066K

985K

960K

977K

Jul 17

8:30 AM

Initial Claims

07/12

366K

376K

380K

348K

Jul 17

10:00 AM

Philadelphia

Fed

Jul

-16.3

-15

-15.0

-17.1
Source: Yahoo Finance, July 18, 2008.
Next week's economic highlights, courtesy of Northern Trust, include the following:
Leading Indicators (July 21): Interest rate spread and supplier deliveries are the only two components likely to make a positive contribution in June. Stock prices, initial jobless claims, manufacturing workweek, consumer expectations, real money supply and building permits are expected to make negative contributions. Forecasts of money supply and orders of consumer durables and non-defense capital goods are used in the initial estimate of the leading index. Consensus: -0.1%
Existing Sales (July 24): The market consensus is a decline in sales of existing homes during June to an annual rate of 4.94 million from 4.99 million in May. Existing home sales have dropped 15.9% from a year ago. The largest year-to-year decline in the current business cycle is a 23.8% drop in February 2008. Consensus: 4.94 million versus 4.99 million in May.
New Home Sales (July 25): Sales of new homes are expected to post a drop in June to an annual rate of 505,000 from 512,000 in May.
Other reports: Consumer Sentiment Index (July 25).
Markets
The performance chart obtained from the Wall Street Journal Online shows how different global markets performed during the past week.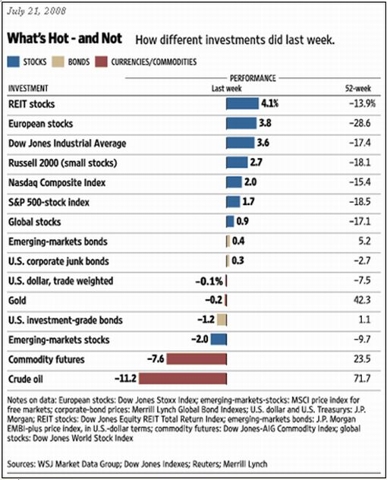 Source: Wall Street Journal Online, July 21, 2008.
Equities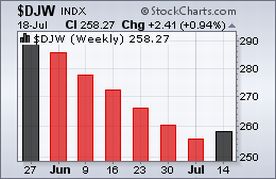 Global stock markets staged a strong recovery last week after having declined for six consecutive weeks. The Dow Jones World Index registered an increase of 0.9% for the week, after a positive about-turn on Wednesday as a result of a dramatic slide in oil prices, better-than-feared earnings numbers for a number of US banks, and the SEC's moves to curb short selling of certain financial firms.
The Japanese Nikkei 225 Average (-1.8%) was the only developed market not participating in the rally and shared this dubious honor with emerging markets in general (-2.0%). Pakistan (-12.5%), Thailand (-9.0%), Indonesia (-7.2%), Taiwan (-5.9) and South Korea (-3.7%) all experienced a torrid time, with Turkey (+8.4%) being one of the few emerging markets gaining ground.
The U.S. stock markets all improved, as shown by the major index movements: Dow Jones Industrial Index +3.6% (YTD -13.3%), S&P 500 Index +1.7% (YTD -14.1%), Nasdaq Composite Index +2.0% (YTD 13.9%) and Russell 2000 Index +2.7% (YTD -9.5%).
Four financial industry groups were among the top ten performers in the U.S. this week: other diversified financial services (large banks), thrifts and mortgage finance, diversified banks, and investment banks and brokers were up 22%, 18%, 16% and 15% respectively. The homebuilding group (+19%) was also among the outperformers.
On the red side of the scale, the coal and consumable fuel group (-18%) was the worst performer, selling off in sympathy with declining prices of crude oil and natural gas. Similarly, other oil- and gas-related groups (integrated oil and gas, oil and gas exploration and production, and gas utilities) underperformed.
The market map below, (courtesy of Finviz.com, provides a quick overview of the performance of the various segments of the S&P 500 Index over the past week.)
click to enlarge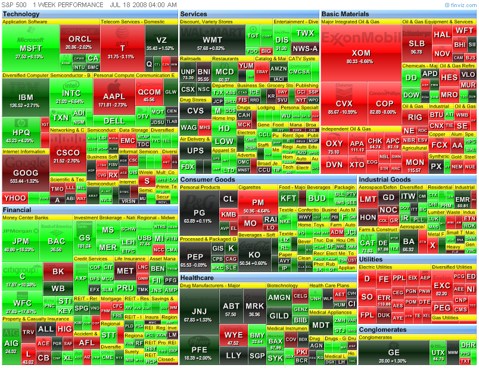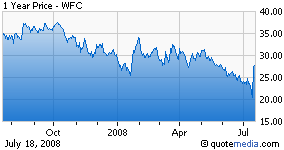 As far as specific companies were concerned, Wells Fargo (WFC) added to the spark that fueled the rally in financials. The company delivered better-than-expected earnings, accompanied by an announcement of a 10% increase in the annual dividend.
The coming week will be another busy week of earnings reporting and should provide some clarity on whether last week's good numbers were an aberration or perhaps the start of a new trend.
Fixed-interest instruments
Government bonds experienced a volatile week, with yields benefiting from safe-haven buying early in the week, but then rising as investors switched from bonds to equities.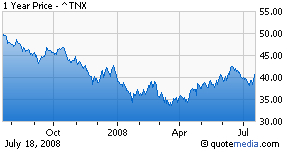 Yields kicked up as investors agonized about accelerating inflation throughout the world. The ten-year U.S. Treasury Note increased by 13 basis points during the week to close at 4.09. Similarly, the U.K. ten-year Gilt yield rose by 14 basis points to 5.04% and the German ten-year Bund yield by 12 basis points to 4.58%.
U.S. mortgage rates also increased sharply, with the 15-year fixed rate rising by 22 basis points to 5.98% and the 5-year ARM 20 basis points higher at 5.88%.
Credit markets eased somewhat as shown by the slightly narrower spreads of both the CDX (North American, investment grade) Index and the Markit iTraxx Europe crossover Index.
Currencies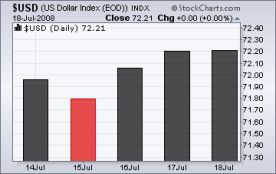 The U.S. dollar fell to a record low of $1.6038 against the euro, before reversing course and improving in line with U.S. stock markets. Expressed against a basket of currencies, the greenback ended the week 0.4% higher.
Individually, the dollar gained against the euro (-0.6%), the Swiss franc (-0.7%) and the Japanese yen (-0.7%). The latter two currencies were negatively affected by less risk averse investors and sought higher yields elsewhere. The British pound (+0.4%) confounded pundits and was the only major currency making headway against the dollar.
Thailand and the Philippines raised interest rates in an attempt to combat inflation, resulting in the baht (+0.9%) and the peso (+2.9%) gaining against the dollar.
Commodities
In the midst of all of the action last week, oil prices corrected sharply. After touching $146.37 at its high on Monday, West Texas Intermediate ended Tuesday's session at $138.74. The selling persisted for the remainder of the week, with prices settling at $134.60 on Wednesday, $129.29 on Thursday and $128.96 on Friday. The latter price marked an 11.2% decline from the prior week's close.
Worries about demand destruction, an easing of geopolitical tensions and bearish oil and natural gas inventory reports all played a role in driving prices lower.
The sharp pullback in oil prices weighed on the entire commodities complex, with the chart below showing the past week's negative performance of the various commodities.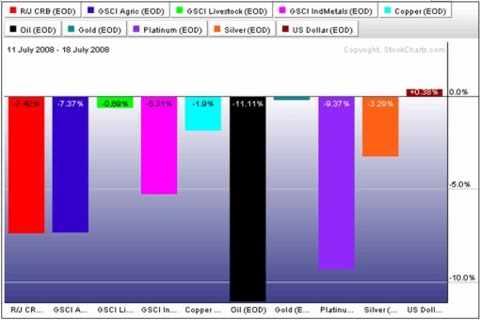 In summary, although the near-term outlook has improved and the long-awaited technical stock market rally has probably commenced, it is premature to cast caution to the wind. Now for a few news items and some words and charts from the investment wise that will hopefully assist in navigating the topsy-turvy markets.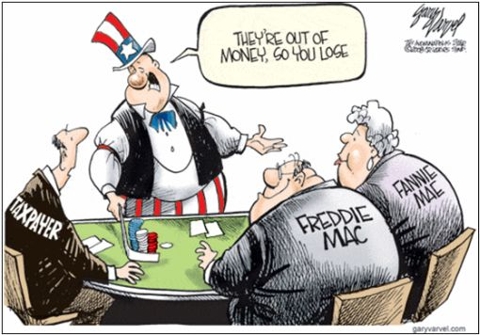 Source: Gary Varvel, Slate, July 16, 2008.