A Riddle, Wrapped In A Mystery, Inside An Enigma
The invitations that went out last Tuesday state that the event will take place at the Yerba Buena Center for the Arts at 10:00 a.m. PST. The front of the venue features the same design as the press invitations.
(click images to enlarge)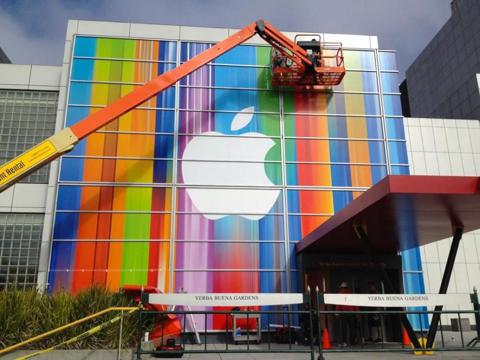 As the International Business Times noted, Apple (NASDAQ:AAPL) has a history of dropping hints about its new product releases in its invitations and mise en scène. In this case, the colors represent stretch icons, indicating that yes, Virginia, there is an iPhone about to be released with a "stretched" screen.

The invitations also feature a shaded number 5 below the event date on the invitation, signifying that Apple's new handset will be called "iPhone 5", rather than the "new iPhone."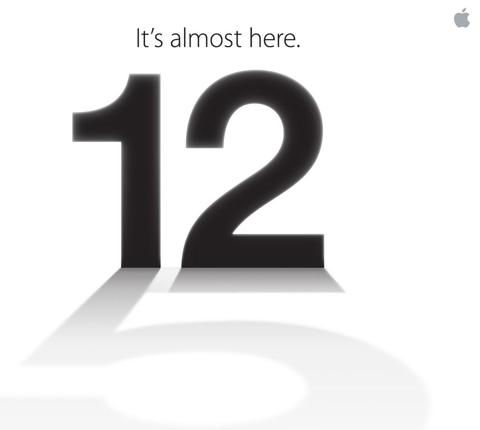 FedEx/ATT&T Confirm September 21 Ship Date
Apple is expected to launch its new line of products on Friday, Sept. 21, eight days before the company closes the books on fiscal 2012. This has been confirmed by a FedEx (NYSE:FDX) internal memo canceling its corporate classes and limiting employee travel in anticipation of an unnamed "surge event" on September 21, which can only be the iPhone. The Memphis, Tennessee-based company is Apple's primary carrier, though Apple will use UPS and other services if FedEx fails to handle the load.

AT&T's (NYSE:T) blackout dates will also begin on September 21st and last until the 30th, according to an AT&T sales rep.
Apple's Estimated Launch Schedule (By Product)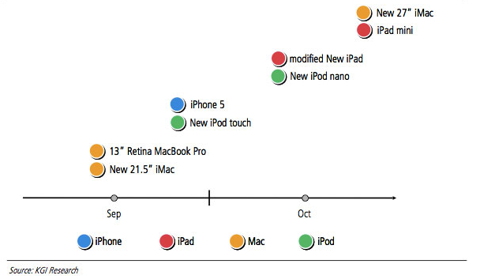 Analysts Frothing At the Mouth
Analysts and pundits are busy trying to top one another in estimating unit-sales.
Topeka Capital Market's Brian White believes Apple can sell between 10 million and 12 million iPhone 5s in September alone.
Janney's Bill Choi estimates a more conservative 7-10 million.
Piper Jaffray's Gene Munster says 8 million, but suggests that total iPhone sales for the quarter could reach as high as 28 million.
William Power suggests 50 million units over a three month period. (PerBarron's)
Asymco analyst Horace Dediu calculates that 170 million iPhone 5's will be sold over four quarters, and 200 million if Apple keeps the handset in production for as long as it did the 3GS.
FBR Capital Market's Craig Berger predicts a "tsunami" of iPhone 5 sales due to pent up demand, pegging the total at 250 million units over the lifetime of the handset. ($144 billion)
The Curse Of Expectation
Interest in the iPhone 5 is unprecedented: According to TechBargains, 55% of consumers surveyed intend to purchase the iPhone 5. Of those, 10% will wait the whole day just to own it first, 35% intend to order it the first day it's released, while 55% have no particular timetable. The following poll pretty much sums up the built in anticipation surrounding the release of Apple's new handset: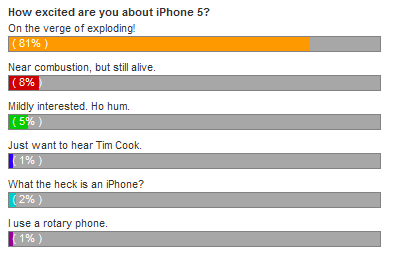 This anticipation could prove to be Apple's undoing. The bar has been set extremely high, perhaps impossibly high. iPhone sales increased 100% between 2009 and 2010. From 2010-11, sales increased by 80%. From 2011-12, sales increased by 60%. Apple will need to sell 29 million more iPhones in 2013 in order to continue this growth trend. It's a high wire act that Apple may not be able to sustain.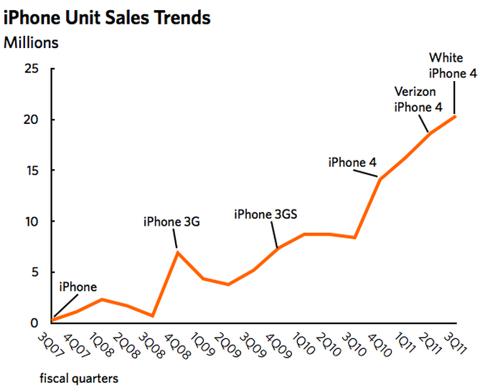 After September 21st, Apple has only eight days before it closes the books on fiscal 2012. The iPhone was responsible for 48% of Apple's profits in CY 2011, and is projected to account for 51% of the company's profits in CY 2012. Apple must sell at least 6 million+ iPhone 5 handsets at launch just to meet Wall Street's hyped expectations. Remember that the stock's recent gains are largely due to the bandwagon effect. If the iPhone 5 takes off like an Atlas V rocket, the stock will go even higher. If it blows up on the launch pad, the stock will crater.
There are a few scenarios where this outcome is at least "thinkable": According to CEO Tim Cook, the iPhone 5 will be an evolutionary, not revolutionary, improvement over the iPhone 4S ("improved," not "different"). It has a faster processor, a better camera and incorporates 4G LTE. The most important innovation is called "Assistant."
One of the things Assistant does is allow the user to text message by speaking into the phone, instead of typing. That in itself would be a triumph, if you couldn't already do the same thing using Siri on iPhone 4S.
Global smart phone sales were up just 32% this quarter, according to Strategy Analytics. Last year, sales figures for the quarter were up 77%. The mobile market as a whole grew just 1%. There are the usual supply shortages. And if the iPhone 5 really looks like this, Apple could be in trouble. Sixty-three percent of the respondents think the phone looks ugly.
Conclusion
The next few days is a binary event, one that requires conviction on the part of Apple stockholders. At the same time, it presents a tremendous opportunity for contrarians. However, despite the possibility of a black swan in the form of an ugly black rectangle waddling across the stage at 10 a.m. PST Wednesday, I believe that Apple will pull it off.
Call it "The Twilight Hypothesis."
When word got out that Robert Pattinson was to be cast in the role of Edward Cullen, women of all ages across America were horrified. The blogosphere lit up like the Christmas tree in Rockefeller Center. "That's NOT EDWARD!" "He's so UGLY!" "How could they DO THIS TO TWILIGHT??????" Only a slim minority thought that Pattinson was suited for the role. Then the tide changed. Suddenly, Pattinson was dreamy, dark, sexy, perfect! He was Edward Cullen.
What happened? According to co-star Rachelle Lefèvre: "Every woman had their own Edward that they had to let go of before they could open up to him (Pattinson), which they did."
The tight lid Apple has kept on the iPhone 5's development has encouraged an endless cavalcade of leaks and rumors. Everyone has their own personal iPhone 5 ringing in their imagination. When the iPhone 5 is actually revealed in 38 hours or so, the magical, impossibly perfect iPhone 5 will be replaced in consumers' minds by the real one, at which point, I believe they will flock to it. Why? Because the iPhone has become, above all, a status symbol. I think Tim Cook will avoid the black swan this time around based on that consideration alone. "Improved, not different" will probably be enough for people to line up for the newest iPhone. It will not be enough for the iPhone 6. A premium, status-symbol brand will only get you so far.
Take note, Cupertino.
Disclosure: I am long AAPL. I wrote this article myself, and it expresses my own opinions. I am not receiving compensation for it (other than from Seeking Alpha). I have no business relationship with any company whose stock is mentioned in this article.