Shares of Wal-Mart Stores, Inc. (NYSE:WMT) have steadily returned 43.13% over the past 12 months. At $73.51 per share, the stock is currently trading very close to its 52-week high of $74.12 achieved recently. Due to the share price appreciation, the stock's dividend yield has decreased to 2.2%, from 2.8% exactly a year ago. Still, Wal-Mart remains one of the popular dividend picks for many investors, owing to the company's defensive nature, supported by its solid market position and healthy financial performance. However, I am of the view that the current stock price does not represent an attractive entry opportunity and investors should wait for a pullback before establishing a position.
In this article, I will illustrate the points that helped me in formulating my view. There are a few reasons suggesting the Wal-Mart stock is not attractively priced:
1. The stock appears expensive relative to the company's growth prospects. Analysts on average predict WMT's revenue, EBITDA, and EPS to rise by 2-year CAGRs of 4.8%, 4.9%, and 8.7% over the current and next fiscal years (see table below). The growth rates are much slower compared to WMT's comparable peers' averages of 6.8%, 8.3%, and 16.1%, respectively. Accounting for the earnings growth, the WMT stock trades at 1.5x PEG, almost 23% higher than the peer average of 1.2x, indicating a sign of overvaluation.
Click to enlarge

2. On other aspects of its financial performance, WMT's profitability is marginally better than that of its comparable group, as almost all of WMT's margin and capital return measures are higher than the group averages (see table above). In terms of liquidity position, the company carries a slightly higher debt level. WMT's LTM FCF margin of 2.6% is higher than the peer average of 1.4x, but the interest coverage rate, current ratio, and quick ratio are all below the peer averages, reflecting a mediocre balance sheet condition.
As such, I would expect WMT stock to reasonably trade at approximately 5% to 10% discount to its peers, based on the aforementioned financials. In reality, the current stock price of $73.51 implies only a 5.7% valuation discount to the five peer-average trading multiples (assuming they are equally important in determining the stock value), which does not offer an attractive margin of safety that warrants my buy decision (see table below).

3. Moreover, the following facts suggest WMT stock has become pricier in the past 12 months without any major improvement in the company:
According to the tables shown below, WMT's financial estimates have not experienced any significant improvement or deterioration over the past 12-18 month.


Except for a 68.8% improvement in the LTM FCF margin from a year ago, WMT's overall financial performance is very much in line with what it was a year ago (see below).

Nevertheless, WMT stock's NTM P/E and NTM EBITDA multiples have expanded by an average of 25.9% over the past 12 months (see below).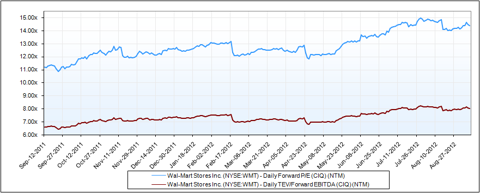 WMT's PEG ratio have also increased substantially by 47.7% from 1.0x in a year ago to 1.5x at present (see below).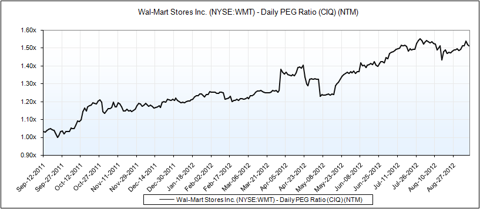 Despite the negativity, there remain some merits to acquire the shares:
1. WMT has a quality dividend policy. The company does not have any record of slashing dividend payments in the history. Over the past 11 fiscal years, dividend per share has been raised by a substantial 10-year CAGR of 18% to $1.46 in FY2012 from $0.28 in FY2002 (see below).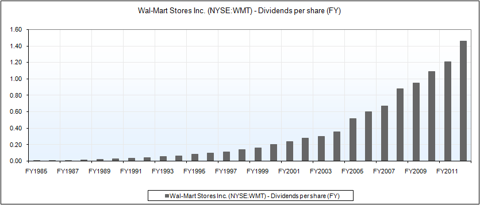 2. WMT also has ample financial resources to continuously raise dividend payments down the road. Over the last decade, as free cash flow has been improved substantially, annual dividend payment only represents a less than half of the annual free cash flow generated, implying that there is a large room to support a higher dividend level in the future (see below).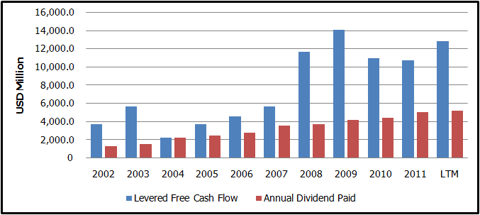 3. Lastly, by virtue of operating globally with a discount retailing business model, WMT's business bears a defensive nature. This characteristic is fully reflected in the stock's stable long-term performance, as measured by a 5-year BETA of only 0.31.
In conclusion, given that Wal-Mart's stock appears a bit expensive, I would not recommend acquiring the share at the current price. Investors who like Wal-Mart's sustainable dividend yield and stable stock performance should wait for a pullback. A price below $70 would be my comfortable level.
Comparable analysis and relative valuation tables are created by author, other charts are sourced from Capital IQ, and all financial data is sourced from Morningstar and Capital IQ.
Disclosure: I am long WMT. I wrote this article myself, and it expresses my own opinions. I am not receiving compensation for it (other than from Seeking Alpha). I have no business relationship with any company whose stock is mentioned in this article.