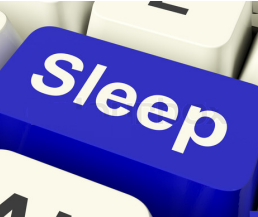 Markets almost saw little if any volume Monday. As the afternoon session progressed algos stepped-up the profit-taking especially after a much worse than expected Consumer Credit report (-$3.28 billion vs $9.2 billion expected) allowed algos to hit the sell switch.
Absent any other news, and with volume very light, there was little support to be found. Most of the day Monday was spent with markets propped and waiting primarily for Thursday's Fed meeting. One would think the poor Consumer Credit report would be a QE stimulant and may well be one. For now however it's just a trading opportunity. For bulls it means some overbought conditions eased while bears believe QE is already priced-in. Only time will tell who's right.
Tech put in another poor showing led lower again by Intel (NASDAQ:INTC) as PC demand remains weak. Just about everything that had been higher late last week was fair game for sellers on Monday.
I posted a few charts below as economic data remains scant while most investors await the Fed.
Premium members to the ETF Digest receive added signals when markets become extended such as DeMark triggers (as seen below) to exit overbought/oversold conditions.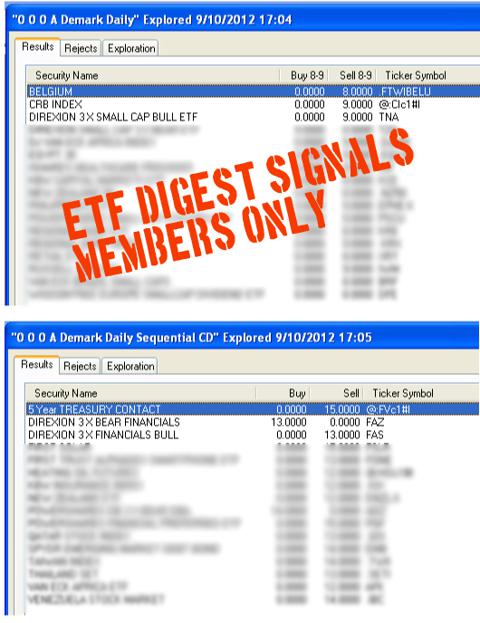 As stated, volume was ultra-light while breadth per the WSJ was negative.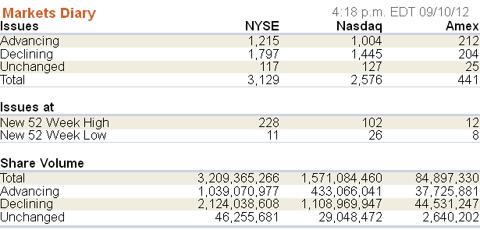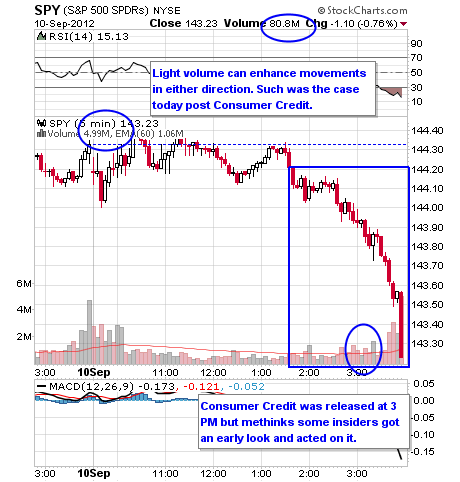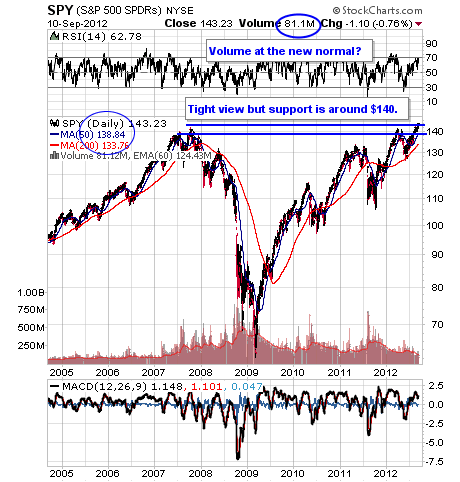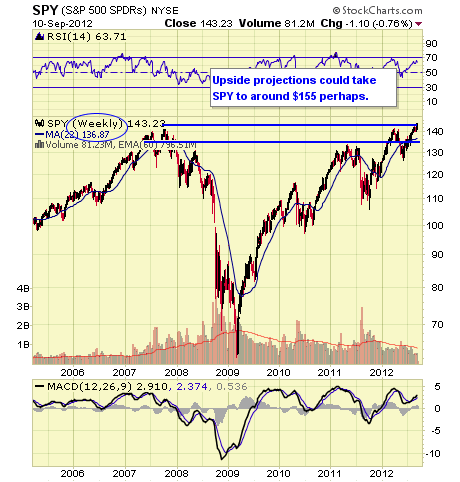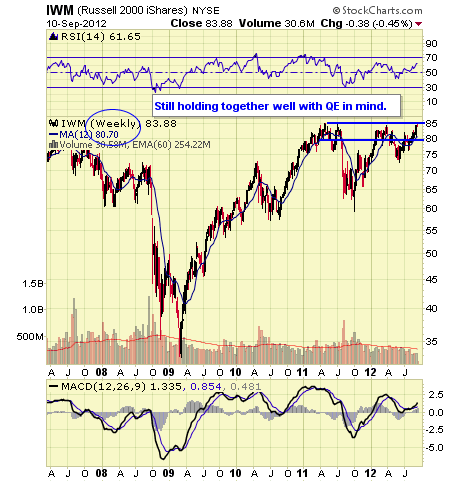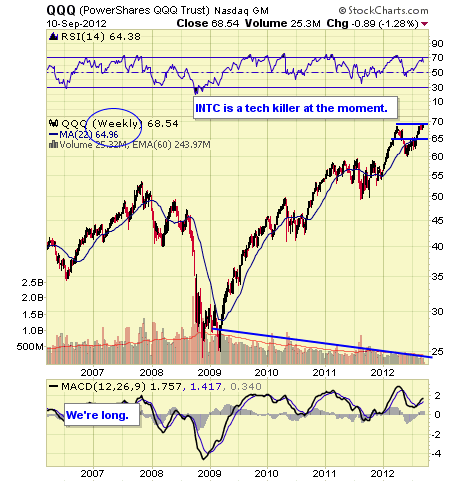 Continue to U.S. Sector, Stocks & Bond ETFs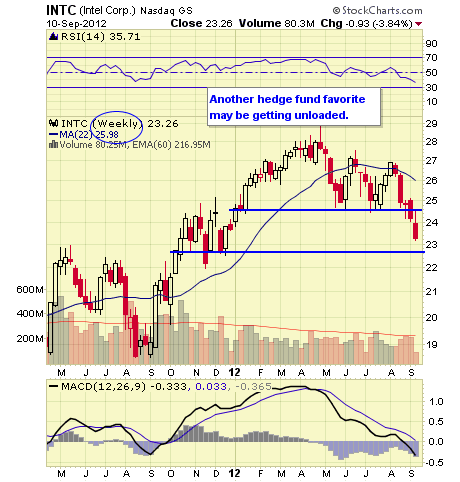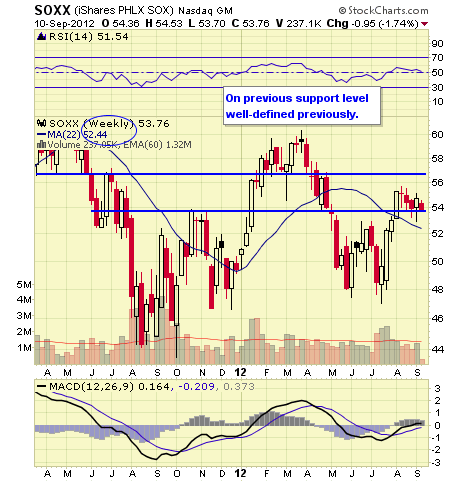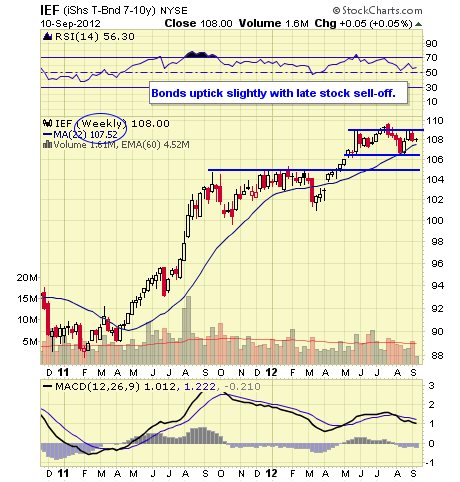 Continue to Currency & Commodity Market ETFs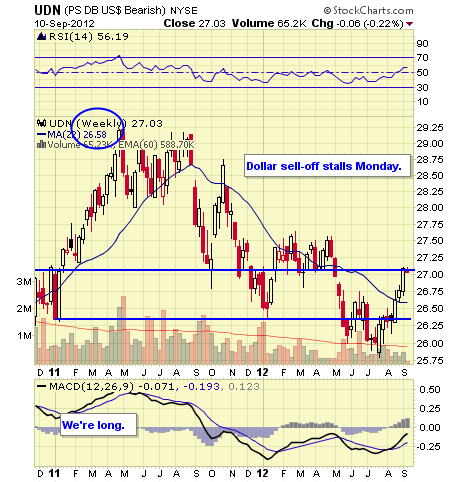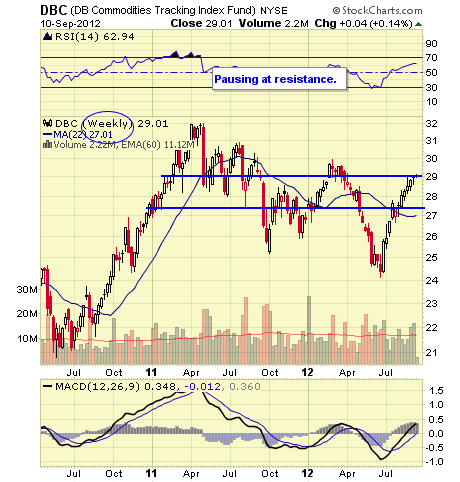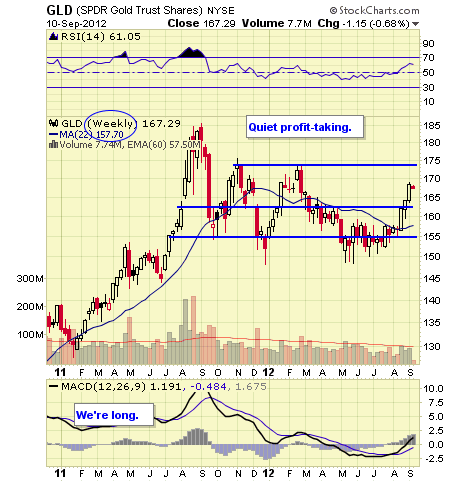 Continue to Overseas Sectors & ETFs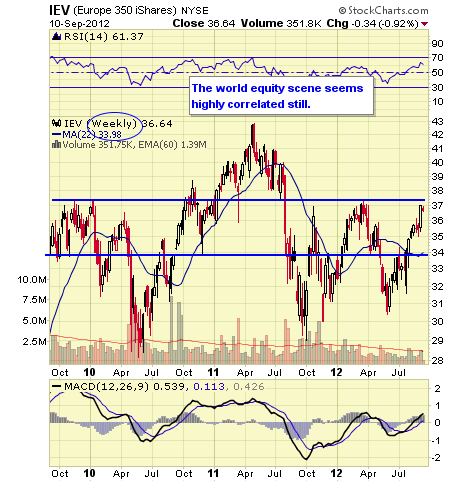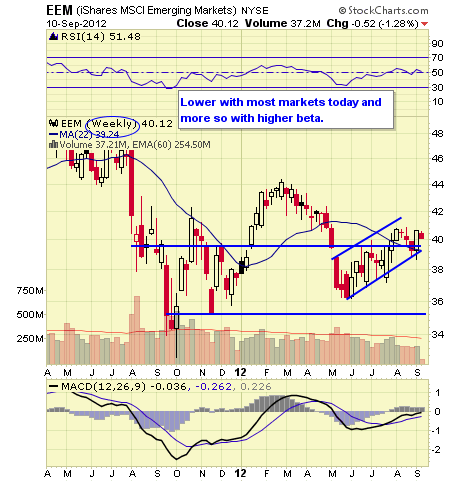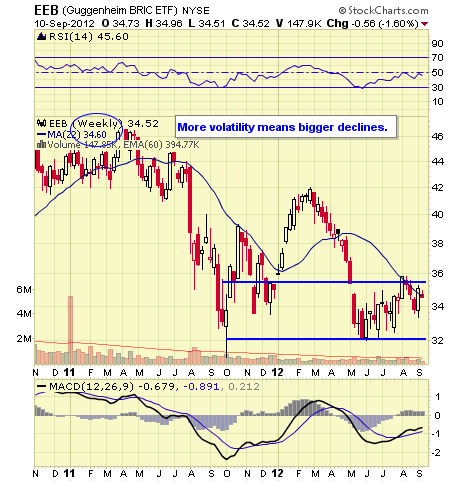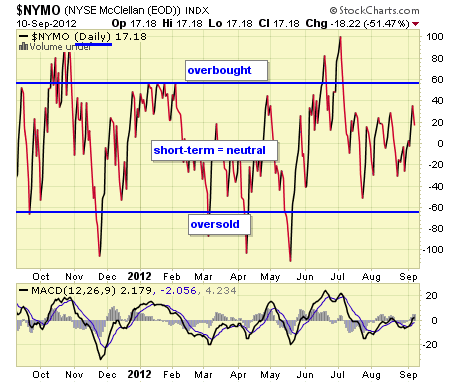 The NYMO is a market breadth indicator that is based on the difference between the number of advancing and declining issues on the NYSE. When readings are +60/-60 markets are extended short-term.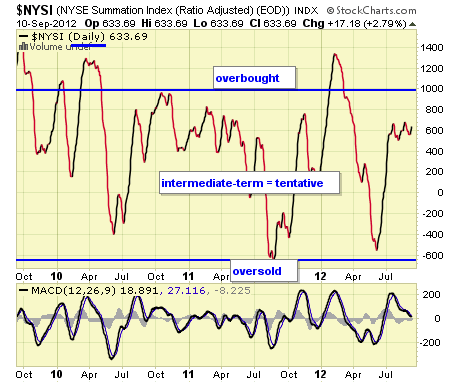 The McClellan Summation Index is a long-term version of the McClellan Oscillator. It is a market breadth indicator, and interpretation is similar to that of the McClellan Oscillator, except that it is more suited to major trends. I believe readings of +1000/-1000 reveal markets as much extended.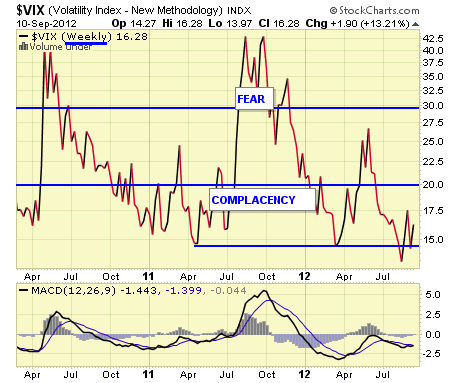 The VIX is a widely used measure of market risk and is often referred to as the "investor fear gauge". Our own interpretation is highlighted in the chart above. The VIX measures the level of put option activity over a 30-day period. Greater buying of put options (protection) causes the index to rise.
Sure, this is a light posting and matches light volume overall. It wasn't a good day for bulls and the bears have won a round with "QE priced-in" mantra. There really isn't much in the way of data until Thursday.
Disclaimer: The ETF Digest maintains active ETF trading portfolio and a wide selection of ETFs away from portfolios in an independent listing. Current "trading" positions in active portfolios if any are embedded within charts: Lazy & Hedged Lazy Portfolios maintain the follow positions: VT, MGV, BND, BSV, VGT, VWO, VNO, IAU, DJCI, DJP, VMBS, VIG, ILF, EWA, IEV, EWC, EWJ, EWG, & EWU.
The charts and comments are only the author's view of market activity and aren't recommendations to buy or sell any security. Market sectors and related ETFs are selected based on his opinion as to their importance in providing the viewer a comprehensive summary of market conditions for the featured period. Chart annotations aren't predictive of any future market action rather they only demonstrate the author's opinion as to a range of possibilities going forward. More detailed information, including actionable alerts, are available to subscribers at www.etfdigest.com.
Disclosure: I have no positions in any stocks mentioned, and no plans to initiate any positions within the next 72 hours. I wrote this article myself, and it expresses my own opinions. I am not receiving compensation for it. I have no business relationship with any company whose stock is mentioned in this article.