The E-Mini S&P 500 traded on light volume as traders await key global economic events. Worst-case scenario could be the German Constitutional Court ruling that European Central Bank (ECB) President Draghi's bond buying program may be illegal. This would be quite negative for the economy and the ECB President would lose a great deal of credibility.
Next, US Federal Reserve Chairman Ben Bernanke may decide that the recovery is underway and the recent poor reports are not that bad, leaving the anticipated QE3 a mere vapor. Best-case scenario then of course, may be the German Constitutional Court ruling that the bond-buying program is legal and to support the permanent fund (European Stability Mechanism). The Fed in this scenario may announce a potential QE3.
Any possible combinations would be a bit disappointing as Friday's US jobs number fell back to 96,000 from 163,000 the previous month. The US Unemployment rate dropped to 8.1% from 8.3%.
The US manufacturing sector has also pulled back further pressuring the Fed to do something. The US Treasury rescued American International Group Inc. (NYSE:AIG) about four years ago to support US business, now they intend to sell most of their shares bringing the stock down 0.02 % to $33.30. Intel (NASDAQ:INTC) and Apple (NASDAQ:AAPL) both dropped as tech shares suffered in Monday's market action. Titan Machinery Inc. (NASDAQ:TITN) was down 23 % to $19.41. Plains Exploration & Production Co. (NYSE:PXP) offered to tender for some of BP's wells off the Gulf of Mexico. BP was up 0.26 % to $42.04. Plains Exploration was down 10.5 % to $36.09.
Monday's US Consumer Credit decreased from June's $3.28 billion to $2.705 trillion. The decrease was a 1.45 % annualized rate for July. There was a 6.8 % decrease in revolving credit dropping to $4.82 billion in July to $850.73 billion. Non-revolving credit such as student loans and auto loans increased by $1.55 billion to $1.854 trillion in July.
The labor report may have impacted the decrease in consumer credit numbers. The US Trade deficit is forecast at $44.0 billion after June's narrow $42.92 billion. Third quarter is expected to have less exports than the second quarter.
Chinese import data decreased 2.6% while expectations were for a 3.5% increase. Exports increased 2.7% while forecasts were for a 3% increase. Just last week, China approved a $157 billion program in infrastructure spending to spur the sagging economy.
German Chancellor Angela Merkel received support for her view on the ECB's bond buying program from the Bavarian leaders while her German counterparts regarded the plan possibly illegal and dangerous. The German leaders in opposition believe the program may simply wind up the German tax debt. They demand supervisory oversight committees to regulate the European Stability Mechanism (ESM) activities. They also fear that the central banks may become too powerful and want ECB President Draghi to amend his bond buying proposal as the ECB is not under any parliamentary supervision.
The Spanish ten-year yields decreased to 5.6% in the meantime. Greece has had the troika reviewing the austerity plans that are to raise about $13.5 billion euros over the next two years through spending cuts and taxes to qualify for about $173 billion euros in bailout monies during that time. Some 30,000 to 35,000 protestors marched to demand work and oppose some of the spending cuts and tax hikes. They are in their fifth year of recession and have a 25% unemployment rate. Greece's industrial output decreased 5% year on year while manufacturing decreased 7.8%. The austerity measures inhibits growth to a certain extent. The Greek economy is expected to contract even more before it can expand.
Key Global Economic events in brief:
September 12th
German Constitutional Court's ruling on the Euro Zone permanent bailout fund.

September 12th - 13th
September 13th - 14th
September 14th
European Council Meeting.
On the stock side: JP Morgan Chase and Co. (NYSE:JPM) was down 0.04 % to $39.28. Citigroup Inc. (NYSE:C) was up 0.72 % to $32.30. Bank of America (NYSE:BAC) was down 0.68 % to $8.74. Alcoa Inc. (NYSE:AA) was up 1.32 % to $9.22. Boeing Co. (NYSE:BA) was down 1.88 % to $71.52. Caterpillar Inc. (NYSE:CAT) was up 0.07 % to $88.16. General Electric Co. (NYSE:GE) was down 0.09 % to $21.57. Halliburton Co. (NYSE:HAL) was up 1.05 % to $34.60. Hewlett Packard Co. (NYSE:HPQ) was up 1.92 % to $17.62. SPDR Select Sector Fund - Financial (NYSEARCA:XLF) was down 0.16 % to $15.65.
Tuesday, we have no major US economic reports.
E-Mini S&P 500 Chart.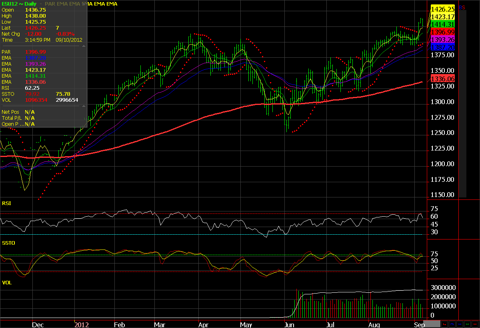 Click to enlarge
Tuesday, what to expect: We maintain a bullish bias unless the (September) E-Mini S&P 500 penetrates $1397.00! Tuesday, we anticipate an inside to lower to inside day. Monday's range was $1438.00 - $1425.75. The market settled at $1426.25. Our comfort zone or point of control for this market is $1434.50. Our anticipated range for Tuesday's trading is $1437.50 - $1415.50.
Disclosure: I have no positions in any stocks mentioned, and no plans to initiate any positions within the next 72 hours. I wrote this article myself, and it expresses my own opinions. I am not receiving compensation for it. I have no business relationship with any company whose stock is mentioned in this article.