These days you can't point to many industries that are growing well. Deep-sea oil drilling is one of the few. The deep-sea drilling market is finally starting to come back after the Macondo disaster of 2010 and the recession of 2008-2009 which saw oil prices fall to the $30/barrel range. ENSCO (NYSE:ESV) is a leader in the field, and it is reaping the benefits. This enables it to pay a 2.64% dividend, which income investors may like. Oil prices, especially Brent prices are much higher now at around $114/barrel. Brent prices are the most relevant to most deep-sea drilling worldwide. The day rates have finally returned to (and sometimes exceeded) the day rate highs of 2008. Companies are going deeper for oil. This means longer well development times (and more work for drilling services companies).
After the above cited events, there have been few new entrants into the deep-sea drilling market. Further the shipping market has been down, so there has been little competition for new shipbuilding. This means that the existing competitors are getting new, high tech ships built at bargain prices. It means the existing competitors are the ones acquiring the new ships and the new business.
An ultra deep water drillship can be purchased (usually years in advance of its availability) for approximately $650 million. The current day rate is about $600,000 for such a ship. If you estimate operating expenses at about $200,000 per day, an UDW drillship should bring in about $400,000 per day in income. Assuming 95% utilization, an owner can earn about $694 million in five years. This will pay for a drillship that has a useful lifetime of about 25-30 years. The participants in this market should be very profitable for many years. The chart below shows the historical day rates for ultra-deepwater rigs.
With all of the trouble in drilling lately such as the Macondo disaster and the relatively minor oil leaks offshore Brazil, the customers want the newest, best, most technologically advanced deep-sea drilling equipment and the most experienced crews they can find. Ensco has both of these. It has an enviable record for quality equipment and customer service. It was rated #1 in total satisfaction among offshore drillers in 2011 by Energypoint Research Inc. ESV has the newest deep water and ultra-deep water fleet in the business, although it is a close call between ESV and SeaDrill (NYSE:SDRL). It is continually adding to this, and it often sells old equipment to other companies to maintain its edge.
ESV ordered two new drillships in Q2 2012. It now has 7 new deepwater rigs under construction. This should translate into a smooth ramp up of future growth. The ENSCO 8505, ESV's newest rig, commenced its initial 2-year contract in the Gulf of Mexico for Anadarko (NYSE:APC), Apache (NYSE:APA), and Noble Energy (NYSE:NE). The ENSCO 8506 is contracted to Anadarko for 2.5 years. It will commence its contract in Q4 2012. Overall the 8500 Series fleet achieved 96% utilization in Q2 2012, and that was with above average unplanned down time in Brazil during the quarter. ESV believes that this great result showcases the benefits of standardization engineered into the ESNCO 8500 Series. Overall the complete deepwater fleet achieved 91% utilization in Q2 2012.
The jack-up segment managed 92% utilization in Q2 2012. The segment sold two cold stacked jack-ups during the quarter. This makes a total of 7 older jack-up rigs sold during the last 3 years. ESV is upgrading with three new ENSCO 120 newbuild jack-ups on schedule for delivery in 2013 and 2014. This is the link to the entire fleet description.
Many new discovery areas are ramping up drilling. The US Gulf of Mexico is 100% contracted industry wide. PEMEX in Mexico is ramping up offshore drilling in an attempt to replace its dwindling onshore and shallow water offshore production. The relatively newly discovered pre-salt domes off of West Africa are heating up. These are analogous structures to those offshore in Brazil. With many of the world's emerging economies in Southeast Asia deep-sea drilling there is heating up. The North Sea and the Bering Sea have seen major new discoveries. Even East Africa is seeing good demand. Further much of the new drilling is exploration/development drilling. There will be much more drilling in the new fields once they are delineated.
ESV grew revenues 90% year over year to $1.072B from $564.2 million. Excluding the effect of the Pride International acquisition, revenues grew 44% year over year. ESV grew EPS to $1.41 per share from $0.71 per share. This easily beat average analysts' estimates of $1.25. This was due to the purchase of Pride International last year as well as the greater demand for drilling rigs. Both the day rates and the utilization rates were up. Deepwater revenues grew by 71% excluding the acquisition. Jackup revenues grew by 31% due to an increase in utilization and in average day rates. Midwater revenues were $101 million all related to the new acquisition. All told this company's growth is looking great without the acquisition, and it is looking even better with the Pride International acquisition earnings and revenues added in.
The two year chart of ESV lends some technical direction to the trade.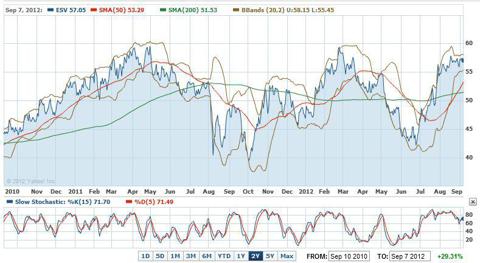 Click to enlarge
The slow stochastic sub chart shows that ESV is near overbought levels. The main chart shows that ESV may be putting in a triple top. This is a very negative signal. The fundamentals presented above argue for continued upward movement. ESV trades at a P/E of 12.65 and an FPE of 8.10. It pays a good dividend of 2.64%. It has an estimated EPS growth rate of 73.60% this year, an estimated growth rate of 31.50% for next year, and a five year estimated EPS growth rate per annum of 16.00%. It is not overly indebted with a 30.07% total debt / total capital ratio in the most recent quarter. This data tells you the stock has room to move up. The Q2 earnings confirm this. The increasing day rates for deep water drilling rigs confirm this. The tight supplies and new discoveries confirm this. The relative high price for Brent Crude of approximately $114/barrel argues for a continued move up.
After saying all that, the overall market is overdue to retrace. Goldman Sachs' David Kostin has a 1250 target on the S&P 500 for the end of 2012 (on CNBC recently). Nomura Securities says the overall market may fall 25% before the Presidential election. Goldman Sachs believes earnings of the S&P 500 will fall in Q3 by about -0.1%. Other pundits have considerably lower figures. It is hard to see a lot of upside to the overall market. ESV probably deserves to move up, but will it in an overall negative environment? A key may be whether or not the US Federal Reserve announces a new round of QE on Thursday September 13, 2012, when the FOMC announces its rate decision. If there is a big new round of QE, that will likely be bullish for oil and oil dependent stocks. It should be a buy sign for ESV. If the Fed does not announce QE, oil prices may fall. The overall market may fall, and ESV may not be such a good buy in the very near term. Longer term ESV will likely still be a great buy. You probably only want to nibble a bit or wait entirely until you know the Fed's intentions, but this stock and this industry do look like a great fundamental opportunity for the next several years. If you do not decide to buy this week, you will want to keep this stock on your watch list for a good buying opportunity.
Note: Some of the fundamental financial data is from Yahoo Finance.
Good Luck Trading.
Disclosure: I have no positions in any stocks mentioned, but may initiate a long position in ESV over the next 72 hours. I wrote this article myself, and it expresses my own opinions. I am not receiving compensation for it (other than from Seeking Alpha). I have no business relationship with any company whose stock is mentioned in this article.