The Street did not take a liking to Nexen Inc.'s (NXY) second quarter results, which you can read about here.  Since the ugly details, and Nexen's defense are detailed there, let's talk about the pluses.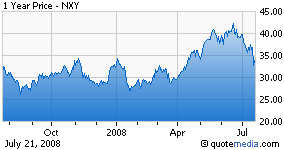 The oil and gas producer announced a share buyback of up to 10% of its float or 53 million shares, and Andrew Potter, an analyst at UBS Securities, thinks that "could be pursued aggressively" given his expectation of C$1.5-billion in free cash flow per year.
Mr. Potter encourages investors to get in after Thursday's 10% drop.  In a note to clients he said:
Although we were disappointed with the large headline miss in [the second quarter] results, we believe the 10% selloff in the stock is far overdone and is very compelling buy at current levels.
(But you have to beat Nexen to the punch. In an interview with the Financial Post on Thursday, Charlie Fischer, Nexen's chief executive, did note that running a buyback program when the Street is dumping your shares isn't such a bad thing.)
Another plus is that Nexen maintained its 2008 guidance of 260,000 to 289,000 barrels of oil per day.  However, Mr. Potter notes that only the bottom end of the range is achievable.
Furthermore, Nexen plans to pour C$600-million to C$800-million into its 2008 capital program, with its eye on natural gas activity in Horn River and Medicine Hat. 
Going forward results from incremental wells in the Horn River could be a major catalyst to Nexen as the emerging resource play becomes better understood and investors become more willing to pay for these resources.
Menno Hulshof, an analyst over at Blackmont Capital, also noted what management tried to stress as the Street picked on them. 
In a note, he wrote:
Although Nexen reported below expectation second quarter results yesterday, this quarter's performance was largely unrelated to Nexen's core operations.
The last point we're going to talk about could be a plus, could be a minus. 
Nexen "pre-qualified" to participate in bid rounds in oil-rich, but bomb-filled, Iraq.  So far, it is the only Canadian company to make the cut, but management stressed that it is not going to be surging into the war zone right away. 
However, Mr. Hulshof seems to be a glass half full kind of guy on this one.
We believe [Nexen] is well positioned to capitalize on this opportunity given its prior experience in the Middle East.
So, what's the bottom line? Mr. Hulshof calls it a "buy" and expects it to get to C$46; Mr. Potter tags it as a "buy" and is looking for it to reach C$52.50.