Many investors fail to appreciate that software companies, even huge ones, can become worthless overnight. An evolution in hardware technology or the software eco-system can render a software giant irrelevant in wink. Software companies aren't like conventional companies with hard assets and marketable inventories. When people stop buying their software, their value quickly heads to 0.
There's a long list of top-five software companies that went to nearly nothing in a flash: Software Publishing Corporation, Borland, Ashton-Tate, Openwave, and so on. I worked for several of these. So I can provide credible assurance that Microsoft (NASDAQ:MSFT) will be on the list in the next five years. Here's how.
It's no Longer Windows vs. Mac or Linux
Analysts have long evaluated Windows against Mac or Unix workstation alternatives. That comparison is no longer relevant. Go to any office or travel on any business flight and you will see a bunch of people reading email or tweaking spreadsheets on Ipads with little bluetooth keyboards. Windows PCs now have to compete against handheld and tablet devices that display nearly as much information; start up faster; never crash; and never, ever lock up while they download "critical updates." The latter is, of course, a regular occurrence with Windows.
The hottest devices of the year are coming out this month: the amazing new Kindle fire, the new iPhone, and the smaller iPad. Here's what you need to know about these great devices: all of them will be huge sellers, they will replace many PCs, and none of them will yield a dime of revenue to Microsoft. That is the way of the future. Intel just reduced their guidance for PC chips. Believe me, it's only the beginning.
Microsoft Doesn't Have a Clue About Interface Design
"But wait," you say, "what about Windows 8 and all the great new mobile stuff from Microsoft." The problem, you see, is that Microsoft can't design a user interface to save itself. It never could. I could mention the infamous "Bob" or the idiotic MS Office paperclip that you could never get rid of. Or I could talk about how Microsoft's homegrown UI attempts dominate the top-10 list of the worst software failures in history.
Or, better yet, I could direct you to the hilarious YouTube video of a real user trying to figure out how the heck to do anything with Windows 8.
But instead, I'll let one typical dialog box speak for me: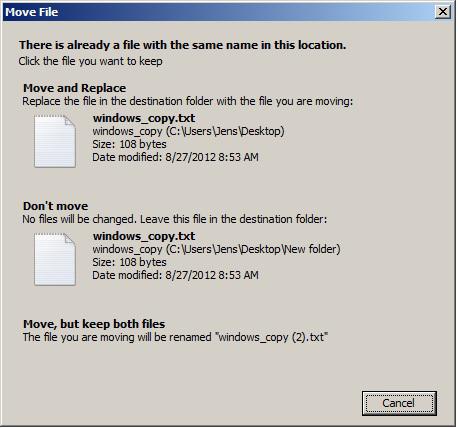 If you have a laptop or a mobile device, this sucker fills the whole screen. Odds are you're going to nuke the wrong file. Tough luck. Steve Jobs would have fired the guy who designed this abomination.
Here's the same dialog from Apple:

Like I said, Microsoft doesn't have the first clue about user-interfaces. The best they can do is imitate somebody else who does. When they try to do their own thing -- like "Bob," they fail.. abjectly. And that is what we see with Windows 8. If you don't believe me, try Windows 8 yourself. See if you can figure out how to shut down the computer. It takes most people about half an hour. Oh, and be sure to record the whole thing and post it on YouTube.
On mobile devices, the interface is everything. Believe me. I worked on the first wireless Internet phones for Unwired Planet (UPIP) nearly 15 years ago. The iPhone was a smashing success because people like my parents, who can't program a toaster, could actually use the thing without even glancing at a manual. That is NOT Windows 8. My parents are as likely to put the darn thing in the toaster as they are to figure out how to use it.
Windows-Only Applications No Longer Sustain Windows
I confess I do own multiple Windows PCs myself. That's mostly because I've had a few applications that won't run on anything else. But that has changed rapidly. All the server-based applications I use now have web-interfaces that will run on anything from a Unix workstation to a Kindle. The best proprietary software (like TraderWorkstation) has shifted to Java and will run on any platform. There are still some high-performance video games that only run on Windows. So, I guess Microsoft may still have the "gamer" market locked up for now. But how much software do gamers pay for anyhow?
Microsoft's Network Effects are about to Vanish
Ashton-Tate's dBase is a case study in network effects. End-users had to buy dBase because so many developers were building applications with it and developers had to use it because it had such a massive installed base. Even Lassie's boy Timmy used dBase. Network effects made Ashton-Tate extremely profitable, but also shifted its paradigm from innovation to "rent-seeking." This shift allowed competitors to catch Ashton-Tate and spawn a variety of faster and cheaper dBase clones. The network effects evaporated and mighty Ashton-Tate was pawned to Borland for a pittance.
Microsoft is now in roughly the same position as Ashton-Tate right before dBase IV. It is a rent-seeker, not an innovator. It is one release away from a landslide migration to cheaper, better products. Below is a list of Microsoft products and the approximate cost for 20 users. On the right are alternative products that are faster, more secure, less buggy, and yes -- FREE. Many of these products run on multiple platforms. OpenOffice, for example, runs on Windows, Mac, IPad, and many flavors of Unix. Others, like GoogleDocs, have built-in "cloud" features that Microsoft lacks.
Microsoft
Cost
Better
Alternative
Cost
MS Office
$3800

OpenOffice or

GoogleDocs

$0
MS Outlook
$1880

Thunderbird

$0
MS Exchange Server
$3500

Dovecot Server or

Postfix Server

$0
SQL Server
$9800

MySQL Server and

MySQL Client

$0
MS Windows
$5980
Linux
$0
Total
$24960
$0
Consumers are near a pivotal decision point: "upgrade" to Windows 8 and the latest MS Office for a big price tag, or try some superior software for FREE. Given how abysmal Windows 8 is, the choice seems pretty clear. Keep your old Windows 7 box for a while and then replace it with Mac, Linux, or a superior mobile device.
Analysts and Microsoft fans can provide all the graphs they like of revenue growth for Windows or MS Office. But they could have done that for Ashton-Tate too. In the software industry, things change overnight. Dbase revenues grew explosively, until suddenly they didn't. Just as dBase IV was the catalyst for Ashton-Tate, Windows 8 will be the catalyst for Microsoft.
Disclosure: I am short MSFT. I wrote this article myself, and it expresses my own opinions. I am not receiving compensation for it (other than from Seeking Alpha). I have no business relationship with any company whose stock is mentioned in this article.
Additional disclosure: I own a stupendous number of MSFT Puts.