For the second time this year, Barron's cover story goes bullish on financials.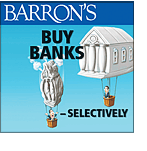 S&P financials are down 43% over the last 12 months, even after major bull runs on Wednesday and Thursday. More than $1T in market value has disappeared, and the once mighty sector now boasts just a 10% gain over the duration of the bull market than began in Oct. 2002. So why the bullishness? 
 A slew of earnings reports last week from marquee banks like Wells Fargo and JPMorgan Chase suggests that most financial companies have sufficient earning power to offset a rising tide of bad loans and should be able to absorb further write-downs without having to seek significant amounts of additional capital. 
In 1990, financials took a 24% hit. In 1991, they jumped 43%.
Financials have taken a cumulative $447B in losses and write-downs, and raised $331B of new capital. A detailed study by analysts at Keefe Bruyette & Woods sees banks needing another $30B - which sounds manageable even with the Street's decided lack of appetite. The firm likes Fifth Third Bancorp (NASDAQ:FITB), National City (NCC) and Sovereign Bancorp (SOV).
Nearly every major financial name trades for less than 10x 2009e earnings. They also trade at low price-to-book value ratios - and history has favored those who buy big financials for book value, getting their ongoing revenue streams for nothing.
"This is a once-in-a-generation opportunity in the financials," money manager Mark Boyar says - naming JPMorgan (NYSE:JPM), Lehman (LEH), Travelers (NYSE:TRV) and Bank of New York Mellon (NYSE:BK).
Looking at regional banks, Barron's notes their deposit bases - usually a much-hoarded asset - are now being largely ignored, with names like SunTrust Banks (NYSE:STI), Marshall & Ilsley (NYSE:MI), Comerica (NYSE:CMA), Wachovia (NASDAQ:WB) and Zions (NASDAQ:ZION) trading at around their tangible book value.
Buffett followers can pick up his financial holdings - American Express (NYSE:AXP), Wells Fargo (NYSE:WFC) and U.S. Bancorp (NYSE:USB) - some for less than what Buffett paid.
There's no guarantee volatility won't continue to haunt the sector. Barron's Buffett-based advice: Buy good companies at fair prices, and then turn off the quote screen.
========================================================
Barry Ritholtz is freaked out by the fact that Barron's, WSJ and NYT posted coincidental stories championing a banking sector bottom. "Can you recall the last time 3 major media players all picked the bottom in a market or sector on the exact same day -- and were all proven correct?" he asks. 
While specifically addressing the issues surrounding Fannie Mae (FNM) and Freddie Mac (FRE), Porter Stansberry thinks we're nowhere near clearing the woods on this one. "I believe we have begun the monetary crisis that will end the dollar standard that has governed world trade since World War II." His picks: gold (NYSEARCA:GLD) and silver (NYSEARCA:SLV). 
John Gilluly thinks we're about to see a slew of big banks snapping up smaller fry at $0.50 on the dollar. They'll be "will be like cats chasing mice on a square mile of white linoleum," he says. He like Ultra Financials ProShares (NYSEARCA:UYG).