Given that some day we will run out of oil, solar investors in it for the long ride can probably sit back and relax. Some think the U.S. could be generating 10% of its electricity from the sun within 10-15 years. And Scientific American published a scheme last year for drawing almost 70% of our power using solar by 2050.
For people with shorter attention spans, Barron's Eric Savitz says, the landscape is decidedly cloudier.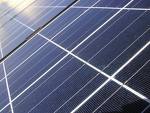 Solar's turning point will come when it reaches 'grid parity' - the price at which its production equals or is cheaper than electricity from coal and natural gas. It's a hard to pin-down target, complicated by gyrations in the price of fossil fuels, and a possible deflation in the price of solar-critical polysilicon wafers. 2010-2012 is a possibility.
Another question mark is whether and by how much Germany and particularly Spain will cut back on generous solar subsidies that have made the two the world's largest solar markets. In the U.S. a 30% tax credit could die at year-end.
Merrill Lynch's Mark Heller warns of a potential bubble - noting solar startups raised more money in 2007-8 than internet stocks did in their 1998 heyday.
Here are some of the stocks industry experts are looking at:
MEMC (WFR) has made a killing on $450/kg polysilicon wafers. Huge amounts of supply coming on line in 2009 have already hurt the stock. The unknown is how much of that is already priced in.
Solar investor Charles Boucher suggests sticking with 'vertically integrated companies' that are not overly exposed to any single element of the solar market. He likes SunPower (NASDAQ:SPWR), which makes high-efficiency cells and runs an instillation unit. Also Chinese companies Canadian Solar (NASDAQ:CSIQ), Suntech Power (NYSE:STP) and Yingli (NYSE:YGE). Akeena (AKNS) is a pure-play bet on U.S. installation that could get hurt if Congress doesn't renew the tax credit.
Lehman's Vishal Shah likes First Solar (NASDAQ:FSLR) - the biggest solar play. It is not exposed to poly pricing, because it uses cadmium telluride, which produces cheaper electricity than poly prices and will continue to until poly hits $70/kg. JA Solar (NASDAQ:JASO) could double its capacity without new funds, he says. He notes the China plays, with big exposure to Spain, could rally 50% if the subsidy cut comes it at the low end.
===================================================