AstraZeneca (NYSE:AZN) has a new CEO and at least one major new drug on the way. It also has an interesting opportunity to create what might be a profitable over the counter medication. So what impact will these developments have on the company's stock, and will its rise continue or not?
New CEO to the Rescue?
Pascal Soriot, the current head of pharmaceuticals at Roche Holding AG (OTCQX:RHHBY), will move into AstraZeneca Names Roche's Pascal Soriot as CEO - Businessweek the big office at AstraZeneca on October 1. Soriot will be the third person to serve as AstraZeneca's CEO this year. David Brennan was either forced out or retired on June 1 depending on who you ask. Simon Lowth, the company's chief financial officer, is currently serving as interim CEO. Soriot is essentially being brought in to turn the company around after setbacks on Brennan's watch.
Soriot seems to be coming onboard at the right time if the charts are accurate. AstraZeneca's share value has seen a big upswing over the summer that seems to be permanent. AstraZeneca has not only recovered the value it lost over the summer, it has actually had some additional gains. The share price rose from $39.50 on June 29 to $46.98 on September 6, 2012.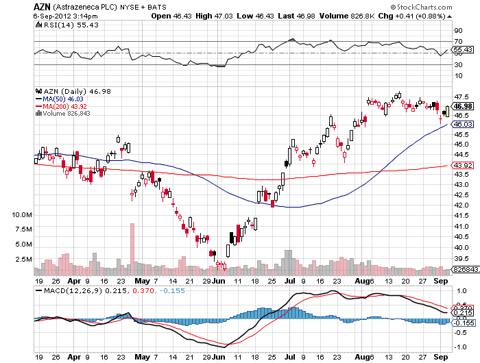 Click to enlarge
Interestingly enough, this gain in share value came despite what looks like a collapse in revenue at AstraZeneca. The company reported that its Core Operating Profit fell by 32%, and its reported earnings per share ratio fell by 11% in the second quarter of 2012. Revenue in the United States fell by 29%, or $953 million, and by 20%, or $438 million, in Europe. Global revenue fell by 18%, or $1.55 billion.
Massive Losses From Seroquel Loss
The reason for these declines in revenue is pretty obvious; some major AstraZeneca drugs are headed straight over the patent cliff. The revenues from five major drugs, NEXIUM, Seroquel IR, Atacand, Crestor, and Merrem, took a major nosedive as patents expired and generics hit the market. NEXIUM revenue fell by 13%, or $140 million. Crestor revenues fell by 5%, or $87 million, and Seroquel IR revenues fell by a whopping 75%, or $866 million. Atacand revenues fell by 25%, or $98 million, and Merrem revenues fell by 33%, or $52 million.
The biggest hit was obviously from the loss of the Seroquel patent; a chart in AstraZeneca's report for the second quarter shows that Seroquel sales collapsed in about ten weeks after the patent ended in March. Seroquel sales fell by 86% in the United States alone. It is hard to see how AstraZeneca is going to recover from the loss of this blockbuster psychiatric drug.
Antibiotic No Magic Bullet for Patent Cliff Disease
AstraZeneca does have at least one major new drug in its pipeline. The European Commission has approved the use of the antibiotic Zinforo as a treatment for pneumonia and skin infects in young adults. This doesn't seem to be a big enough drug to make up for the losses on Seroquel. Zinforo will compete with Tigacil from Pfizer (NYSE:PFE) and Cubicin from Cubist Pharmaceutical (CBST). Zinforo was developed by Forest Laboratories (NYSE:FRX), which sells the drug in the U.S. and Canada as Teflaro.
Zinforo is the only antibiotic that is effective against MRSA, a staph infection that is resistant to normal bacteria, and has been approved for use in Europe. Unfortunately, it has not yet been approved for use in the elderly and other groups most at risk for that infection. MRSA has become a big threat to persons with weakened immune systems.
NEXIUM Moves Over the Counter
A bigger potential moneymaker for AstraZeneca is a deal to sell over the counter NEXIUM. A press release indicates that Pfizer has purchased the over the counter rights to NEXIUM all over the world for $250 million. AstraZeneca will also receive undisclosed milestone and royalty payments based on over the counter NEXIUM sales.
Even though Pfizer has paid for it, over the counter NEXIUM is hardly a done deal. The two companies will need to get approval from both the U.S. Food and Drug Administration (FDA) and the European Medicines Agency in order to market the product. Applications for this permission have been filed, but they not been approved yet. Pfizer does not expect to begin over the counter NEXIUM sales in the United States until 2013 at the earliest.
It remains to be seen if over the counter NEXIUM can help AstraZeneca recoup some of its losses. One potential problem here is that over the counter NEXIUM will be competing with fairly cheap generic prescriptions. The market for it may not be there even if the regulators approve it.
It looks like the market's recent enthusiasm for AstraZeneca is misplaced. This company is facing massive losses for which there is no quick fix. There seems to be little that Mr. Soriot can do to turn this company around quickly because its problems are beyond his control. AstraZeneca's shares will come falling back to Earth once investors realize that a quick turnaround is not in the cards.
Disclosure: I have no positions in any stocks mentioned, and no plans to initiate any positions within the next 72 hours. I wrote this article myself, and it expresses my own opinions. I am not receiving compensation for it (other than from Seeking Alpha). I have no business relationship with any company whose stock is mentioned in this article.