If you are a Merck (NYSE:MRK) shareholder then you must be pleased with the stock's performance this year. With a YTD return of +18%, Merck has outperformed many of its peers this year after being stuck in the $30 to $40 range for two years. Merck's late 2012 performance can be directly attributed to its forecast beating second quarter performance.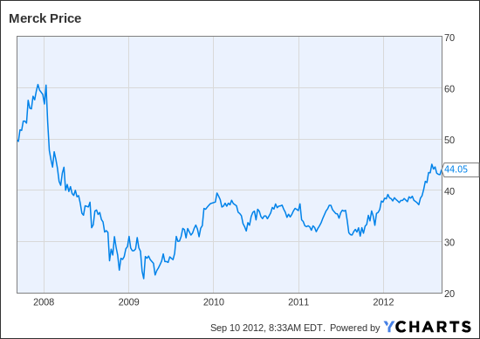 Products
The Respiratory and Immunology division remains the biggest segment for Merck, contributing to 23% of its sales in 2011. Merck's top drug Singulair netted $5.48 billion in 2011, more than 10% of its revenues. Singulair lost exclusivity in August 2012 and Merck expects significant sales erosion in the next couple of years. The other important drug that is going to lose its patent soon is Maxalt (December 2012).
Data: Merck 2011Annual Report
In terms of geographical exposure, Merck draws more than 50% of its revenue from developed markets while its emerging markets contribution is also slowly raising. Merck's margin will be hit by Europe's austerity measures as European nations try to reduce drug costs. But that's a problem for all pharma companies that operate in Europe.
The loss of Singulair patent is huge. It accounts for more than 10% of revenues and things did look a bit tricky for some time. But Merck's type 2 Diabetes franchise Januvia/Janumet is growing so fast that they might well cross $5 billion sales in 2012. Nobody thought that Januvia/Janumet could become a $5 billion drug when it was launched five years ago.
Data: Merck Financial Reports
In 2011, Singulair made $5.479 billion while Januvia/Janumet made $4.687 billion. If Januvia/Janumet sustain the growth they achieved in 1Q12 and 2Q12, then the diabetes franchise of Merck can easily replace the Respiratory and Immunology division as the top earning segment for Merck.
The global type 2 diabetes market is huge and is growing. GlobalData Analysis predicts the $23.7 billion Type 2 Diabetes Market to double its size in 2020(Growth of 7.4% CAGR between 2011 and 2020). Merck's Januvia/Janumet is on track to be the leading Type 2 Diabetes drug in 2012, and it has the potential grow with the Diabetes market adding more dollars to Merck's balance Sheet.
EvaluatePharma, a pharmaceutical consulting firm predicts Januvia/Janumet to be the top selling drug in 2018 with total sales around $9 billion. I don't know what's going to happen in 2018, but I want to know how Merck is going to put Singulair behind and keep growing for the next few years.
Merck reported recently that it's on track for six major filings in 2012-2013. It's good because Merck earns more than 30% of its money from six or seven drugs and if new products are successful then it will help offset Singulair's revenue loss in the next two years. Though Januvia/Janumet can do the heavy lifting, more drugs will help Merck to get there faster.
Financial Health
Data: Fidelity, Morningstar
The debt profile of Merck seems to be on solid footing. With 30% debt to equity, Merck is better than most comparable drug majors. Merck's TTM operating margin is 22.97, an area where it can improve, by cutting costs. Merck has recently come out of its big ticket acquisition and it is natural to expect a merged entity to cut some departments, reduce headcount and get some savings. In terms of R&D expenses, Merck is closer to the industry average. So apart from adding more drugs, Merck should cut costs and improve its earnings.
Valuation
To analyze the current stock value I used a discounted EPS model. Instead of assuming the discount rate and growth rate to find the value of the stock, I have done things in reverse and got the required rate of growth for the respective discount rate to match a target price. It's a two stage EPS growth model where the EPS grows at a specific rate for a seven year period and then it grows at the terminal rate.

The projected 3-5 year EPS growth rate by Fidelity is 4.24. If you assume a discount rate of 8% then the stock looks fairly valued at $43 with 4.6% growth rate.
Disclosure: I have no positions in any stocks mentioned, and no plans to initiate any positions within the next 72 hours. I wrote this article myself, and it expresses my own opinions. I am not receiving compensation for it (other than from Seeking Alpha). I have no business relationship with any company whose stock is mentioned in this article.