In our previous report on American International Group (NYSE:AIG), we analyzed and evaluated the company's financial rescue at the hands of the US government as well as how investors should view the new AIG. We also evaluated the performance of the company's business units and its corporate financial asset management, most notably its $3B repurchase of shares held by the US government.
We were actually disappointed that AIG only repurchased $3B worth of the $5B shares sold by the US Treasury and we had ran a simulation that showed that AIG could have easily afforded to repurchase all $5B sold by the government, since it had $105B in shareholders' equity. If a regulator was determining how much AIG could repurchase, we think that a prudent regulator would have let AIG buy back all $5B sold by the government. The US Treasury announced on September 9th that it was selling $18B worth of shares and AIG will buy $5B of the shares offered.

Source: Bloomberg LP and Saibus Research Scenario Analysis
AIG Estimated Discount to Book Value as of Q3 2012:
We see that AIG is an undervalued turnaround project and we approach our investment in AIG with that careful, mindful perspective. Our perspective is that AIG is a once-great diversified global financial giant that made significant operating and asset management mistakes that forced the taxpayers to bail it out and required it to restructure and refocus on key, core operations. We have no illusions with regards to our investment and don't need to be reminded by Wall Street Analysts that AIG's core insurance operations need improvement.
When we first initiated our AIG position, we carefully considered the fact that AIG was trading at a 50% discount to book value with the fact that its 2012 EPS was growing mainly because of reduced insurance losses. We ended up establishing a position in May because we were impressed with AIG's 45% discount to book value at the time. Based on the $3B in share repurchases in August, the $5B in proposed share repurchases in September and the estimated $1.2B in net income according to consensus analyst estimates on FactSet, we can see that AIG's forecasted market value is around 50% of its forecasted book value for Q3 2012.

Source: Bloomberg LP and Saibus Research Forecast Analysis
AIG Scenario Analysis for September Share Repurchase:
As with the August repurchase, we were disappointed that AIG only repurchased a portion of the shares AIG offered for sale. Of the $18B in shares repurchased, AIG is only repurchasing $5B. We wish that AIG had purchased all $18B worth of shares issued by the US Treasury by liquidating low-yielding balance sheet assets because if it has done so, it could have increased its annualized EPS by nearly 28% over the next 12 months had it done so.

Source: Bloomberg LP and Saibus Research Scenario Analysis
Because the US Government has a strong level of regulatory oversight of AIG since it was the majority owner of the company, we adjust for the fact that AIG may be statutorily permitted to only buy back a portion of the shares at a given time. However, we also believe that the regulators need to take into account the fact that this is no longer Marty Sullivan's AIG. Robert Benmosche and his team have taken the right steps to stabilize this behemoth and to simplify its corporate and business operating structure. Even if AIG had repurchased all $23B of the shares that the Treasury had offered for sale, its pro forma equity/assets ratio would have still been 15.5%, which is significantly higher than the 10% median equity/assets ratio from 2005-2008 under Marty Sullivan.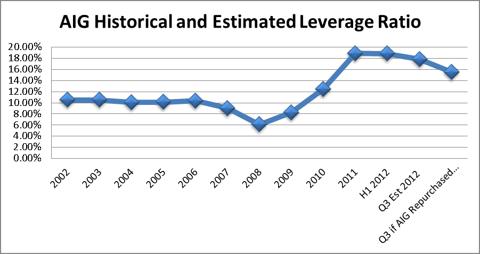 Source: Bloomberg LP and Saibus Research Scenario Analysis
Conclusion:
In conclusion, we are intending to hold on to our stake in AIG, as well as looking to selectively accumulate a larger position. Due to the deep discount from market price relative to its tangible book value, and potential for improvements in the US capital markets from the potential monetary easing program under discussion, we will be looking to opportunistically add to our position. Based on the $18B sale that the US Treasury announced, its stake is expected to dip below 23% and the primary regulation duties of AIG is expected to shift from the Treasury to the Federal Reserve. The observations we elaborated on in August are essentially unchanged and that is why we have reinforced our long position in AIG:
~50% discount for its market price relative to its book value
$13B in net share repurchases YTD as of September.
World-Class business operations subsidiaries
Eventual sale or spin-off of International Lease Finance Corporation
Revenue stability in business unit subsidiaries
Reduced expenses for policyholder claims and benefits (reduced underwriting loss)
Steady progress towards deleveraging
Strong equity capital base
Potential further share sales from US Treasury
Disclosure: I am long AIG. I wrote this article myself, and it expresses my own opinions. I am not receiving compensation for it (other than from Seeking Alpha). I have no business relationship with any company whose stock is mentioned in this article.
Additional disclosure: This article was written by an analyst at Saibus Research. Saibus Research has not received compensation directly or indirectly for expressing the recommendation in this article. We have no business relationship with any company whose stock is mentioned in this article. Under no circumstances must this report be considered an offer to buy, sell, subscribe for or trade securities or other instruments.