I haven't updated my opinion on natural gas (NYSEARCA:UNG) for a while, something I hope to rectify with this article. The last time I wrote on natural gas, on July 20 in the middle of a scorching summer, I said that natural gas was stuck below $3.50 due to production not falling enough for it to be able to trade higher without the benefit of increased consumption from dispatch switching (where natural gas-fired generators get ahead of coal-fired generators in the dispatching of power plants).
Fast forward one and a half months and natural gas is still stuck slightly below $3.00, even with the hot summer and quite significant power burns, as illustrated below (source: EIA):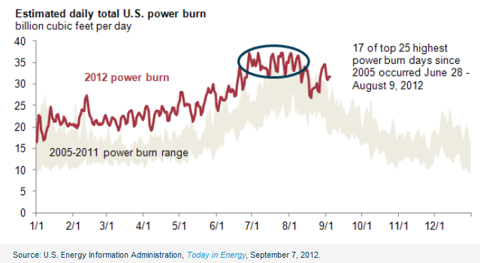 Click to enlarge
Now, the extent of natural gas burning for power generation during summer was capped by two effects. One was that as more capacity gets called for power generation, less is available to switch from one fuel to the other. The second was that sporadically natural gas rallied above $3.00 and some switch back was seen towards coal.
As we move away from the scorching summer, though, natural gas-fired capacity is once again freed to substitute coal-fired generation. And this has implications for natural gas.
The thesis here
The situation today is one where if natural gas exceeds $2.70-$3.00, some power generation is (dispatch) switched back to coal, reducing consumption into a still significantly oversupplied market (in terms of production). This tends to bring natural gas lower as it tries to rally.
On the other hand, as natural gas falls below $2.70-$3.00, we again see dispatch switching towards natural gas which increases its consumption enough to make inventories rise less than historical norm, bringing these into the regular range.
Conclusion
The dynamics at work right now seem conductive for natural gas to oscillate within the $2.50 and $3.30 or so range, as it has been doing for a while. Except for weather aberrations -- like a repeat of last year's winter -- it seems likely that this range will mostly prevail until production falls enough for it to be able to be broken on the upside. This process has, up until now, been slow, even if the number of production wells being drilled continues to fall.
The process being slow also has implications for coal (NYSEARCA:KOL), since until natural gas breaks the said range to the upside, thermal coal's pricing will be under pressure, with significant negative implications for leveraged coal producers such as James River Coal (JRCC), Arch Coal (ACI) or to a lesser extent, Alpha Natural Resources (ANR). A breakout to the upside on natural gas will be critical for these equities so anyone contemplating coal needs to keep an eye on natural gas.
Disclosure: I have no positions in any stocks mentioned, and no plans to initiate any positions within the next 72 hours. I wrote this article myself, and it expresses my own opinions. I am not receiving compensation for it (other than from Seeking Alpha). I have no business relationship with any company whose stock is mentioned in this article.