Highbury Financial (OTC:HBRF) is an investment management holding company trading at a surprisingly inexpensive valuation. The stock has suffered significantly in the last six months as liquidity has dried up in micro-cap stocks. Highbury owns 2/3 of the Aston Funds, which is a $4.7 billion mutual fund family it bought with Aston's management team from ABN AMRO in 2006. Aston's management team owns the remaining 1/3 of Aston Funds. As a small mutual fund family, Aston is positioned for growth, which will benefit Highbury Financial's shareholders.
Background and Recent Corporate History
Highbury Financial is relatively new, having gone public in 2006 as a special purpose acquisition company [SPAC] to secure an acquisition in the investment management industry. Highbury Financial was sponsored by executives at Berkshire Capital, an M&A boutique specializing in the investment management industry. In mid-2006, Highbury agreed to acquire the mutual fund business of ABN AMRO, which had about $6 billion in assets under management [AUM] at the time. The deal closed in late 2006, with Highbury paying $38 million in cash for a 2/3 ownership stake. The mutual fund business was renamed Aston Funds. Aston Funds management owns the remaining 1/3 of the company.
The Aston Funds is a nice growth platform for Highbury. Aston has 25 equity and 3 fixed-income mutual funds. All of the funds are sub-advised by outside advisors. Aston has 17 wholesalers, and the main distribution channels are the wirehouses and the life insurance companies.
Ownership of Aston is structured as a revenue-share. This structure dictates that 28% of Aston Funds revenue is paid to the owners. The other 72% of revenue supports the operations of Aston Funds. Since Highbury owns 65% of Aston Funds, it receives about 18.2%—or 65% of 28%. Management receives 9.8% of Aston Funds revenue. Highbury has a preferred position in the revenue-share, so if Aston's expenses are not covered by 72% of revenue, Aston's management covers any shortfall. Conversely, if there is money leftover at Aston, management gets to keep it as compensation. Effectively, Aston's management has a ton of operating leverage and Highbury almost none. Highbury has some nominal corporate expenses at the holding company level, so Highbury's profit is 18% of Aston revenues minus corporate expenses minus corporate taxes.
Investment Thesis and Gator's Investment Criteria
To evaluate this investment, we must look at the bigger picture. Highbury Financial stock is very inexpensive at 5.4x 2008 cash EPS; management has bought back stock; the balance sheet has cash and no debt; net mutual flows have turned positive at Aston; and the potential upside is significant.
Does Highbury meet the investment criteria of a high-quality growth business? Consider the following characteristics of a high-quality growth business: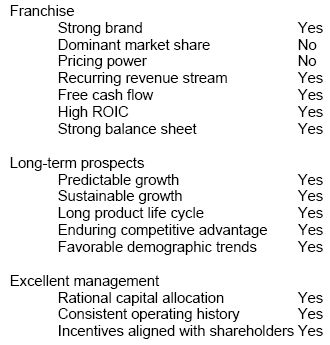 These factors paint the picture of a high-quality growth business. Asset management is one of the best business models. Recurring revenue and low capital requirements give asset management firms steady, reliable cash flow. Operating leverage and positive net in-flows allow for the opportunity for profit to grow faster than the market. Asset managers can use their profits to repurchase shares, pay dividends, or make acquisitions—allowing them to keep current customers without reinvesting in their business.
Recent Stock Performance
Highbury Financial's stock has experienced a significant drop over the past year. The stock is down 60% from last June. The credit crunch was a factor, having hit a few of Highbury's shareholders with its own fund redemptions who chose to raise cash by selling their Highbury stock. Additionally, money managers like Highbury have revenues decline as the market declines. Another source of the stock decline could be the hesitancy of investors to step in front of a small stock with severe downward momentum.
Latest Earnings
Highbury's earnings were fine in the March quarter. Due to the revenue share arrangement with Aston, Highbury has lower operating leverage than a typical asset manager. Helped by this lower operating leverage, Highbury Financial still posted 10 cents of cash earnings in the March quarter. The revenue sharing arrangement between Aston Funds and Highbury Financial makes it so Aston's assets would have to decline almost 70% before Highbury would begin to lose money. It should be noted that Highbury has about $400k in operating costs at the holding company level per quarter. Professional services make up most of these costs, but costs should not increase as Aston grows its business.
Near Term Business Initiatives
Highbury Financial's main business initiative is to drive organic growth at Aston Funds. Over the past two years, Aston has begun to establish initial track records for several new mutual funds to expand its product platform. Eight funds were started in 2007, and three additional funds have been started so far in 2008. Most of these have almost zero assets and will remain modest until they establish 3-year track records. However, one of the funds introduced in 2007 has already experienced some success. The Aston/River Road Small-Mid Cap Fund already has $71 million in AUM. These new funds are seeds planted for future growth. As these funds demonstrate performance, Aston's sales team will have additional products to sell.
Highbury's management is also trying to secure another new acquisition. While possible, this is a risky catalyst as success depends on pricing the deal correctly and integrating it into Highbury Financial without losing clients. Plus, Highbury only has $16 million of cash and debt capacity, so an acquisition of size seems unlikely.
Balance Sheet
Highbury is not levered. The company has $8 million in cash on its balance sheet, and is generating about $1 million of cash a quarter. The company has debt capacity of 2x trailing EBITDA. With trailing EBITDA at $4 million, the company has about $8 million of debt capacity.
At the very beginning of the first quarter, Highbury bought back shares and warrants. As the stock proceeded to collapse, management guarded their capital. They do not appear to have bought back any shares or warrants in the second quarter. However, we would point out that at these valuation levels, buying back shares and potentially retiring the warrants would be sensible.
Warrant Overhang
At first glance, Highbury Financial's outstanding warrant issue is an overhang on the stock. Highbury has 13 million warrants outstanding with a strike of $5. With the warrants not expiring until January 2010, the $5 strike on the warrants seems to put a cap on the stock until the warrants expire. As the stock approaches $5, the upsides may seem less compelling due to the dilution from the warrants. However, with stock trades currently at $2.60, so a doubling of the stock would have to occur before this becomes an issue.
It is conceivable that management could try to repurchase the warrants. The warrants have been trading under 20 cents for the past 3 months. As a result, management could theoretically repurchase all of them for under $3 million. While not every single warrant owner would be willing to sell their holdings for less than 20 cents, Highbury's management could certainly repurchase a significant portion. This being said, management would probably rather leave the warrants outstanding. With the warrants left outstanding, management is hopeful that the stock will drift above $5 and the warrant holders will exercise. Then, management could use the warrant proceeds to make an additional acquisition. Management seems to find the prospect of running a larger company and getting some diversification more appealing.
Taking all factors into consideration, our view is that the stock will likely approach $5 but will struggle to rise above $5 in the next 20 months due to the warrant overhang. After 20 months pass and the warrants expire, the issue will no longer exist. While the best circumstance for the stock's value would be for management to repurchase the warrants and then repurchase shares at less than 3x EBITDA, this appears unlikely to happen. However, if this did happen, the stock could rise to $8 as Aston posts positive mutual fund flow numbers and the company gets valued closer to industry peers.
Here is a chart showing the potential benefit of repurchasing the warrants if Highbury were to reach 8x EBITDA: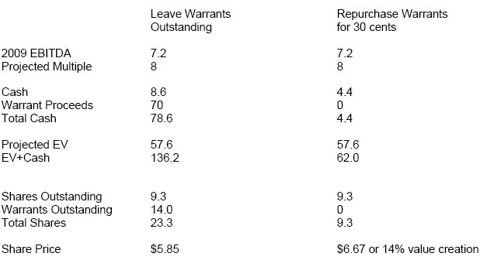 At 10x EBITDA valuation levels, the benefit of repurchasing the warrants is more dramatic: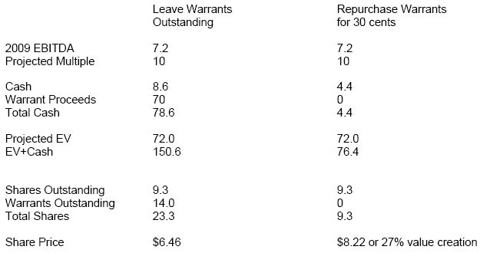 Valuation
Highbury trades at very inexpensive valuation levels. It trades at 2.4x my 2008 EV/EBITDA and 1.9x my 2009 number. On an earnings basis, it trades at 5x my 2008 EPS and 4x my 2009 number.

Risks
There are some risks with Highbury Financial. Foremost, human capital is at risk of leaving, and money management is a human capital business. If the people running the funds leave, the clients will likely leave as well. This may not be a crucial issue at Aston Funds because their funds are sub-advised—so in theory, the Aston mutual fund board could move the sub-advisory contract to any new company the portfolio manager were to move to.
Aston Funds has concentration risk in both its largest products and largest clients. Two money managers make up nearly 60% of Aston's supplier base, and two clients make up 40% of Aston's client base. If these groups were to connect, it is possible that they could cut Aston Funds out as the middleman.
Management seems to be focused on growth. Based on the fact that management is not buying back stock in the current quarter, it seems that they are more focused on creating value through additional acquisitions than by reducing the number of shares outstanding. There is merit to management's conservatism given the small size of the company. However, due to the low valuation levels, a more appealing and aggressive strategy would be to repurchase shares and/or warrants.
Highbury Financial has less operating leverage than a traditional money manager. This is not necessarily a risk, but it does limit the upside potential of the company. Because Highbury owns a revenue share of the Aston business, it does not get 100% margins on the growth of Aston Funds. Other money managers like T. Rowe Price do get this operating leverage, which is one of the great benefits of the money management business. However, it should be noted that in the March quarter, Highbury benefitted from this lack of operating leverage.
Conclusion
With a remarkably inexpensive stock and a strong underlying business foundation in place, Highbury has tremendous upside. Management has planted the seeds for outstanding future growth, and flows are turning positive. We consider Highbury Financial stock a no-brainer.