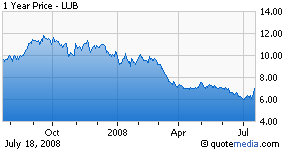 Luby's (NYSE:LUB) Management recently was successful at rebuking a proxy challenge by Activist Hedge Fund Ramius Capital. Ramius sought to have LUB monetize its real estate holdings by initiating sale, leaseback transactions, and utilizing the proceeds to buy back shares and payout a special cash dividend.  Luby's owns the land and buildings for 94 of the 128 locations it operates.
Hedge Fund Agenda
Ramius's Jeff Smith, argued that LUB's real estate is worth more than the business itself, and had stressed through consultation with real estate experts, that the value of the restaurant chain's properties ranged from $206 million to $265 million. Smith also suggested that management should contemplate putting the entire company up for sale.
Current Leadership
The Pappas Brother's serve as the CEO and COO of the company. Between them, they own nearly 30% of the shares, so they have plenty of incentive to ensure that the share price goes in the right direction. Chris Pappas and Harris Pappas have been on a recent buying spree, purchasing 1.4 million shares within the last six months.
Luby's Vision
The company plans to build 50 more stores within the next five years and has launched a new culinary Contract Service division catering to the Healthcare Industry (sales in this division for the past quarter were  $1.8 million). These innovative people are trying to think outside the box.  The restaurant's are now presenting "healthy food choices" tailored to the aging Baby Boomers and those who struggle with obesity. Its new prototype restaurant, which features WiFi, granite counter tops and video menu screens has shown some promising results.
Other Major Shareholder's 
Ramius Capital has moved down the road by selling its holdings, however Dimensional Fund Advisors, Hodges Capital and TCW Group each own about a 6% stake.
Capital Expenditures
LUB invested nearly $20 million in Fiscal 2007 and plans to accelerate its spending in Fiscal 2008 to $35-$40 million, in order to made additional upgrades to its stores and technology.
Fiscal Year 2007 Versus Fiscal 2006
Despite a drop in sales from $324.6 million to $320.4 million, the company was still able to improve its earnings from operations by 2%, generating $16.3 million compared to $16 million. Its bottom line was hampered simply due to a change in income tax accounting, as 2006 included an income tax credit while 2007 incorporated an income tax charge. The company continues to be pressured by higher food and energy costs and intends to remain focused on streamlining operations to help mitigate these increases.
The Numbers
The company's cash position decreased from $17 million to $12 million due to the repurchase of a 500000-share block of shares at $9.50 per share   in privately negotiated transaction. LUB currently has no long-term debt and a $50 million revolving credit facility in effect. It has a price to sales ratio of .61 and trades near book value of $6.83.
Short Interest Doubles
The company's short interest doubled from 300,000 shares to 600,000 shares (short interest ratio of 5) so its potential for a short squeeze has increased substantially.
Analyst Price Target
Currently, only one analyst provides research coverage. This analyst has initiated a one-year price target of $9 representing a 30% appreciation clip. Fiscal 2008 earnings estimates are uninspiring at $0.14, and were trimmed by an additional 15% to $0.12 in Fiscal 2009.  I suspect that Management has "guided" conservatively, by taking the cautious approach of"under promising" so that ultimately, the company can "over deliver."
The Bottom Line
The shares are attractive due to the company's real estate holdings and the fact that its two largest holders remain aggressive buyers (Do they know something that we don't?). The balance sheet is clean and the company has a clear growth strategy in motion. Patient investors may want to consider taking a position, as Luby's just might serve up a recipe that produces a superior  return with minimal risk.
Disclosure: Long