The subprime mortgage crisis has been the defining market catalyst for the last 9 months. It has affected the global economy, slowing GDP growth as credit tightens and businesses struggle for capital. It has forced central banks to lower interest rates, weakening currencies with already-existing inflationary risks stemming from a commodity price surge. But most directly, it has hit the very companies that caused them—the financials.
New Jersey-based financial holding company Oritani Financial (NASDAQ:ORIT) has somehow stayed afloat through this torrent of financial stock sell-offs, and appears poised to go much higher. Its performance over the past five months has been very impressive, with a relative strength of 91 against the S&P 500, in the wake of a financial meltdown.
Oritani has had the strongest performance of a United States financial company in the Bloomberg World Financials Index. As financials made new lows across the board, with the SPDR Trust Financial Index (NYSEARCA:XLF) (see chart below) down almost 40% from May to recent lows, Oritani consolidated with heavy accumulation and horizontal price action. But these same financials also seem finally ready to bounce from extremely oversold conditions. Another look at XLF's chart shows a classic parabolic sell-off bottom, characterized by accelerating price action, spiking volume, and a strong short-covering bounce in response. There isn't fundamental evidence for a long-term bottom in financials yet, but at least for the next few months, this bounce in the financials should provide the push Oritani needs to make new highs.
SPDR Trust Financial Index (XLF)
click to enlarge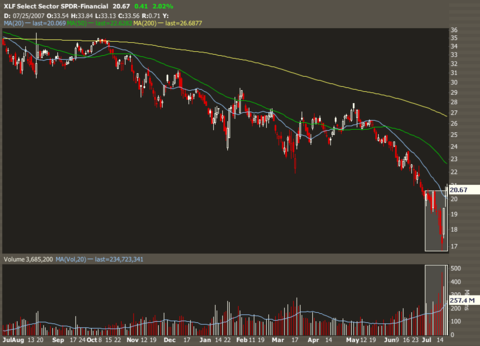 Relative strength isn't the only technical indicator of Oritani's price potential, however. The company behind it justifies the stock's current and potential performance. Its stock is under heavy accumulation, as is visible with the max green BOP (balance of power) shown in the chart below. In fact, Oritani possess a strong Investor's Business Daily [IBD] Accumulation Rating of 'B+'.
On June 2, Oritani announced a stock buyback program of 10% of outstanding shares, adding to the accumulation apparent on Oritani's chart, and signifying insider confidence in the company. Insiders and 5% holders own 70% of Oritani shares, while institutions and funds own 15% of shares and 55% of the float, indicating strong insider support and accelerating institutional sponsorship. The chart shows high volume accumulation days, as the stock bounces off of its 50 day moving average, a popular buy point for institutional investors and other market drivers.
On April 25, Oritani announced $0.06 EPS for Q3 2008, up from a -$0.03 EPS for Q3 2007. Management's decision to scrap a planned acquisition of Greater Community Bancorp (GFLS) proved to be of great judgment in retrospect, minimizing the impact of the credit crisis to the company's own assets. This allowed Oritani to focus on organic growth, at which Oritani's loan company has fared surprisingly well in the last few quarters, amid a credit crunch. This helped Oritani earn a 'B' Sales + Profit Margins + ROE [SMR] Rating from IBD. With demand growing for this hot company and supply decreasing as insiders buy back stock, Oritani's price (only 4% off its 52-week high) appears ready to surge above its strong resistance level at about $16.75.
Oritani Financial Corporation (ORIT)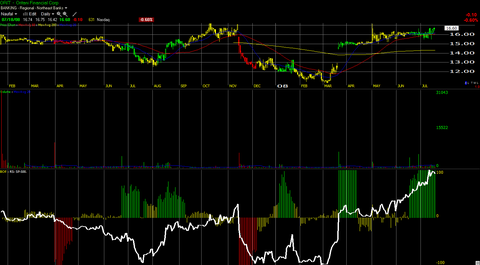 Disclosure: I am not long ORIT, but plan to be when it breaks out of its consolidation base around $16.75 on significant volume.