I love it when I get a chance to buy fundamentally strong companies with pristine balance sheets at discounted prices due to short- to medium-term headwinds. In this article, I list three tech stocks with solid balance sheets that have been severely beaten down over the last few months and give reasons for why these stocks have a strong chance of bouncing back hard in the near to medium term.
1. Lattice Semiconductor Corporation (NASDAQ:LSCC)
Lattice designs, develops, and manufactures a whole host of programmable logic devices. It is the world's third-largest FPGA designer behind Xilinx (NASDAQ:XLNX) and Altera (NASDAQ:ALTR), and the world's second-largest CPLD and SPLD designer.
The stock has lost almost 50% of its value since February, due entirely to its Q2 performance. To add some color to the situation, see the following annotated stock chart:
Click to enlarge

Click to enlarge
While Lattice's share price been hit on the revenue side due to weakness in Europe, the company is still in excellent shape. For the following reasons, Lattice represents an excellent small-cap technology play:
The firm's balance sheet is impeccable: $184.48M in cash and no long-

t

erm debt. This represents 40% of the firm's market capitalization, valuing the business at a mere $272M or less than 1x trailing twelve month

revenue

of $294M and 14x past earnings.
The company recently authorized a $20M share buyback program and at these multi-year lows, the firm is in excellent shape to retire additional shares, building shareholder valu

e.

The stock is trading very close to its book value of $3.17, so barring a "black swan" event, the upside potential seems to outweigh the downside risk.
While overall revenue during the most recent quarter stalled, revenues from new products continued its 28% quarterly growth trend. This corroborates management's view that the recent weakness is macroeconomic and not due to lack of a compelling product lineup.
Finally, at these cheap valuations, coupled with the relatively enormous cash position, Lattice could be an attractive takeover target for the two larger players - Xilinx and Altera - in a consolidation of the programmable logic space. Lattice's niche in the low-power, low-cost segment could prove useful to the larger companies that focus more on higher-performance bleeding edge technology.
2. Marvell Technology Group (NASDAQ:MRVL)
Marvell is a fabless semiconductor company that makes a wide variety of products in three major segments: storage, networking, and wireless & mobile.
Year to date, the stock has lost 26% of its value. This is due primarily to revenue and earnings per share shrinking in the most recent quarters on a year-over-year basis. The company's networking segment is still on track, but the storage segment (hard disk and solid state drive controllers) will be negatively impacted by the bad PC environment, and the mobile & wireless segment is seeing headwinds due to Research In Motion's (RIMM) weakening sales along with greater-than-expected competition in the TD-SCDMA phones (Marvell's big smartphone push) in China.
However, there are a number of compelling reasons to buy Marvell near 52-week lows:
Marvell's balance sheet is spectacularly solid with $2.1B in cash and no long-term debt.
The firm is very shareholder-

friendly, returning cash via a dividend yield of 2.35% and a $500M share buyback program.

Marvell is the only company currently shipping ARM

-based

(NASDAQ:ARMH) server-oriented system-on-chip solutions.
The firm is well positioned in storage as the market share leader for controllers in both solid state drives as well as hard disk drives.
The shares are trading near the bottom of their 52-week range and are trading at modest premium over the firm's book value of $8.54.
3. Atmel Corporation (NASDAQ:ATML)
Atmel is a semiconductor designer that focuses on micro-controllers. Atmel's products go into a number of devices including automobile electronics, networking systems, lighting products, touch controllers, and more.
The price action of the stock hasn't been so great, with the firm losing 40% its value over the last six months: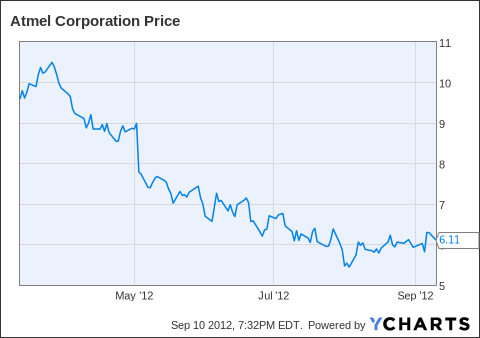 However, after appearing to bottom out in early August, the stock has been on a brisk uptrend. Here are some fundamental reasons to consider Atmel on any pullback at these levels:
The company's financial health is stable: $246.65M in cash, no debt, and $138.50M in generated free cash flow in the trailing twelve months.
One of the company's big "headline" products is capacitive touch controllers, used in smartphones, tablets, and soon touch-capable notebooks. The firm's touch products are used in tablets, smartphones, digital cameras, portable gaming devices, and in-car infotainment systems.
On the subject of tablets, the release of tablets running Windows 8 should significantly popularize the "touch" form factor in the mainstream, especially as Windows 8 tablets will provide the functionality of a traditional PC operating system while including new touch capabilities.
Atmel is shareholder friendly and has been pretty consistently bought back shares: of its previously announced buyback program of $500M, it retired $489.4M to buy back shares. In May, the company added another $200M to the program in order to continue buying back shares. It's a little worrisome that the company's $489.4M was used to buy shares at an average price of $9.80, but it could also signal that the firm believes its shares are substantially undervalued at current levels.
Disclosure: I am long MRVL, LSCC. I may initiate a long position in ATML over the next 72 hours. I wrote this article myself, and it expresses my own opinions. I am not receiving compensation for it (other than from Seeking Alpha). I have no business relationship with any company whose stock is mentioned in this article.