My weekly stock pick last week was Google (NASDAQ:GOOG). Its earnings disappointed the Street, and I got stopped out as the stock price declined. I'm re-initiating a buy on it at its current July 18 Friday close price of $481.32;  stop-loss is $440.00. I'm seeing the major, intermediate, and minor fifth waves possibly ending here and opening up an opportunity for a possible reversal to the upside.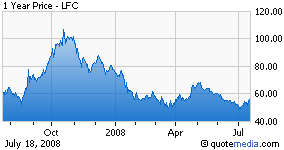 Scanning the charts this week, I've found a China company that I like for the long-term, but in the short-term, technically it looks like its got a little more downside to go. The China stocks are good investments in the long-term with the growth story going on there, but short and intermediate term, they might see a little more downside on the stock prices after their big upside price runs of 2006 and 2007. Remember, this is a short-term sell recommendation, as I would be looking to accumulate this stock for multi-year, long-term positions anytime now.
Sell Short China Life Insurance (NYSE:LFC)
Sell Stop Entry: 54.58
Stop-Loss: 56.79
Take Profit Areas
Short Term: 48.00 – 47.11
Intermediate Term: 44.08 – 43.27. Right now I would be a buyer of LFC at this price range here. Have to wait and see if and when it gets there, and how the price is reacting to make a firm decision on going long at this price.
Long Term: 35.89 – 35.23. If the downtrend continues to what I consider an extreme low price on this stock, I would be a very big buyer.
China Life Analysis
At the current time, China Life Insurance has about a $100 billion market cap with a P/E of about 16. The institutions own only about 3% of this stock right now. LFC's Price to Cash Flow is 17.59 and Price to Free Cash Flow is 5.69, both of which are pretty rich right now. In fact most of its valuation ratios are pretty rich compared to insurance industry averages, but of course this is China again.
The company does have strong growth rates, and its annual net income doubled from about $2.58M in 2006 to $5.3M in 2007. Looking forward the company has a price earnings to growth ratio of 0.19 which is very low right now making it look very attractive going forward.
Its main competitors in the China life insurance market are privately held companies of China Pacific Insurance, PICC Property and Casualty, and Ping An Insurance. Currently the life insurance market in China has a low penetration rate. Currently, insurance in the U.S. is about 4% of GDP, while in China it's about 1.7% of GDP. The Chinese government no longer takes care of their people from birth to death anymore, so the China insurance sector shows great growth potential. Rumor has it that, sometime soon, Warren Buffet might be looking to buy into China Life.
China Life Company Profile
China Life Insurance Company Limited (China Life) is an insurance company in the People's Republic of China. The company's main businesses include individual life insurance, group life insurance and short term insurance. Its products and services include individual life insurance, group life insurance, accident and health insurance. The company is a provider of annuity products and life insurance for both individuals and groups, and a provider of accident and health insurance in China.
As of December 31, 2007, the company had over 93 million individual and group life insurance policies and annuities, and long-term health insurance policies in force. It also provides both individual and group accident and short-term health insurance policies, as well as services. The company's main business segments are Individual life insurance business; Group life insurance business; Accident and health insurance business, and Corporate and other.
Disclosure:  Short LFC