While Marc Faber is predicting that the stock market will be lower in a few months, he suggests that investors diversify into the pharmaceutical sector. The reasoning behind this is that during a stock market crash, the pharmaceutical sector will be less hurt by worsening market conditions. Pharmaceutical companies provide a stable dividend and their products are less dependent on economic cycles.
There are many pharmaceutical companies for investors to put their money in, but I suggest choosing the big companies as you will be sure to get a stable dividend with the lowest risk profile. Smaller biotech companies are too speculative to suit the needs of most conservative investors. I'll discuss the top 5 pharmaceutical companies (by revenue) in this article. These are Johnson and Johnson (NYSE:JNJ), Pfizer (NYSE:PFE), Roche (OTCQX:RHHBY), GlaxoSmithKline (NYSE:GSK) and Novartis (NYSE:NVS).
When choosing companies in the large pharmaceutical sector, the P/E ratio is the most important. There is a difference between brand-name companies and generic drug companies. The generic drug companies (like TEVA or a division of Novartis) basically sell the same drug as brand-name companies, but at lower prices. Additionally, they don't have the problem of patent expiration. On chart 1 we can see that the P/E ratio for the pharmaceutical sector has been falling, bringing in nice valuations currently at a P/E of 16.6 for big pharma and a P/E of 18 for generic drug pharma.
A summary of the P/E ratios for the 5 top pharmaceutical companies is given in table 1. Based on this table, GlaxoSmithKline would be the most inexpensive company.
However, there are other things to consider when choosing to invest in a pharmaceutical company. It is important to look at the dividend and the product pipeline of the company.
The best dividend payout comes from GlaxoSmithKline with a current dividend yield of 5%. Next comes Novartis with a dividend yield of 4.2%. Pfizer has been slashing dividends due to the Wyeth buyout, but it says it will hike its payout ratio to 40% of net earnings in the coming 3 years to match the industry average. Pfizer has a dividend yield of 3.64%, higher than Johnson and Johnson's dividend yield of 3.57%. Last but not least, Roche has a dividend yield of 4%. A summary of dividend yields is given in table 2. Again, GlaxoSmithKline stands out as the best performer. Notable is that table 1 and table 2 have the same company order. GSK is the most inexpensive and JNJ is the most expensive.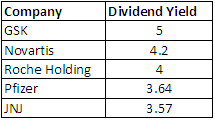 Table 2: Dividend Yield of Big Pharma
This begs the question: why is GlaxoSmithKline this cheap while Johnson and Johnson is trading at a premium? The answer lies partially in the valuation of the company, but is more likely dependent on the pipeline and the "patent cliff".
UBS recently downgraded GlaxoSmithKline to neutral due to a downward revision of its earnings growth. As I said before, it's important to look at the pipeline of the company and GlaxoSmithKline will not have a significant pipeline ramp in the foreseeable future. Some of the company's patents on drugs are also expiring in the next few years. This is called the "patent cliff". For example, Lovaza is to expire in September 2012, which certainly will contribute to weaker earnings. So apparently the market has already discounted this future event. Another example is Advair, which is expected to expire in 2013 in Europe.
Novartis has much of the same problem with Diovan, which is a drug that is going to expire on 29 September 2012. Diovan sales are 12% of total revenue. Novartis hasn't found a good replacement for this drug, but its new pipeline more than compensates this loss.
Pfizer had problems with the expiration of the blockbuster drug Lipitor in 2011 and this contributed to an earnings slump of 19% in the first quarter of 2012. First quarter revenue dropped to $15.41 billion and its revenues continued to fall in the second quarter to $15.1 billion. Pfizer is a company that is getting smaller and smaller, while other companies are expanding. For example, Pfizer is going to cut its research budget by $2.9 billion, while buying back shares. But overall I wouldn't choose to invest in a company that is contracting, especially at these valuations. Pfizer does have a lot of drugs in the pipeline: 20 drugs in Phase III and 33 drugs in Phase II.
Roche is the largest company in the sector of cancer drugs and has a decent pipeline. Its cancer blockbuster drugs are approaching the "patent cliff" (Rituxan is expiring in 2015), but the company said its pipeline will compensate for this loss. For example, there is a good chance that MabThera/Rituxan will be replaced by onartuzumab as a second- or third-line therapy for non-small cell lung cancer and obinutuzumab for chronic myeloid leukaemia and non-Hodgkin's lymphoma. Over the years, sales have been in an uptrend and they are currently trying to expand their pipeline through takeovers in order to keep a positive revenue growth. Roche initiated a $6.7 billion hostile takeover of Illumina but has failed in its attempt. Just recently Roche made a takeover bid for Alexion Pharmaceuticals (NASDAQ:ALXN). Analysts generally have a buy rating on Roche (Bank Sarasin, Vontobel). Additionally, its dividend and P/E ratio are pretty good value.
Finally, Johnson and Johnson has the most expensive valuation of all and is the biggest in market capitalization. But there's a reason for this. UBS had a buy rating on Johnson and Johnson due to its guaranteed 6.4% growth over the next 5 years. Also, this company doesn't have significant patent losses in the near term. Its pipeline has promising drugs like Xarelto and Zytiga. All of these positive items deserve a premium over the industry average.
Conclusion
Based on a quick analysis of the top 5 pharmaceutical companies, Roche is a great candidate to have a steady growing payout in a difficult economic environment and its valuation is above average. If you are a long term investor and are happy with a steady growing company, Johnson and Johnson would be your choice. GlaxoSmithKline and Novartis have patent cliff problems, but Novartis should be able to compensate for it. These patent cliff issues are the reason for the cheap valuations of these two companies. Pfizer has been cutting its research budget and its earnings are contracting, but hope is resting on its pipeline.
My first choice would be Johnson and Johnson as I'm a conservative person. My second choice would be Roche Holding.
Disclosure: I have no positions in any stocks mentioned, and no plans to initiate any positions within the next 72 hours. I wrote this article myself, and it expresses my own opinions. I am not receiving compensation for it (other than from Seeking Alpha). I have no business relationship with any company whose stock is mentioned in this article.