It looks like we have mixed evidence as to whether last week represented a capitulatory low. My best guess is that last week will be an intermediate, though not final, low mark.
In the plus column, we have:
-Record levels of Short Interest
-Merrill survey shows Fund managers running very high cash levels
-1,304 new lows on the NYSE, we saw (a record high).
-The Selling stampede lasted 39 days -- unusually long
-AAII Bullish Index dropped below 25 again
-A short term peak in blog traffic
In the minus column, we have:
-Volume picked up, but didn't match the levels seen in January or March lows;
-Bottom callers are out in full force (rarely seen at ultimate lows)
-Merrill survey showed high cash levels in January, February (and here) and March and June;
-A majority of fund mangers and economists do not believe we are in a recession;
-Confidence levels dropped significantly, but not to prior extremes (see chart below).  
Not quite down to the lows seen in October 2002 or March 2003 . . .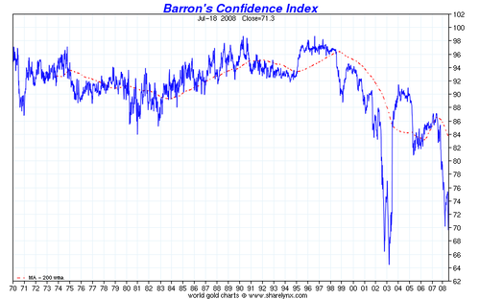 Thanks, Ron!