An investor usually sells a put option if his or her outlook on the underlying security is bullish. The buyer of the put option pays the seller a premium for the right to sell the shares at an agreed-upon price. If the stock does not trade at or below the agreed-upon price (strike price), the seller gets to keep the premium. Energy Transfer Partners (NYSE:ETP) is a great candidate for this strategy as the stock has pulled back nicely and is now trading in the oversold ranges. However, before we get into this strategy we are going to provide several reasons as to why we think it makes for a good long term play.
Energy Transfer Partners has a significant presence in the natural gas midstream, transportation and storage businesses. It is well positioned to compete in this field as its assets are located in major natural gas producing regions in the U.S. The planned acquisition of Sunoco Inc (NYSE:SUN) for $5.3 billion will provide the company with a chance to diversify its asset mix by adding a crude and refined products pipeline to its existing natural gas infrastructure. It will receive 4,900 retail and fueling stations in the U.S from Sunoco and a 32.4% share in Sunoco logistics partners LP's 7900 miles of oil pipelines.
Additionally, it is well positioned to benefit from the surge in production of natural gas from unconventional sources. It has the largest intrastate system in Texas. It is linked to nearly every natural-gas shale play in North America, including Fayetteville, Barnett shale, Haynesville, etc.
Reasons to be bullish on Energy Transfer Partners:
The partnership's sale of its propane business was a good move as it will help it focus on its pipeline business.
A great distribution of 8.2%.
A great 5 year distribution rate of 7.9%.
Zack's has a consensus EPS estimate for 2012 and 2013 of $1.46 and $2.32 per unit.
In 2011, it entered into a partnership with Regency Energy Partners to purchase LDH Energy asset holdings for $1.9 billion. It is now known as Lone Star. This acquisition will be accretive to the bottom line while expanding the partnership's assets in the midstream services and transportation and storage business.
An estimated 3-5 year EPS growth rate of 12%
Profit margins of 24.6%
Sales increased from $5.5 billion in 2009 to $6.8 billion in 2011.
Net income for the first quarter surged to $1.15 billion, an increase of $879 million over the three months ended March 31. 2011. Net income for the 2nd quarter came in at $111.4 million. The net income for the year so far has already surpassed net income for fiscal 2011, which came in at $669 million. If it maintains the current rate, net income could surpass the $2.00 billion mark.
EBITA increased from $1.5 billion in 2009 to $1.63 billion in 2011. EBITDA for the first quarter came in at $536 million, an increase of almost $65 million over the three months ended March 31, 2011. For the second quarter, adjusted EBITDA totaled $466 million, an increase of over $78 million for the same period 1 year ago.
A good interest coverage ratio of 9.33.
Year over year projected growth rate of 84.5% 2013, according to dailyfinance.com.
$100K invested for 10 years would have grown to $483K. If the dividends were reinvested the rate of return would be much higher.
2nd quarter highlights
Distributable cash flow increased by $51.9 million to $275.2 million from the same period one year ago.
Adjusted EBITA for the first 6 months increased by $143 million to $1.0 billion, year over year.
Energy transfer's net income for the first 6 months increased by $846.1 million to $1.25 billion from the same period one year ago.
Charts and data of interest for Energy Transfer Partners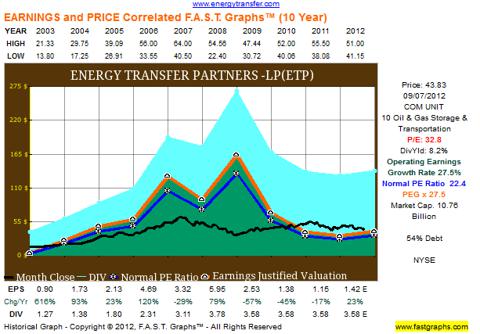 Click to enlarge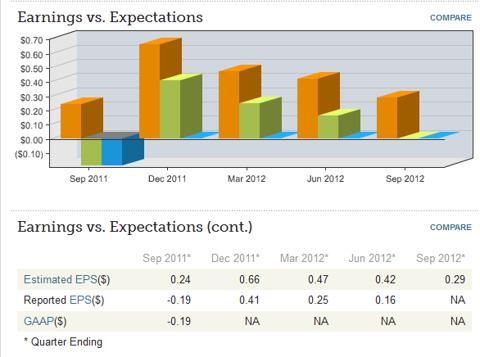 Click to enlarge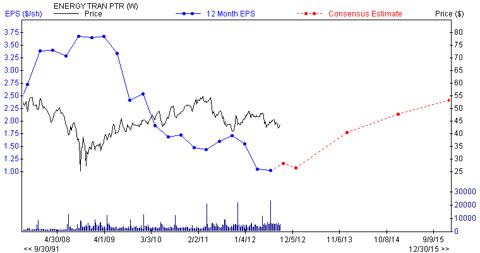 Click to enlarge
Generally, when the price is trading above the EPS line the stock tends to trend higher and vice versa. As the price is above the EPS line, strong pullbacks should be used to add to one's position.
Benefits associated with selling naked puts
An investor usually sells a put option if his/her outlook on the underlying security is bullish.
In essence, you get paid for entering a "limit order" for a stock or stocks you would not mind owning.
It allows one to generate income in a neutral or rising market.
Acquiring stocks via short puts is a widely used strategy by many retail traders and is considered to be one of the most conservative option strategies. This strategy is very similar to the covered call strategy.
The safest option is to make sure the put is "cash secured." This simply means that you have enough cash in the account to purchase that specific stock if it trades below the strike price. Your final price would be a tad bit lower when you add the premium you were paid up front into the equation.
Every day you profit via time decay as long as the stock price does not drop significantly. In the event it does drop below the strike you sold the put at, you get to buy a stock you like at the price you wanted. Time decay is the greatest in the front month.
Suggested Strategy for Energy transfer Partners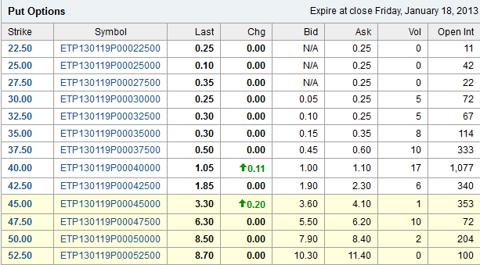 Click to enlarge
The stock has pulled back roughly 15% from its high of $51 set in May and is now rather oversold. In our opinion at this price, it makes for a better play than Buckeye Partners (NYSE:BPL), and Boardwalk Pipeline (NYSE:BWP). Even Kinder Morgan Energy partners (NYSE:KMP) at its current price is not as attractive as Energy transfer partners. In our opinion, it would need to pull back to the 75.00-77.00 ranges before we would rate it as a better play than Energy Transfer Partners.
The Jan 2013, 42.50 puts are trading in the $1.90-$2.30 ranges. As the spread is a bit wide, you will need to work this option a bit and with a bit of luck, you should be able to sell them in the $2.00-$2.10 ranges. For this example, we will assume that the puts are sold at $2.00 or better.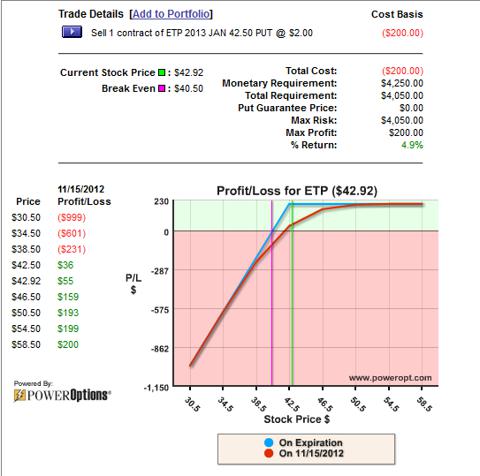 Click to enlarge
If the shares trade below the strike price the puts were sold at, the stock could be assigned to your account. In this case, your final price will be $40.50 per share. If the stock is not assigned to your account, you will at least get paid for your efforts and will walk away with a gain of 4.9 % in roughly four months. The main benefit of selling puts is that it provides you with the chance to get into the stock at a price of your choosing.
If, for some reason, you have a change of mind and feel that the stock is going to trade significantly lower, you can always roll the put. Buy back the puts you sold and sell new slightly out of the money puts with more time on them.
Conclusio
Only implement this strategy if your outlook on Energy Transfer Partners is bullish as the shares could be assigned to your account. The stock has a great distribution rate of 8.2% and a 5 year average distribution of 7.9%. It is currently oversold, and this strategy provides one with the opportunity of getting into this stock at a good price. If the shares are not assigned to your account, you at least get compensated with a 4.9% rate of return in four months for your efforts.
Options tables sourced from yahoofinance.com. Profit loss graph sourced from poweropt.com. EPS charts and some of the historical/research data used in this article was obtained from zacks.com. Earnings vs expectations data sourced from smartmoney.com.
Disclaimer
It is imperative that you do your due diligence and then determine if the above strategy meets with your risk tolerance levels. The Latin maxim caveat emptor applies - let the buyer beware.
Disclosure: I have no positions in any stocks mentioned, and no plans to initiate any positions within the next 72 hours.
Business relationship disclosure: This article was prepared for Tactical Investor by one of our analysts. We have not received any compensation for expressing the recommendations in this article. We have no business relationships with any of the companies mentioned in this article.