Edited By Kate Boehme
In 1876, Alexander Graham Bell developed the telephone, forming the basis of a corporation that would become AT&T (NYSE:T), a brand that has since come to be associated with the best telephone service in the world. The company offers a wide range of telecom services, including domestic caller ID, long-distance, Internet access, roaming, and other linked services.
Financial Highlights
In my previous article, I discussed Verizon at length. This time, I will analyze AT&T's position within the telecom industry. In the latest financial quarter, AT&T recorded increased revenues, as well as improved wireless service profit margins and churns. The company has solid wireless data expansion and ongoing increases in U-verse services. Furthermore, this quarter AT&T produced consolidated revenues of $31.6 billion, up 0.3 percent compared to Q2 2011. Its revenues are also up two percent when adjusted for Advertising Solutions sale. This company's diluted EPS is at $0.66, in comparison with a $0.60 diluted EPS for Q2 2011, representing an increase of ten percent year-over-year and sequentially. Meanwhile, AT&T has presented record wireless profit margins and an operating income margin of 30.3 percent, with EBITDA service margin of 45 percent. $2.5 billion in stock buybacks; 75.8 million shares repurchased.
Overall wireless revenues - consisting mainly of equipment sales - were up 4.8 percent year-over-year to a total $16.4 billion. Meanwhile, wireless service revenues increased 4.3 percent to $14.8 billion, during the second quarter of 2012. Wireless data revenue increases were largely instigated by Internet access, access to applications, messaging and other relevant services. Wireless data revenues also rose by $1.0 billion, or 18.8 percent, from the previous year, to $6.4 billion. In the second quarter of 2012, wireless operating expenses were at $11.4 billion, flat compared to the same time last year. Wireless operating income was $5.0 billion, up 17.8 percent, year-over-year.
Furthermore, Wireline revenues were recorded at $14.9 billion, showing a decrease of 0.8 percent compared to the previous year. At the same time, wireline operating expenses amounted to $12.9 billion, showing a decrease of 1.3 percent compared to 2011. AT&T's wireline operating incomes were $2.1 billion, while the company's operating incomes stood at 2.2 percent greater than the same period last year and 12.6 percent greater than Q1 2012. The Wireline operating income margin was recorded at 13.8 percent, compared to 13.4 percent in the same period last year. Moreover, AT&T's operating income margin was 12.2 percent during the first quarter of 2012.
Share Buybacks continue at a Strong Pace
AT&T recorded $9.7 billion in cash from its operating activities, during the second quarter of 2012. This company also had $4.5 billion in capital expenditures. Furthermore, AT&T also reported $5.1 billion in free cash flows, after deducting $9.7 billion in cash from operating activities as well as the $4.5 billion capital expenditures. Moreover, AT&T continues to buy back its outstanding shares under an outstanding 300 million share repurchase program, authorized by the Board of Directors. In the second quarter of 2012, AT&T repurchased its 75.8 million of outstanding shares for $2.5 billion. Overall, the first half of 2012 saw AT&T repurchase 143.5 million shares for a total of $4.6 billion. This company is expecting to continue buying back shares in line with its repurchase announcement.
AT&T Cash Summary (In billions)

Cash From Operations

$17.5

Capital Expenditures

$8.9

Free Cash Flow

$8.6

Debt-to-Capital Ratio

38.4%

Net-Debt-to-EBITDA Ratio

1.42

Dividends Paid

$5.2

Shares Repurchased

$4.6

Total Returned to Shareholders

$9.8
At the end of the second quarter, AT&T's long-term financial debt stood at $61.1 billion, out of the total $64.5 billion in debt registered on its balance sheet. This company has $2.2 billion in cash and cash equivalents. In last 24 months, AT&T has decreased its net debt by $6.2 billion. Furthermore, according to AT&T's second quarter results, its debt-to-total capitalization ratio was 38.4 percent, while its net-debt-to-EBITDA ratio was 1.42 percent.
Stocks and Dividends: AT&T versus Verizon (NYSE:VZ)
AT&T and Verizon are two mega-cap giants that dominate the telecom industry in the United States. AT&T and Verizon have both observed solid subscriber and earnings growth in recent years, while their stocks have climbed to multi-year heights this summer.
A deeper analysis of the total returns of these two stocks will shed more light on which corporation has performed better over the last decade. Ten years back, AT&T had a dividend yield of 5.2 percent while, on the other hand, Verizon had a dividend yield of 5.6 percent. Over the following ten years, AT&T elevated its dividend at an average annual rate of 5.1 percent, while Verizon raised payouts at an average rate of 2.6 percent each year. In the observed ten years, AT&T's total return averaged 9.3 percent per year, while Verizon's total return averaged 9.6 percent. Therefore, in my opinion and regardless of a lower dividend growth rate, Verizon has overall performed better than AT&T over the past decade.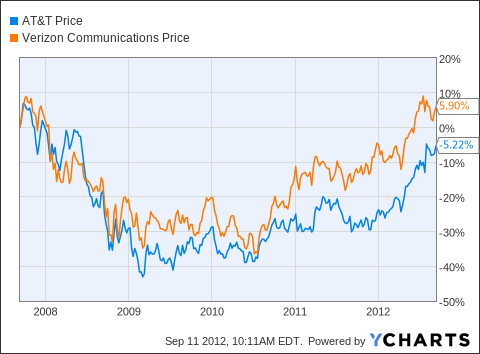 Similar results dominate on a five-year investment horizon. Even with slow dividend expansion over the past five years, Verizon still trounces AT&T in terms of overall returns. Yet, in the previous five years, Verizon documented a four percent annual increase in its dividend while AT&T reported 4.4 percent annual dividend growth. However, Verizon returned 6.2 percent each year in comparison with AT&T returning only 4.3 percent per year. Therefore, dividend investors who kept Verizon shares for five or ten years, and then liquidated them, were more successful than those who spent in AT&T stock during the same period.
Summary
AT&T's business approach is to keep things simple. Clearly outlined approaches reduce potential problems by keeping business operations within their defined areas of expertise. AT&T has considerable barriers to entry that reduces competitive threats and boosts profits. In particular, I find AT&T's steady dividend growth and cheap price multiples appealing. AT&T's dividends are fairly assured and most likely will grow in the near future. Meanwhile, Verizon is also firmly positioned for potential dividend growth. The Verizon growth rate is high and the company is producing record earnings year-over-year. Ultimately, I think both of these stocks are good choices for long-term investors. However, while I appreciate AT&T's aggressive growth through acquisitions, Verizon's organic growth is more stable.
Disclosure: I have no positions in any stocks mentioned, and no plans to initiate any positions within the next 72 hours. I wrote this article myself, and it expresses my own opinions. I am not receiving compensation for it (other than from Seeking Alpha). I have no business relationship with any company whose stock is mentioned in this article.