Cornerstone Therapeutics Inc (NASDAQ:CRTX). is a specialty pharmaceutical company that engages in the acquisition, development, and commercialization of prescription pharmaceutical drugs for the hospital, niche respiratory, and related specialty markets.
Currently investors are waiting for this week's (September 13) Advisory Committee meeting regarding Lixivaptan - CRTX 080. Lixivaptan is a selective vasopressin 2 receptor antagonist, which is believed to have, according to the company, a potential US market between $1.6-$3.6 billion.
A few analysts follow this company. For instance, Spencer Knight said in his last article that:
The Advisory Committee will be taking an in depth look at safety because it appears from the trials that lixivaptan reduced volume overload in patients with heart failure and it was well tolerated.
The result from these advisory panels tend to have many times a negative impact on the stock's performance. However, even if no negative issues arise, the issues/questions that are (even if not so negative in nature), are often regarded as something to further delay the drug approval process.
Nevertheless, with less than 3 weeks until the PDUFA date deadline (October 29) we might be on the verge of hearing some rather positive news, as Mike Havrilla implies:
I expect shares of Cornerstone to continue making a run back to upper $7 to low $8 range and possibly making a new 52-week stock price high over $8.20 going into the FDA advisory panel meeting. The FDA briefing documents for the panel meeting will be posted two to three business days ahead of the meeting, so traders should be aware of this key event, which often has a negative impact on share price since the purpose of the meetings is to discuss potential concerns or issues associated with experimental drugs under FDA review.

What if the Advisory panel finds nothing wrong?

Well, in that case, we might be heading directly to an approval. In such circumstance, we will witness a run-up in the share's price, even before October 29.

Usually in these situations, biotech stocks react immediately on the lack of negative news, and most of the run-up that one could expect at the FDA approval date will happen in the immediate term (FDA panel decision date).

Another point I like about Cornerstone is its balance sheet, namely the fact that the current assets surpass the current liabilities. So, even if some issues arise from the panel meeting, and for instance, more time is requested by the FDA to reach a final conclusion, the company will still be able to manage its short term needs.
DrugDates TA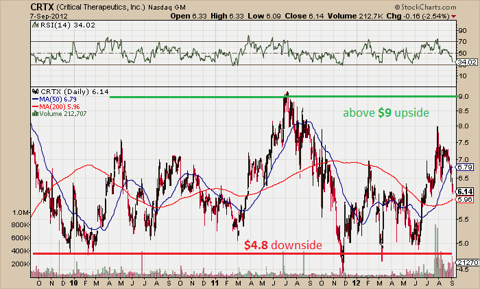 The general idea behind Cornerstone seems to be a positive one, with analysts expecting a good word from the Advisory Committee. Therefore, in such case, we may expect that the share price surpasses the $9 mark. The near term downside, if doubts arise from the panel meeting, can bring the stock slightly beneath the $5 mark.
Also from a technical standpoint, the stock is currently entering the oversold territory. If good news arise from the panel meeting, a fast upside momentum is expected, probably reinforcing the move above the $9 mark.
As a conclusion, I see Cornerstone as a very decent short term investment, either from the fundamental viewpoint (which is always the most important one), as well as from the technical point of view.
Disclosure: I have no positions in any stocks mentioned, but may initiate a long position in CRTX over the next 72 hours. I wrote this article myself, and it expresses my own opinions. I am not receiving compensation for it. I have no business relationship with any company whose stock is mentioned in this article.