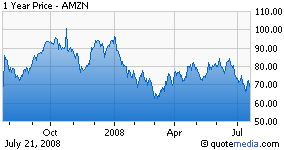 Over the weekend Amazon's (NASDAQ:AMZN) S3 storage service was down for an extended period and a bunch of Web 2.0 sites lost avatars, images and other items on their sites. Since enterprises haven't totally jumped on the bandwagon Amazon's outage didn't have broader ramifications. But Amazon's latest outage–the second big one this year–will hamper dreams of enterprise class services for the masses.
After all, the dream for cloud computing is enterprise reliability for pennies. In this view, the cloud will just work, uptime will always be there and we'll tap into this architecture and always be tethered to the Web. Michael Krigsman gives Amazon props for transparency with its latest outage, but the larger issue is reliability and how much redundancy should we expect for a few pennies a gigabyte (Techmeme).
If Amazon can't democratize cloud computing and bring us a bunch of "9s" reliability who can?
The outage shows that cloud computing still has a long road ahead when it comes to reliability. NASDAQ, Activision, Business Objects and Hasbro are some of the large companies using Amazon's S3 Web Services. But even as cloud computing starts to gain traction with companies like these and most of our business and communication activities are shifting online, web services are still fragile, in part because we are still using technologies built for a much less strenuous web.
Om hits the mark. The problem: The Web is one big legacy system. And cloud computing relies on millions of connections and services. In other words, it's a troubleshooting nightmare when the cloud goes bust.
And like any company wrestling with legacy systems cloud computing vendors will dust off a tired playbook. The solutions will be the usual: Relegate legacy systems to plumbing and create more services and applications to keep infrastructure current. In other words, the cloud will likely become more of a rat's nest. What's scary about that prognosis is the cloud is already too complicated since it's built on creaky infrastructure