Policymakers and economists around the world are increasingly concerned about the U.S. tax increases and spending cuts collectively known as the "fiscal cliff." These policy changes are scheduled to take effect at the beginning of 2013. In July 2012, Timothy F. Geithner said that the European debt crisis poses the greatest threat to the U.S. economy, while the so-called "fiscal cliff" also threatens growth.
Mr. Ben S. Bernanke has also warned Congress that the fiscal cliff could pose a significant threat to economic recovery. In his testimony before the Joint Economic Committee, U.S. Congress, Washington, D.C. Mr. Bernanke stated:
Even as fiscal policymakers address the urgent issue of fiscal sustainability, a second objective should be to avoid unnecessarily impeding the current economic recovery. Indeed, a severe tightening of fiscal policy at the beginning of next year that is built into current law--the so-called fiscal cliff--would, if allowed to occur, pose a significant threat to the recovery. Moreover, uncertainty about the resolution of these fiscal issues could itself undermine business and household confidence. Fortunately, avoiding the fiscal cliff and achieving long-term fiscal sustainability are fully compatible and mutually reinforcing objectives.
More recently, International Monetary Fund Managing Director Christine Lagarde said that U.S. tax increases and spending cuts set to take effect by the beginning of next year pose one of the biggest risks to the global economy.
In August 2012, the Congressional Budget Off­ice estimated that US GDP can shrink by 0.5% in 2013 due to the negative impact of the fiscal cliff. The chart below from CBO gives a summary of the fiscal tightening consequences.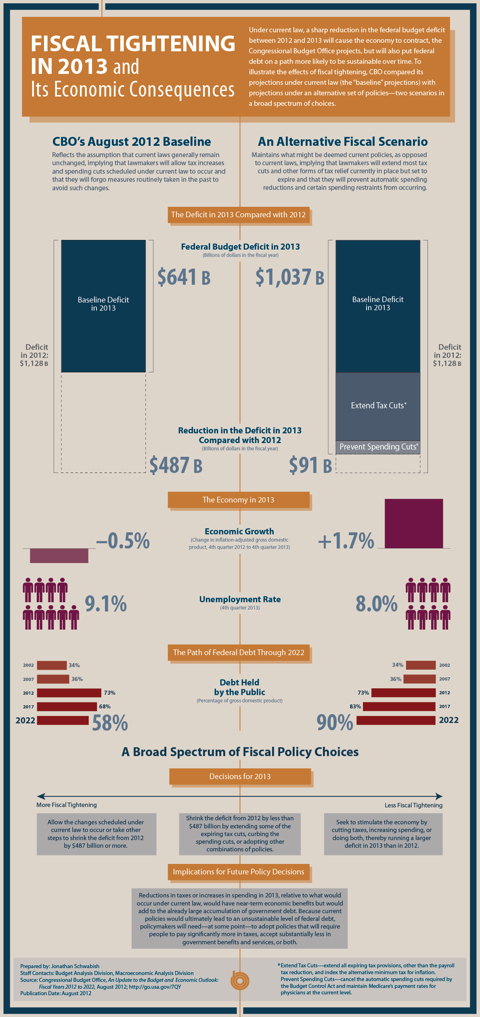 Click to enlarge
All these statements and projections indicate a growing concern about the fiscal cliff event and its implication for the global economy.
I am of the opinion that the fiscal cliff discussion and analysis might just turn out to be an academic exercise with no tax increases and spending cuts in the medium-term. This article discusses the primary rationale for this conclusion.
For any American policymaker (or president), the primary goal would be to create jobs and boost consumption. Tax increases and spending cuts are a good idea when the economy has witnessed some degree of stability. Unfortunately, US economic activity and jobs growth has been sluggish and uncertain.
Further, the headline unemployment number, which improved to 8.1%, hardly tells us anything about the real condition of the job market. I had discussed this aspect in one of my earlier articles. The key conclusion was that job markets remain weak and headline unemployment numbers improved solely because of an increase in people not in the labor force.
Increasing taxes for consumers in a weak job scenario would be suicidal for growth, which is highly dependent on consumption.
Also, a recession, as the CBO projects in a fiscal cliff scenario, would force policymakers to implement further quantitative easing. In other words, the goal of increasing taxes to cut deficits would be defeated by a recession leading to further government spending.
I am convinced that the government will do whatever it takes to prevent recession and a decline in asset markets. (I had discussed the reason why policymakers are keen to support asset markets in one of my earlier articles.)
Even the spending cuts might not come into effect in 2013, and will instead just be postponed to some future date. (I had discussed the impact of a possible defense spending cut under the budget control act of 2011 in one of my earlier articles.)
Cuts in defense spending have the potential to shave off 1.2 million jobs in 2014. In all probability, no policymakers would want that in an already weak job market.
What might happen to the fiscal cliff issue is indicated by the excerpt from Mr. Bernanke's speech.
Preventing a sudden and severe contraction in fiscal policy will support the transition back to full employment, which should aid long-term fiscal sustainability. At the same time, a credible fiscal plan to put the federal budget on a longer-run sustainable path could help keep longer-term interest rates low and improve household and business confidence, thereby supporting improved economic performance today.
In simple words, the tax cuts might be extended further (at least for lower and middle income households). The current fiscal restraint will be delayed with a promise of fiscal restraint in the future when economic activity is more stable or robust.
The climax of the story might just be like the US debt ceiling issue where the debt ceiling was finally raised after intense debate and discussion. A delay in arriving at a conclusion and consensus on tax cut extension might temporarily spook asset markets. However, any such correction would be an opportunity to buy attractive asset classes, as it seems there will not be any meaningful fiscal restraint in 2013 and over the next few years.
From an investment perspective, the strategy to play the fiscal cliff event might be relatively simple. I have discussed in several of my recent articles that asset markets might go lower than higher in the next 2-3 months.
A correction of 10-15% on equities can be a good time to consider fresh exposure to equities. Any panic selling related to the fiscal cliff would also be a good opportunity to go long on equities.
In general, I am positive on equities for the foreseeable future. I favor index investing, and the SPDR S&P 500 (NYSEARCA:SPY) ETF would be a good buy on corrections. The ETF seeks to provide investment results that, before expenses, generally correspond to the price and yield performance of the S&P 500 Index.
Disclosure: I have no positions in any stocks mentioned, and no plans to initiate any positions within the next 72 hours. I wrote this article myself, and it expresses my own opinions. I am not receiving compensation for it (other than from Seeking Alpha). I have no business relationship with any company whose stock is mentioned in this article.