Despite solid gains in the last several days, both silver and gold are far from their previous peaks (in 2011 gold reached a level of $1900, and the price of silver was over $49). Can these precious metals be attractive investment proposition for the next several weeks?
Since mid-August, the price of gold is up by more than 8%.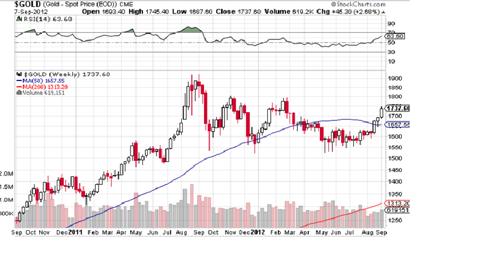 Silver gained even more, over 21%.
(click to enlarge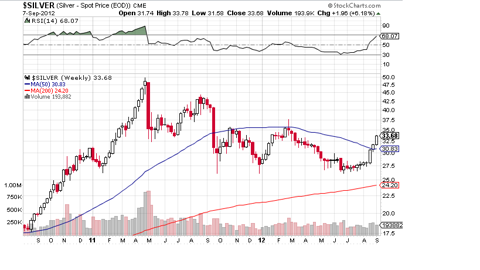 I think that there are several fundamental factors which should lead to further appreciation of gold and silver price. The factors are as follows:
The monetary policy of ECB and FED. Weak economic data in the World, high level of unemployment in the U.S. and fiscal problems in Europe forced central banks to introduce monetary stimulus. Gold and silver began to go up sharply after Mario Draghi unexpectedly announced the ECB program of unlimited bond-buying. Last Friday precious metals rallied after weaker than expected payroll data which made perspective of the QE3 more probable. Gold and silver have always been perceived as a hedge against such types of monetary policies.
Central banks buy gold to diversify their reserves. According to the World Gold Council, official sector purchases in 2010 equaled to 77.3 tonnes. In 2011 they were 457.9 tonnes. It's worth mentioning that the purchases in 2011 were the biggest in 40 years. During the first half of 2012, central banks bought 254.2 tonnes of gold, 25% more than in the same period of 2011. Central banks were very active in the second quarter of 2012, when they purchased 157.5 tonnes of gold.
The real interest rates in many countries are below zero. This means that investing in government bonds in countries like the USA, Germany, the UK may result in real losses. Gold is an attractive alternative because historically, gold provided average annual return of 5 percentage points over inflation in the U.S.
In my opinion, it is always worth check whether technical analysis confirms the fundamentals. The technical outlooks for gold and silver are also positive. Both metals are in a long-term upward trend, and they just broke from consolidation. Both are above their 50 days moving averages.
If you believe in a positive outlook for these precious metals, the simplest way to bet at it is to buy ETF on gold (NYSEARCA:GLD) or silver (NYSEARCA:SLV). Another way is long position on gold producers ETFs (GDX, GDXJ) or silver producers ETF (NYSEARCA:SIL).
Disclosure: I am long GLD, SLV. I wrote this article myself, and it expresses my own opinions. I am not receiving compensation for it (other than from Seeking Alpha). I have no business relationship with any company whose stock is mentioned in this article.