Osage Exploration & Development (OEDV.OB) Quick Look - Interesting Micro Cap E&P Worth Watching
A Simple Story: This is a small exploration and production company with a pipeline and production in Colombia (for cash flow that covers their current overhead) and a growing acreage position and production base in Oklahoma (which will be the growth wedge going forward). The mission of the company for the last year has been:
Build up a position in the Mississippi Lime play. Osage has a current position of 7,500 net acres in Logan, County Oklahoma and is slowly adding leases. They had a larger position but sold that down reaping a nice gain that has been used to fund early drilling efforts,
Attract a good operator. Osage persuaded large but private operator Slawson to take the job which is a plus in my book as they have a great deal of experience [recall they have long run (NYSEMKT:NOG)'s core Windsor area in the Bakken]. Slawson runs a tight ship (low cost, good results) which is important in the land of the micro caps who are short on resources and can't afford constant over runs.
Get a series of Mississippi wells drilled. Osage announced the Wolf 1-29H in April (see that April to May 2012 rally in the daily chart) with strong results. Osage has since added two more wells and is accelerating drilling in September (see details below).
Increase liquidity to fund coming development of the Miss Lime position. In April 2012 Osage issued a secured note and established a credit facility.
Mississippi Lime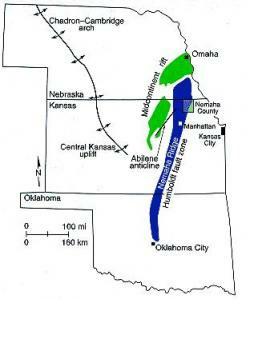 Click for a Oklahoma map of counties.
The Play: The Miss Lime play started west of the Nemaha Ridge with Chesapeake Energy (NYSE:CHK) and SandRidge Energy (NYSE:SD). Now other household name E&P players are crowding in on the east side of the Ridge, where Osage began leasing in 2010, to grab cheaper acreage. Much of this acreage appears to be prospective for the Miss Lime and in some cases for the Anadarko Woodford as well. This part of the play, which Osage saw as potentially superior to the traditional west of Ridge Miss Lime we all think of in northern Oklahoma, produces light sweet crude and is characterized by good to excellent porosity with localized areas of high natural fracturing. Osage now has over 7,500 net acres in northern Logan County, OK, just east of the Nemaha Ridge. Within the county, the play thickens to the north to as much as 300' while thinning to the south to 100 to 150' and pinching out completely for the Mississippian to the south of their lease line. Three of the largest Miss Lime players are now drilling on acreage in close proximity to Osage's Logan County position.
Devon Energy Corporation (NYSE:DVN) has recently doubled up their position to 545,000 net acres primarily east of the Ridge, spread over Logan County. Several wells are now drilling up to the lease line in Logan County and Devon has announced one 590 BOEpd 30 day rate well (see more details below). Devon also holds acreage in Payne, Noble, Pawnee (several wells drilled or drilling), Grant, Kay, Osage, and Sumner Counties, OK. Devon estimates EURs of 300 to 400 MBOE per well here and they are now running 7 rigs having transferred rigs from their Barnett and Cana plays.
Range Resources Corporation (NYSE:RRC) has 152,000 net acres east of the Ridge and north of OEDV's position and has talked of bigger recoverable reserves of 400 to 600 MBOE per well.
Red Fork Energy Limited (RFE.AX) has 75,000 net acres to the east of the Ridge.
The new Halcon Resources Corporation (NYSE:HK) has 45,000 net acres in the play and has drilled a handful of wells that it should be able to talk about on its 3Q12 conference call. HK has also been quoting recoverable per well reserves of 500 MBOE per copy.
Petroquest Energy Inc. (NYSE:PQ) has 31,000 net acres to the east and is drilling now in Pawnee County. Note that Osage has 2,726 net acres in Pawnee acquired in 2011 but they haven't talked about it much yet and those acres are not included in the 7,500 net acres referenced above.
There are also at least a half dozen private players now focused on the area.
Osage's Mississippian Activities To Date: So far the Slawson operated group of which OEDV.OB has a 19.5% NRI has drilled three wells:
Well #1: Wolf 1-29H. This first well reached TD in January 2012, with a 12 stage, 4,100' lateral, about 2 miles from the southern extent of Osage's acreage. Osage announced initial production of 1,185 BOEpd in April (84% oil with associated rich natural gas) and a strong 30-day rate of 876 BOEpd. Flash forward to August 2012 and the Wolf is producing roughly 250 BOEpd, which is right in line with its type curve. Recall I said Osage is small so each well is important and the first month probably meant roughly $0.4 mm in revenues net to the company versus total corporate revenues of $1.3 mm in 1Q12.
Note: For comparative purposes, CHK says their west of Nemaha Miss Lime wells average 40% oil, 15% NGLs, and 45% natural gas.
Well #2: Krittenbrink 2-36H. Osage spud its second well in early January 2012 just after the Wolf well reached TD, about 12 miles to the north (close to the northern edge of their position). The well had sand issues which led to a low IP of between 65 and 130 BOEpd in mid June 2012. It also resulted in a subsequent halving of the stock price (see daily chart noting June 2012 drop). The well had excellent porosity (fracture based porosity north of 30%) and was a white sand completion and it's possible they flowed it back too quickly initially, taking much of the proppant out of the fractures and back up the wellbore. Since then, the well has been remediated and has on pump produced 250 BOEpd for the back half of August (roughly 70% oil). Osage indicated total volumes produced here were inclining as of late August with a rising oil cut as the well continues to clean up post frac.
Well #3: Davis Farms 2-5H. Taking lessons learned from the prior two wells, the group spud their third well in early June 2012 south of the Wolf well and released results in late August. Note the significant spud to sales time compression. They completed the well with a sand retention additive, which is a chemical compound designed to prevent the presence of large amounts of sand in the wellbore. They also choked back initial flows to try to keep the sand where it belongs in the newly created fractures. Results were largely in line with strong expectations with an initial quoted flow rate of 600 BOEpd (75%+ oil) and Osage commented that production is inclining as the well cleans up. Stay tuned for a good 30 day rate here.
Note: Offset operator results have been positive to the north of their position. Devon has a well, the Matthews 1H, roughly eight miles east of the Krittenbrink well that IP'd at 960 BOEpd, 80% oil, with a 590 BOEpd first 30 day rate (announced in February 2012). Devon has since spud another well, two miles east of the Kittenbrink well, as they hug up to the lease line of Osage's position. Stephens, a private E&P, is drilling in close proximity to the south of Osage's position in Logan County as well.
The Near Term Plan: Osage's plan for the next six months is to spend the credit facility to drill more wells. The drilling group will add a second rig in September with the idea of growing production to a point where the company will move forward under its own cash flow. We should start to see two gross wells drilled per month (assuming a 25 to 30 day spud to TD timeframe which is doable and may be improved upon) and over time we would expect that to settle into a pattern of two wells being completed per month. Gross well costs are close to $3.5 mm each plus allocated salt water disposal costs, which should be minor. On a net basis, that should come to about $0.9 mm per well for OEDV and means that they should be able to have 10 to 12 gross wells on line by the end of 1Q13 if all goes like clockwork (which again is possible with Slawson operating). This compares to the current gross well count of three wells on line. Notably, Logan County wells so far produce less salt water than their west of Nemaha Ridge peers and are oilier as well (boding for lower operating expenses and capital cost requirements and higher revenues). We'd expect to see the results of the next two wells, which should lie closer to the middle of their position, probably in late November to mid December and would then expect to see roughly two gross wells every 30 to 45 days going forward.
Balance Sheet:
Debt to equity cap of 35% after they took on $2.5 mm in a secured note in April 2012. They have an as of yet undrawn $10 mm credit line, also established in April, to allow them to accelerate as outlined above. We would expect them to work through that if all goes according to plan sometime in 1Q13. At that point, production and reserves should be considerably higher using the most conservative of Devon and Range's Miss Lime type curves for the area and assuming continued success with the drill bit.
Production Profile To Date:
Base Line Type Curve. This is my average well first year production expectation for the area.
This curve is a borrowed approximation of a 400 MBOE Miss Lime type curve generated by an nearby offset operator. This should be on the conservative side. So far, the Wolf well is well above this curve and was in August still producing about 250 BOEpd. The Davis Farms has the potential to outperform as well. As the drilling group moves into the two rig program phase, net production for Osage has the potential to move from the late August level of roughly 210 BOEpd net from the first three wells to close to 600 BOEpd net during 2Q13.
Nutshell: The name is interesting from a "smallest-pureplay-all-in-on-the-Miss-Lime" standpoint. Moreover, Osage partnered with a highly experienced operator, managed to drill some apparently strong early wells and has increased liquidity to fund more drilling. From a valuation perspective, it's not necessarily cheap but this is another instance where one can say it's not about the bottom line numbers just yet so much as it is about a string of potential catalysts that could legitimately drive the fundamentals higher here as the company works to delineate its acreage position. Looking at what others are thinking in the more immediate area, and looking for someone who is generally conservative, I reference Devon's comment that it estimates it had unrisked potential of 840 MMBOE on its 230,000 gross acre position. This was before Devon decided to significantly add to its Miss Lime position. Note that part of Devon's acreage directly abuts Osage's position. The Devon math works out to 3,650 BOE per acre or ~ 27 MMBOE in potential for Osage. I could easily throw a $15 per BOE in the ground value on that and come up with a pie in the sky value of $380 mm or about $7.25 an Osage share. Or risk it 50% and get to $3+. Those DVN numbers are unrisked and that exercise is likely irresponsible at this stage but it provides an upside look at it. Risk the Devon numbers and get some more well results and Osage could easily go higher from here, especially being a single digit midget with a clean balance sheet in a hot play with actual production. The name is small and not without the usual risks that go along with that [key man focus, not unlimited access to capital (although their balance sheet and liquidity are better than many of their like sized peers), the potential for "well watching" due to the small production base, etc.] but we own a starter position in Osage with those risks and the reward potential of everything described above in mind.
Disclosure: I am long OEDV.OB, HK, NOG, RRC. I wrote this article myself, and it expresses my own opinions. I am not receiving compensation for it (other than from Seeking Alpha). I have no business relationship with any company whose stock is mentioned in this article.