In this series, we are going to value the common equity shares of Wells Fargo (NYSE:WFC), U.S. Bancorp (NYSE:USB) and PNC Financial (NYSE:PNC). In this article, we'll examine the current financial performance, the market share relationship, and the effectiveness of management. In the previous article we examined the historical financial performance and position.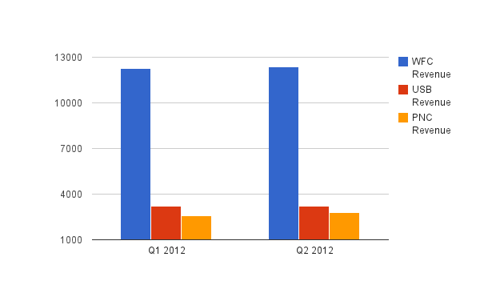 Revenue for all three firms is on pace to be roughly the same as 2011 revenue. Further, the changes between Q1 & Q2 revenue are minimal.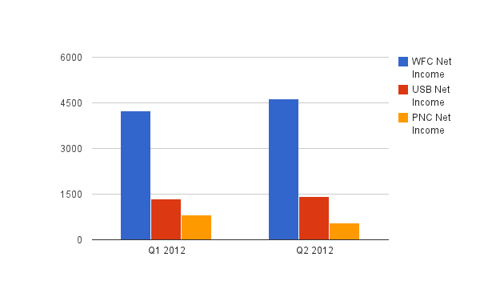 Well Fargo and U.S. Bancorp should increase 2012 net income compared to 2011. PNC's net income may decline compared to 2011.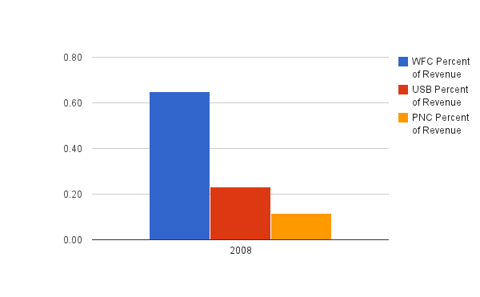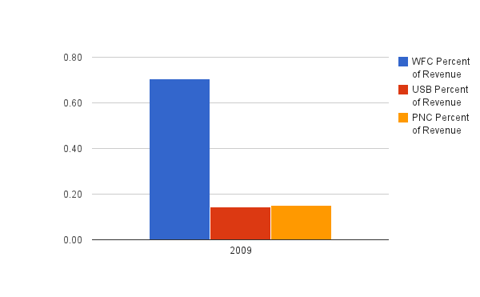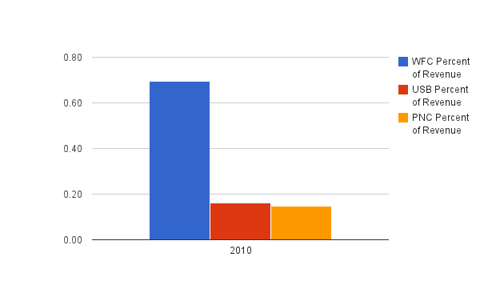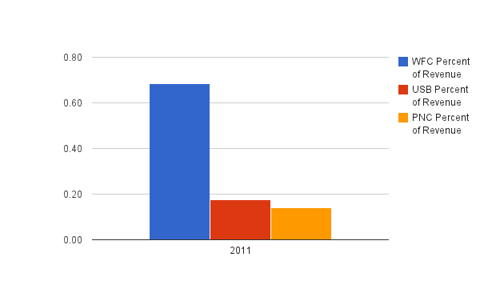 Between 2008 and 2011, Well Fargo's share of revenue increased from 65 percent to 68 percent. U.S. Bancorp's share of revenue declined from 23 percent to 17 percent after reaching a low of 14 percent in 2009. PNC's share of revenue increased from 12 percent to 14 percent.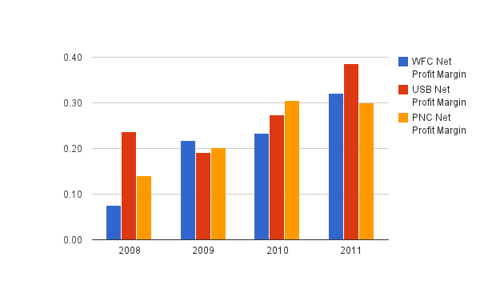 Well Fargo's net profit margin increased from 8 percent in 2008 to 32 percent in 2011. U.S. Bancorp's net profit margin increased from 24 percent in 2008 to 39 percent in 2011. PNC's net profit margin increased from 14 percent to 30 percent during the same period. U.S. Bancorp is the most profitable firm, a factor that will weigh heavily in my investment recommendation.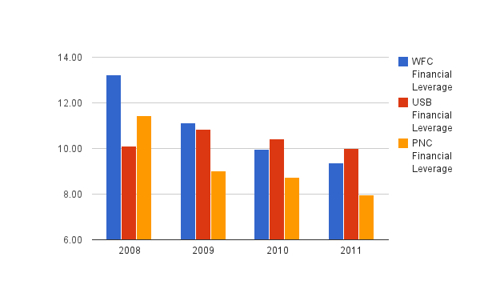 Both PNC and Well Fargo's financial leverage ratios declined substantially. Both firms may not be able to grow revenue at the pre-2008 pace. On the other hand, U.S. Bancorp's financial leverage ratio has remained constant around 10. The firm now has the highest financial leverage ratio of the group coming into 2012.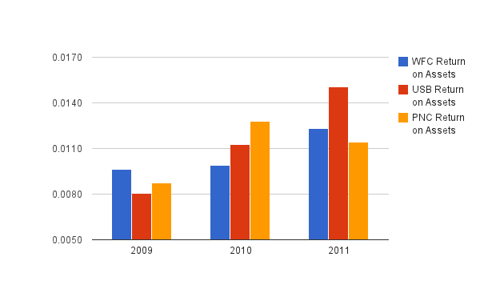 The return on assets is increasing from an extremely low level and remains at a very low level.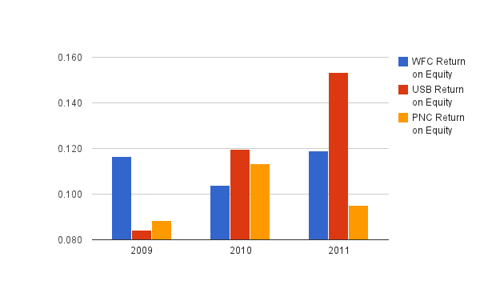 Return on equity is generally trending higher. U.S. Bancorp does the best job of generating returns on its equity investment. Return on equity is a factor that weighs heavily in my investment recommendations.
To be continued...
Disclosure: I have no positions in any stocks mentioned, and no plans to initiate any positions within the next 72 hours. I wrote this article myself, and it expresses my own opinions. I am not receiving compensation for it (other than from Seeking Alpha). I have no business relationship with any company whose stock is mentioned in this article.