Emerging market financial exchange traded funds offer investors easy access to related companies that are essential to fast-growing companies. The niche character of these funds means that investors should have a definite investment goal and strategy in mind before jumping into one of these ETFs.
"European and emerging market ETFs soared Friday, following through on strength sparked by the European Central Bank plan to buy bonds from indebted Eurozone countries. The dollar's plunge on a weaker-than-expected jobs report also bolstered gains earned in foreign currencies," Trang Ho wrote for Investor's Business Daily.
Steven Orlowski for Emerging Money reports that several emerging market funds focused on the financial sector are good for targeted exposure to these growing economies, but the low liquidity and higher-than-usual volatility means that investors should use them only if they have a specific goal in mind.
For example, the iShares Emerging Market Financials Index Fund (NASDAQ:EMFN) invests in real estate companies, banks and insurance companies in countries such as China, South Africa, and India, respectively. The fund averages less than 1,000 shares traded per day.
EGShares Financials GEMS ETF (NYSEARCA:FGEM) represents the 30 largest financial companies within the emerging economies. China, Brazil and India dominate the top holdings.
Despite the volatility of these ETFs, the outlook for emerging market stocks is looking better. Speculation that Chinese government spending will help bolster the world economy has helped some focused stocks gain the most over the past six weeks.
Furthermore, the European Central Bank's bond buying should help build up the global economy as investors gain more of an appetite for risk.
iShares Emerging Market Financials Index Fund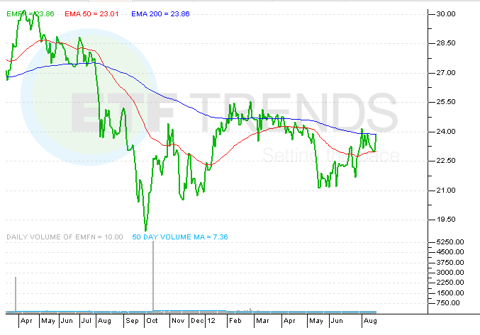 Tisha Guerrero contributed to this article.
Disclosure: I have no positions in any stocks mentioned, and no plans to initiate any positions within the next 72 hours. I wrote this article myself, and it expresses my own opinions. I am not receiving compensation for it. I have no business relationship with any company whose stock is mentioned in this article.